Cobra Kai Season 4 - The Loop
Play Sound
AxeKnightmon, known as DarkKnightmon in Xros Wars, is the admiral and second highest-ranked member of the Bagra Army (joined in the beginning of the second half of the anime), the leader of Midnight, Lord Bagra's younger brother, and the secondary antagonist in both the anime and manga of Digimon Xros Wars/Fusion.
AxeKnightmon is an Unknown Level Digimon that resembles a dark knight. He is the combined form of SkullKnightmon and Axemon. He wields a double-ended lance.
Biography
Digimon Xros Wars/Fusion (anime)
AxeKnightmon was the leader of the Midnight Army, and the true form of SkullKnightmon and Axemon. It been later confirmed that he is Lord Bagra's younger brother. When the Dark Loader was complete, AxeKnightmon eventually combined the Twilight Army, betrayed Nene and joined the Bagra Army as he commands the Dark Generals.
After the Death Generals were defeated for the first time he used some sort of enchantment to revive all the Death Generals as mindless slaves. He then processes to combine all seven Death Generals so they can become GrandGeneramon.
After the Dark Generals were defeated for a second time, AxeKnightmon and Lord Bagra decided to fight against the Fusion Fighters.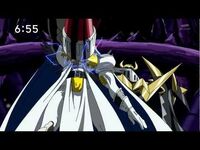 However AxeKnightmon's true intention was revealed during the fight. AxeKnightmon wanted to steal his brother's power, so he both betrayed and stabbed Lord Bagra in the back, and absorbed his older brother's data to form Darkest AxeKnightmon. It seemed that AxeKnightmon acquired a huge ammount of power, however, Lord Bagra easily took over, killed his younger brother as payback for betraying him, and altered their appearance to form the true Megadarkness Bagramon.
Digimon Xros Wars (manga)
DarkKnightmon is one of the main villains in the Manga version of Digimon Xros Wars. He's the leader of the Magna version of the Twilight Army. DarkKnightmon actually has multiple alternate forms. All of them are his Darkness Mode but he absorbs several Digimon to make himself stronger. He eventually absorbed Millenniummon and became; ZeedMillenniummon.
Other Forms
SkullKnightmon
Axemon
Darkest AxeKnightmon
DarkKnightmon Darkness Mode (Duskmon)- (manga Only)
DarkKnightmon Darkness Mode (Gulfmon)- (manga Only)
DarkKnightmon Darkness Mode (Blastmon)- (manga Only)
DarkKnightmon Darkness Mode (Lilithmon)- (magna Only)
Minions
Attacks
Twin Spear
Shoulder Blade
Undead Soldier
Gallery
Trivia
AxeKnightmon is voiced by Kirk Thornton, who also voices as Tactimon.
Unlike the version in Digimon Fusion, AxeKnightmon is female in Digimon Adventure:, and the corrupted form of Gatomon.