Doctor Strange in The Multiverse o Madness - The Loop
Play Sound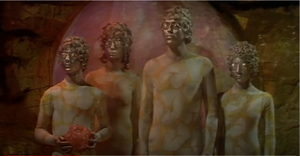 The Axons are the main antagonistic faction of the Doctor Who story "The Claws of Axos".
This remains their only on-screen appearance although they have reappeared in other media.
Biography
The Axons came to Earth in the living spaceship Axos, arriving near the Nuton Power Complex. When the Third Doctor entered the ship along with the Brigadier, scientists from Nuton and civil servant Horatio Chinn, the Axons appeared to them as a family of gold-skinned humanoids. They claimed they needed energy and offered axonite, a substance capable of increasing the size of anything and potentially ending famine, as payment. The Doctor was instantly suspicious of them, more so when Jo saw misshapen monsters aboard the ship.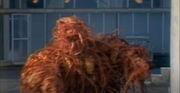 During his analysis of axonite, the Doctor discovered that Axos, the Axons and axonite were all part of one gestalt entity and the axonite was intended to drain Earth's energy. Before he could reveal this however, he and Jo were captured by Axons and taken into Axos. The lead Axon continued to supervise Chinn in distributing axonite throughout the world but, on learning that Axos needed extra energy in order to achieve time travel, it reverted to its monster form and rampaged through the complex, killing a number of UNIT soldiers and entering the nuclear reactor in order to drain its power. The Master, who had been held prisoner by Axos, temporarily thwarted the attempt by creating a power surge.
With the Axons having abandoned their pretense, they attacked Captain Yates and Sergeant Benton as they kept watch on Axos but the two managed to escape, destroying one Axon by blowing up their vehicle. The Axons launched a full-scale attack on Nuton, battling UNIT and damaging the complex's particle accelerator, which threatened to explode. Meanwhile, the Doctor had journeyed to Axos and keyed it into the TARDIS to create a time loop. The Axons still on Earth disappeared back to Axos, caught in the loop and unable to stop the Doctor escaping.
In the Doctor Who Magazine comic strip "The Golden Ones", a new drink changes people into Axons but the plan is defeated by the Eleventh Doctor.
Trivia
For the 50th anniversary in 2013, a poll was taken to see which one-off monsters fans wanted to appear in the anniversary special. The Zygons were the clear winners, with the Axons taking second place with 15% of the vote.