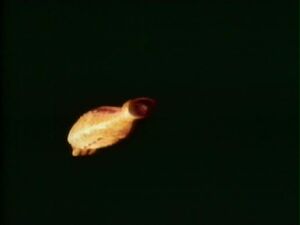 Axos is the main antagonist of the Doctor Who story "The Claws of Axos". This was its only television appearance but it has reappeared in other media.
It was voiced by the late Bernard Holley, who also played the principal Axon.
History
Axos was a space parasite who fed on the energy of planets and resembled a giant organic spaceship. It encountered the Master in space and spared him in return for him leading it to Earth, although it continued to keep him prisoner. It was capable of creating extensions of itself, Axons, who could assume the appearance of gold-skinned humanoids, tendril-covered monsters or mobile globs. After Axos had landed on Earth, a group of these Axons made contact with the humans, as well as the Third Doctor, pretending to be the crew of a spaceship in distress, and offered axonite, a substance that they claimed could duplicate anything, as payment for assistance. In fact, axonite was merely another extension of Axos.
Both the Doctor and the Brigadier were suspicious of the Axons, so Axos instead made a deal with the greedy civil servant Horatio Chinn, who wanted axonite exclusively for Britain. Since axonite needed to be distributed throughout the world in 72 hours in order to drain Earth's energy, Axos had the Master alert the United Nations to Chinn's plan, forcing him to send it to other countries. Axos also captured the Doctor and Jo and tried to get the Doctor to give it the secret of time travel. The Doctor pointed out it would require more power than Axos had so Axos attempted to gain the power of the nearby Nuton Power Complex. Doing so nearly resulted in a nuclear explosion but the complex's director, Sir George Hardiman, sacrificed himself to stabilise the reactor.
As Axos lifted off ready to begin feeding off Earth, the Doctor and the Master boarded it in the TARDIS, where the Doctor claimed he wanted to offer Axos time travel. In fact, he programmed the controls to trap Axos in a time loop, causing all the Axons on Earth to disappear. The Doctor and the Master were able to escape in their respective TARDISes but Axos was left trapped.
In the Big Finish audio play "The Feast of Axos", a group of humans entered the time loop in the hope of using Axos as a power source. The Sixth Doctor became involved and Axos managed to duplicate him in an attempt to steal the TARDIS and break free. The attempt failed and Axos was left trapped.
In the Doctor Who Magazine comic strip "The Golden Ones", the Eleventh Doctor found Axos had found a way to distribute a fizzy drink to turn children into Axons, as a way of blackmailing its way to gain access to Tokyo's main power station. The Doctor defeated it by having everyone turn on their electrical appliances, draining its energy and destroying it.