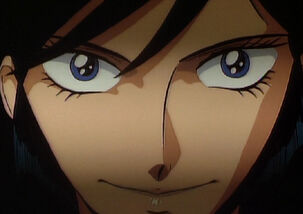 Ayumi Mizuchi is one of the villains from the 1991 movie Sukeban Deka.
Role
A pretty dark-haired daughter of an important politician, she and her gang rule Takanoah High school. Ayumi engages in drug dealing and extortion. Her greatest love is money.
She shows her cruelty when she sics her gang on the movie's protagonist Saki Asamiya taking glee in watching them viciously beat her. Ayumi has two sisters Remi and Emi who also want Saki dead. 
In the manga, Ayumi rides a motorcycle and controls her own biker chain.
She is far more evil in the manga by viciously murdering the protagonist's best friend and taking part in a brutal massacre that ends the lives of over a hundred students. When she engages Saki as the heroine in a bike race, Saki wins. Ayumi then ensnares her in a trap only to realize she was duped by her own sister Remi who is stealing her money. She confronts Remi only for Saki to show up, escaping from the trap.
Ayumi points her shotgun at Saki and fires, not realizing that her sister Remi rigged the gun. It blows up in her face, mortally wounding her and blowing off her fingers. She dies painfully trying to gather her money, the only thing she cared about in life.
Gallery
Community content is available under
CC-BY-SA
unless otherwise noted.