Jurassic World: Dominion Dominates Fandom Wikis - The Loop
Play Sound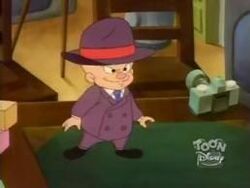 Baby Thaddeus is the main antagonist of the Chip 'n' Dale: Rescue Rangers episode "Dirty Rotten Diapers".
Apearance
While Thaddeus does resemble a baby with a red nose, in reality he is just a pint-sized crook as Chip put it.
Biography
While the Rescue Rangers were trying out less violent methods of crime-solving on Gadget's suggestion, they've witnessed two women robbing a house. After the Rangers fail to stop them thanks to blowing out a tire on the wrong car, the owners of the house arrive to witness the aftermath of the robbery.
They return their adopted baby to the agency where it turns out the robbers were running it, having been involved in a total of 13 robberies. Another couple adopts the baby, Thaddeus, without knowing that they are next to be robbed. The Rangers trail them to the next house where after a humiliating series attempts to stop Thaddeus from hurting himself, they discover that Thaddeus was actually a midget-sized crook who was leading the robberies the women were involved in.
After failing to get the police alerted, Thaddeus's henchwomen arrive in an attempt to attack the Rangers. After this incident, Gadget loses her temper and is eager to trash Thaddeus in retaliation for the humiliation. They visit the fraudulent agency one more time where they witness Thaddeus and his cronies plot the robbery of a wealthy couple.
Chip and Dale put themselves up for adoption as part of the plan to bring an end to Thaddeus's robberies. Once every thing is set when Chip and Dale attach a safety pin with a string attached to Thaddeus's diapers so that the enraged Gadget can use the retro rocket-powered ranger plane can pull Thaddeus through the mansion where he ends up crashing with his goons into a gong.
Thanks to the rangers activating the burglar alarm this time, the cops arrive to arrest Thaddeus and his henchwomen.

Villains