Jurassic World: Dominion Dominates Fandom Wikis - The Loop
Play Sound
Jafar says: Read my lips and come to grips with the reality!


This article is a stub and is in need of expansion. You can help Villains Wiki by expanding it.                       



Click To Help DIO!

DIO has declared that this article has stopped in time, and any and all information on it may be outdated.
Help improve this article by checking and updating it's info wherever necessary
And now time resumes!

✓
| | | |
| --- | --- | --- |
| " | Transformation 101. Bunnies to Badniks. Boom! Instant army! | " |
| | ~ Dr. Eggman explaining Badnik construction. | |
The Badniks are the central antagonists of the Sonic the Hedgehog franchise. They typically serve as the main enemies that appear throughout the levels in the majority of Sonic games. They are small robots created by Dr. Eggman that are powered by tiny animals captured by the doctor.
In the Archie Comics, they seem to be sort of pets to the villainous tyrant, as all of the Robbins and SWATbots were mindless pawns. Even when working together, the Badniks proved no match for Sonic or the Freedom Fighters. After the demise of Robotnik, several of the surviving Badniks continued to thrive on the Island of Misfit Badniks. However, after being discovered by Sonic and later the Forty Fathom Freedom Fighters the majority of them were compacted and seemingly destroyed.
Members
Recurring Members
Buzz Bomber
Crabmeat
Caterkiller
Spinner
Sonic the Hedgehog
Ball Hog
Bat Brain
Bomb
Burrobot
Chopper
Jaws
Moto Bug
Newtron
Orbinaut (Unidasu and Uni Uni)
Roller
Spikes
Splats (scrapped)
Sonic the Hedgehog 2 (8-bit)
Burrowbot
Baton
Game-game
Mecha Hiyoko
New Motors
Taraban
Zaririn
Sonic the Hedgehog 2 (16-bit)
Aquis
Asteron
Balkiry
BBat (scrapped, 2013 re-release)
BFish (scrapped)
Bubbler (scrapped)
Bubbler's Mother (scrapped)
Buzzer
Chop Chop
Clucker
Coconuts
Crawl
Crawlton
Flasher
Gator (scrapped)
Gohla
Grabber
Grounder
Jellies (2013 re-release)
Masher
Nebula
Octus
Redz (scrapped, 2013 re-release)
Rexon
Shellcracker
Slicer
Snail (scrapped)
Spiker
Spiny
Stegway (scrapped, 2013 re-release)
Turtloids
Whisp
Sonic the Hedgehog CD
Amenbo
Antlion (scrapped)
Anton
Bata-pyon
Bigbom
Dango
Ga
Hotaru
Kabasira
Kama-Kama
Kamemusi
Kanabun
Kemusi
Kumo-Kumo
Mecha-Bu
Minomusi
Mosqui
Noro-Noro
Pata-Bata
Poh-Bee
Sasori
Scarab
Semi
Taga-Taga
Tentou
Tonbo
Yago
Sonic Chaos
Boing-o-Bot
Frogger
Metal-o-Turtle
Tsuno-tsuno
Sonic the Hedgehog 3
Batbot
Blastoid
Bloominator
Bubbles
Bugernaut
Caterkiller, Jr.
Clamer
Corkey
Flybot767
Jawz
Mantis
Mega Chopper
Monkey Dude
Orbinaut
Penguinator
Pointdexter
RhinoBot
Ribot
Snail Blaster
Star Pointer
Turbo Spiker
Sonic & Knuckles
Blaster
Butterdroid
Chainspike
Cluckoid
Dragonfly
EggRobo
Madmole
Mushmeanie
Rock'n
Sandworm
Skorp
Spikebonker
TechnoSqueek
Toxomister
Sonic the Hedgehog Triple Trouble
Bombaberry
Bomblur
Meta Junglira Badnik
Penguin Bomber
Rabibin
Spidal Tap
Sunset Park Badnik
Tidal Plant Badnik
Knuckles' Chaotix
Amazing Arena Badnik 1 & 2
Bombbearer
Botanic Base Badnik 1, 2, 3
Bushbubble
Dribbler
Gotcha
Hoverby Mk II
Isolated Island Badnik
Motorspike
Needlenose
Piranha
Poptank
Ringleader
Spiketower
Techno Tower Badnik 3
Ticktock
Sonic Labyrinth
Aroro
Dragogo
Flowawa
Gaikoko
Kabutoto
Kapupu
Kibaba
Mukaka
Nyororo
Ototo
Peppepe
Peroro
Puyoyo
Robototo
Takoko
Toriri
Yadokaka
Sonic 3D Blast
Green Grove Zone Badniks
Rusty Ruin Zone Badniks
Spring Stadium Zone Badniks
Diamond Dust Zone Badniks
Volcano Valley Zone Badniks
Gene Gadget Zone Badniks
Panic Puppet Zone Badniks
Sonic Blast
Egg Saucer (Sonic Blast)
Octopus
Yellow Desert Zone Badnik
Sonic Adventure DX/Sonic Adventure 2
E-00 series

E-01 Baby Kiki
E-02 Rhinotank
E-03 Sweeper
E-04 Leon
E-05 Boa-Boa
E-06 Bladed Spinner
E-07 Ice Bot
E-08 Kart Kiki
E-09 Buyoon
E-10 Cop Speeder
E-15 Spiky Spinner
E-16 Electro Spinner
E-17 Ghora
E-20 Kiki
E-22 Beat
E-24 Jetso
E-25 Duo Jet
E-26 Bomb Jet
E-27 Hyper Jet
E-28 Mecha Fish
E-29 Egg Pirate
E-31 Gola
E-32 Unidus

E-100 series

E-100 ZERO
E-101 models
E-102 models

E-102 Gamma
E-102 Chaos Gamma

E-103 Delta
E-104 Epsilon
E-105 Zeta
E-121 Phi
E-123 models:

Egg Keeper
E-1000

Guard Robo - upgraded version of E-1000

E-2000 series
E-10000 series

E-10000B

E-10000G

E-10000R

E-10000Y
Sonic Heroes
Egg Flapper

Egg Hammer

Egg Pawn
Shadow the Hedgehog
Egg Bommer
Egg Pierrot
Jack Bommer
Other Members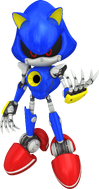 The Mecha Sonic series, better known as the Metal Sonic series, simply known as Mecha Sonics, are a series of advanced Badniks designed to resemble Sonic the Hedgehog. They are some of Dr. Eggman's greatest robots ever made, as well as his right-hand men and the secondary antagonists in the "Classic" era of the Sonic the Hedgehog series. They are the only robots who manage to rival Sonic's speed and power.
Rather than attacking in groups, they attack individually, each one being a dangerous threat in it's own right. However, while most of them are only built for strength and fighting purposes, the final and perfected model, Metal Sonic matches both Sonic's speed and power, being the greatest Metal Sonic ever created.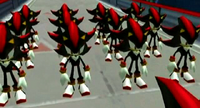 The Shadow Androids are advanced Badniks designed to resembled Shadow the Hedgehog. Dating back as far as Sonic Heroes, they are creations of Dr. Eggman and serve largely as Shadow's version of the Metal Sonic series.
Shadow Androids have powers similar to Shadow's own as well as missile attacks, unlike Metal Sonic they rarely attack alone and are considerably more lifelike (identical, in fact, to Shadow).
Shadow Androids apparently ceased being created by Dr. Eggman after the events of the Shadow the Hedgehog game, though the exact reasons why are still unknown.
Relationships
Allies
Dr. Eggman
Classic Eggman
Metal Sonic
Classic Metal Sonic
Metal Knuckles
Tails Doll
Hard-Boiled Heavies
E-Series Robots
Chaos (formerly)
Shadow (formerly)
Fang the Sniper
Enemies
Tean Sonic
Sonic the Hedgehog
Tails
Knuckles the Echidna
Team Dark
ShadoI the Hedgehog
Rouge the Bat
Omega
Team Rose
Amy Rose
Cream the Rabbit
Cheese
Big the Cat
Tikal the Echidna
Chaos
Blaze the Cat
Silver the Hedgehog
Babylon Rogues
Fang the Sniper
Bean the Dynamite
Bark the Polar Bear
Mighty the Armadillo
Ray the Flying Squirrel
Chaotix
Vector
Espio
Charmy
GUN