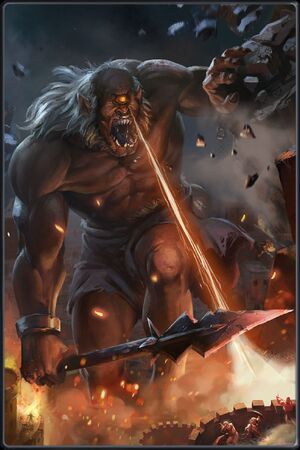 Balor (sometimes spelled Balar or Bolar), also known as Balor of the Evil Eye, is the tyrant warrior of Fomorians, a race of semi-divine beings from Irish mythology feared for the power of his large eye that wreaks destruction when opened. He has been interpreted as a personification of drought, blight, and the scorching sun.
Biography
It is said that Balor was the son of Buarainech, husband of Cethlenn, and grandson of Neit. Described as a giant with destructive large eye, Balor is a tyrant who oppresses Ireland from his fortress on Tory Island.
Upon learning a prophecy about his downfall where he would be killed by his grandson, Balor sought to avoid this future as witb other antagonistic figures in various mythologies does. In his case, he locked away his only daughter Ethniu, in a tower on Tory Island to keep her from becoming pregnant. One day however, he made a mistake by stealing Glas Gaibhnenn, a magical cow of abundance from Goibniu the smith, leading the cow's guardian at that time, Cian, to set out to get it back. Infiltrating the tower with aid of the druidess Biróg, he stumbled upon Ethniu and fell in love with her. Unfortunately, Balor soon discovered this and killed him for it, yet it was too late. Ethniu is already pregnant with a child. As soon as she gave birth a son, Balor took his grandson away and tried to drown the child in the sea. However, he is saved by the sea god Manannán, who raises the child as his foster-son. He grows up to become Lugh and officially become one of Tuatha Dé Danann's best warriors and eventually, their king.
As the king of Tuatha Dé Danann, he led his people fighting his grandfather and Fomorian forces in the Battle of Mag Tuired (Moytura) after Nuada's death. When Balor wreaking havoc with the power of his evil eye, Lugh, with either a sling stone or in other sources, a spear crafted by Goibniu, tore Balor's magical eye off his skull, turning its overwhelming dark powers against his own legion in process and subsequently, Tuatha Dé Danann's victory in the war. The injured Balor then beheaded by Lugh, ending his reign of terror.
One legend tells that, when Balor was slain by Lugh, Balor's eye was still open when he fell face first into the ground. Said eye's power burns a hole filled with water and became a lake which is now known as Loch na Súl ("lake of the eye") in County Sligo. Another tradition is that he was the grandson of Nét and that he met his death at Carn Uí Néit ("cairn of Nét's grandson"), known in English as Mizen Head. On Tory Island there are features called Dún Bhalair ("Balor's fortress") and Túr Bhalair ("Balor's tower").
Powers and Abilities
Balor embodies the concept of the "evil eye" and had an eye in the middle of his forehead and one directly opposite at the back, which made it all but impossible to sneak up on the giant.
Gallery

Notable Legends
Chupacabra | Cyclops | Dragons | Wyverns | Dullahan | Fairies | Gremlins | Grim Reaper | Ghosts | Giants | Headless Horseman | Kraken | Loch Ness Monster | Medusa | Minotaur | Monsters | Mothman | Ogres | Siren | Skeletons | Spiders | Vampires | Wendigo | Yeti | Zombies
Demonology Legends
The Devil | Demons | Fallen Angels
Abaddon | Abere | Abyzou | Andromalius | Angra Mainyu | Aka Manto | Asmodeus | Asuras | Antichrist | Baal | Banshee | Baphomet | Beelzebub | Beast | Behemoth | Behemoth the Elephant | Belphegor | Bifrons | Black Cats | Black Monk of Pontefract | Black Shuck | Black Volga | Bogeyman | Buer | Cerberus | Coco | Crom Cruach | Demiurge | Eight Feet Tall | El Charro Negro | Enma Daio | Erlik | Gargoyles | Hellhounds | Iblis | Kali | Kansa | Kelpie of Loch Ness | Kitsune | Krampus | Kroni | Lamia | Legion | Locusts of Abaddon | Mahishasura | Malsumis | Mammon | Mara | Mares | Mephistopheles | Moloch | Nure-Onna | Rakshasa | Ravana | Raven Mocker | Sack Man | Samael | Six Demons | Stolas | Succubi | Termagant | Unholy Trinity | The Watchers | Wa Nyudo | Whore of Babylon | Zabaniyah
Disambiguation Pages
Satan | Demon | Succubus | Antichrist | Baphomet | Krampus | Behemoth
Gods & Spirits
Gods & Goddesses: Apep | Bila | Camazotz | Damballa | Fomorians (Balor, Bres) | Geb | Gods of Olympus (Ares, Atë, Hades, Hera, Limos, Poseidon, Zeus) | Jötunn (Ymir, Loki, Hela, Skoll and Hati, Fenrir, Jormungandr, Surtr, Hræsvelgr) | Kali | Loviatar | Nun | Perkūnas | Set | Tiamat | Titans (Atlas, Kronos, Prometheus) | Veles | Xolotl
Spirits: Dybbuk | El Silbón | Fetch | Hinnagami | La Llorona | La Sayona | La Viuda | Mackenzie Poltergeist | Myling | Poltergeists | Sluagh | Stingy Jack | Unseelie Court
Disambiguation Pages
God | Jesus Christ | Angel
Humans & Humanoids
Abhartach | Ajax the Lesser | Ame-onna | Antaeus | Bandits | Baron Samedi | Black Rock Witch | Blair Witch | Cain | Cassiopeia | Christie Cleek | Count Dracula | Creon | Davy Jones | Delilah | Draug | Doppelgangers | Goblins | Goliath | Gomorrahites | Green Knight | Green Witch | Grendel | Grendel's Mother | Hags | Haman the Agagite | Hanako-San | Herod the Great | Herodias | Horsemen of the Apocalypse | Humanity | Iemon | Ixion | Jezebel | Judas Iscariot | King Ahab | King Arthur | King Oenomaus | King Vortigern | Kuchisake-onna | La Tunda | Lilith | Lord William de Soulis | Louhi | Lucius Tiberius | Lycaon | Marry-san | Meg of Meldon | Morag | Morgan le Fay | Nanny Rutt | Orcs | Pandarus | Paris | Phaedra | The Pharisees | Polyphemus | Rich Man | Romans | Santa Compaña | Saul | Sawney Bean | Sciron | Shechem | Sko-Ella | Sodomites | Stingy Jack | Tamamo no Mae | Tantalus | Tereus | Trauco | Tydeus | Umibōzu | Yallery Brown | Ysbaddaden
Monsters, Animals & Anthropomorphic Beings
A-mi'-kuk | Akkorokamui | Averesboro Gallinipper | Aye-aye | Basilisk | Boneless | Cirein-cròin | Cockatrice | Cuegle | Cuélebre/Culebre | Devil Monkeys | Dip | Dragon | El Comelenguas | Erymanthian Boar | Escornau | Fossa | Fouke Monster | Foxes | Frankenstein's Monster | Giants of Voronezh | Golden Cicada | Groundhogs | Harpies | Herensuge | Hydra | Jackalopes | J'ba Fofi | Kappa | La Cegua | Lambton Worm | Leviathan | Manticores | Madman Marz | Michigan Dogman | Mikari Baba | Morag | Mordred | Morgan le Fay | Ojáncanu | Onamazu | Otesánek | Paparrasolla | Pesanta | Redcaps (Robin Redcap) | River Mumma | Undead| Scylla | Stymphalian Birds | Tailypo | Tarasque | Trolls | Tsuchinoko | Will O' The Wisp | Wolves
Common Legends
Amanda the Doll | Black Goo | Bunnyman | Bye Bye Man | Candyman | China Doll | Clown Doll | Cropsy | Crying Boy | Hairy-Armed Woman | Hatman | Homey the Clown | Hook Killer | John and Susan Buckley | Joliet the Haunted and Cursed Doll | La Tunda | Licking Maniac | Melon Heads | Men in Black | Mystery Killer | Nain Rouge | Nameless Thing of Berkeley Square | Old Man Try-By-Night | Peeping Tom | Rain Man | Robert the Doll | Paimon | Patasola | Skinned Tom | Teke Teke | The Killer In the Backseat | The Man Upstairs
Cryptids
Beast of Gévaudan | Black Eyed Children | Black Stick Men | Cherufe | Devil Monkeys | Emela-Ntouka | Dog-headed Men | Fear Liath | Flatwoods Monster | Ghosts Goatman | Grafton Monster | Greys | Hoop Snake | Indrid Cold | Jackalopes | Jersey Devil | Kelpie of Loch Ness | Kongamato | Malawi Terror Beast | Mamlambo | Manananggal | Maricoxi | Mngwa | Momonjii | Morag | Nobusuma | Pope Lick Monster | Popobawa | Pukwudgies | Reptoids | Roc | Ropen | Salawa | Sea-Serpents | Shadow People | Sheepsquatch | Slide-Rock Bolter | Snallygaster | Spring Heeled Jack | Tanuki | Thunderbird | Two-Toed Tom | Water Horses | White-Eyed Children | Yowie
Modern Legends
Charlie | Bloody Mary | Bloody Mary (Halloween Horror Nights) | Ghost (Johnny, I Want My Liver Back) | Ghost Trains | Momo | Orie Chef | Aliens (AC) | Martinez Dog Demon | The Spirit of Dark and Lonely Water | Crisis
Possessed Objects
Coffin on Wheels | Ghost Trains | Black Volga | Robert the Doll | Joliet the Haunted and Cursed Doll | China Doll | Amanda the Doll | Clown Doll | Gargoyles
See Also
Cthulhu Mythos Villains | Trevor Henderson Villains | Creepypasta Villains | SCP Foundation Villains