Jurassic World: Dominion Dominates Fandom Wikis - The Loop
Play Sound
| | | |
| --- | --- | --- |
| " | I am Bane -- and I could kill you... but death would only end your agony -- and silence your shame. Instead, I will simply... BREAK YOU! | " |
| | ~ Bane before breaking Batman's back, and his most famous quote. | |
| | | |
| --- | --- | --- |
| " | You will know my name one day. And on that day you will beg for mercy. You will scream my name! SCREAM IT! | " |
| | ~ Bane. | |
Bane is a fictional character and supervillain in the DC Comics, and a major antagonist of the Batman comics and series.
He is a recurring nemesis of the superhero Batman, known for being augmented by a drug called Venom. He is most known as the supervillain who "broke that bat", as Bane once managed to break Batman's spine. Bane continues to be one of Batman's most physically and psychologically formidable foes.
Biography
Past
Bane was born to serve the life sentence of his father, so his childhood and early adult life are spent behind the walls of Peña Duro - an infamous prison in Santa Prisca. Although he was imprisoned, his natural abilities allowed him to develop extraordinary skills within the prison's walls.
He read as many books as he could get, he trained his body in the prison gym, and he learned to fight in the merciless school of prison life. Despite his circumstances, he appears to have found various teachers during his prison time, ranging from hardened convicts to an elderly Jesuit priest. Bane committed his first murder at the age of eight, when he stabbed a criminal who wanted to use him to gain information about the prison.
During his years in prison, Bane always carried a teddy bear with him, who he called Osito (Spanish for "Little Bear"). He considered this teddy bear as his only friend. It is later revealed that Osito has a hole in his back to hold a knife that Bane uses against anyone who bullied or threaten him.
Bane ultimately established himself as the "King" of the Peña Duro prison. The prison's controllers notice this, and forced him to become a test subject for a mysterious drug called Venom, which had already killed all the other previous subjects.
At first the drug nearly killed him, but he survived and found it enhanced his physical strength, although he needed to take it every 12 hours or he would suffer from the debilitation side-effects. The drug gets pumped directly into Bane's brain. Although, he is still a powerful giant of a man without the Venom.
Breaking the Bat
Years later, Bane escapes Peña Duro, along with several accomplices. His ambition turns to destroying Batman, whom he had heard tales of while serving his sentence. He is fascinated with Gotham City because it is a city where fear ruled, just like the prison he escaped from. Bane is convinced that the demonic bat that haunted his dreams since childhood is a representation of the Batman.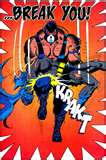 He is aware that a direct assault on the Batman would be foolish, so Bane destroys the walls of Arkham Asylum, allowing its deranged inmates (including Joker, Scarecrow, Poison Ivy, Mad Hatter, The Ventriloquist, Firefly, Black Mask and Victor Zsasz) to escape into Gotham City, where Batman spends three months rounding them up.
Running himself to exhaustion, Batman returns to Wayne Manor, where Bane awaits him. Bane and Batman fight in the Batcave, and Bane wins the fight. He delivers the final blow: he breaks Batman's back and leaves him paraplegic, thereby being the only man to ever "Break the Bat".
Bane's Downfall
While Bane establishes himself as ruler of Gotham City's criminal underworld, Bruce Wayne passes the mantle of Batman to Jean-Paul Valley, also known as Azrael. Being the new Batman, Jean-Paul grows increasingly violent, allowing the villain Abattoir to fall to his death.
Utilizing a advanced combat suit instead of the traditional Batman uniform, he fights and defeats Bane at the end of the "Knightfall" arc, severing the tubes that pump the Venom into Bane's bloodstream, causing a severe withdrawal. Jean-Paul then gives the weakened Bane a vicious beating, leaving him broken, but alive.
Bane's Legacy
Bane recovers from his wounds and is sent to prison. While serving time, he recovers from his Venom addiction. He eventually escapes from prison and returns to Gotham, where he fights alongside Batman to take out a criminal ring that is distributing a Venom derivative to street-level thugs.
After their victory, Bane claims to be innocent of his past crimes and peacefully leaves Gotham City, in search of his father.
Bane's search for his father brings him back to the Peña Duro prison. He speaks to the Jesuit priest who had taught him while he was in prison. The priest told Bane that there are four men who could be his father: a Santa Priscan revolutionary, an American doctor, an English mercenary and a Swiss banker.
While searching for the Swiss in Rome, Bane encounters Ra's al Ghul's daughter Talia. She introduces Bane to her father, and Bane impresses Ra's so much that he chooses Bane as his heir.
Ra's al Ghul and Bane then launch a plague attack on Gotham City. Bruce Wayne, again costumed as Batman, gets his rematch with Bane and finally defeats him in single combat. Since then, whenever Batman and Bane fight each other, their fights usually end in a draw.
Veritas Liberat
The Jesuit priest that Bane spoke with told him there was a possibility that his biological father was an American doctor. In researching this issue, Bane comes to the conclusion that he and Batman have the same father, Dr. Thomas Wayne.
Bane alerts Batman to this possibility, and during the time that the DNA tests are being performed, stays at the Wayne Manor and fights alongside Batman on the streets of Gotham. Ultimately, it is revealed that Dr. Wayne is not Bane's father, and Bane leaves Gotham City peacefully to pursue leads in the snowy mountains of Kanchenjunga.
Bane eventually finds his father, the terrorist King Snake, in the "Veritas Liberat" storyline. Bane and Batman foil King Snake's plans to unleash a powerful weapon upon the world. Bane saves Batman from being shot by King Snake, but is mortally wounded in the process. Batman then saves Bane and leaves him with a clean slate and a new opportunity at life.
DC Rebirth
During the "Batman and the Monster Men" storyline, Batman realizes that Bane had been supplying Hugo Strange with Venom, which he used to help create his Monster Men. It is later revealed that Bane supplied Strange with the Venom in order to receive services from Psycho-Pirate, who used his power of manipulating emotions to help Bane overcome his addiction to the substance.
Later on, during the "I Am Suicide" storyline, Batman, wanting to reverse the crippling fear Psycho-Pirate infected Gotham Girl with, hires The Ventriloquist, Punch and Jewelee, Bronze Tiger, and Catwoman to help him infiltrate Santa Prisca and retrieve him from Bane.
Later, after arriving in Santa Prisca, Batman is easily overwhelmed and captured by Bane's followers and brought to Bane himself, who beats Batman and greatly injures his back (not being strong enough to snap his spine without Venom) before tossing him in a cell slowly filling with water.
After escaping and letting the others inside the prison, Catwoman betrays the entire team to Bane, seemingly killing Punch and Judy, and because of this, Bane is able to beat Batman again. However, Catwoman's betrayal was actually part of Batman's plan, and, after everyone is in their positions, she turns on Bane and breaks his back, allowing Batman and his team to escape with Psycho Pirate. With Psycho Pirate gone, Bane screams out, demanding Venom.
Following that, in "I Am Bane", Bane returns seeking vengeance against Batman. As a first act of vengeance, Bane attempts to have one of his men assassinate Batman while he is visiting Gotham Girl in Arkham, although he was stopped by Bronze Tiger.
Knowing Bane is returning, Batman attempts to keep all of his allies far away from the conflict, however, Bane still manages to beat and (non-fatally) hang Damian Wayne, Dick Grayson and Jason Todd in the Batcave and later kidnaps Bronze Tiger, Catwoman, James Gordon and Duke.
Only a short time later, Bane attempts to ransom Batman's allies in exchange for Psycho-Pirate, however, Batman refuses, resulting in Bane savagely beating him to near death whilst comparing himself to Batman's other enemies.
After knocking Batman out, Bane orders for the hostages to be killed, only to realize that Catwoman escaped, freed the others and defeated his men. As a result of this, Bane furiously heads to Arkham Asylum where Alfred is forcing Psycho-Pirate to heal Gotham Girl.
Upon breaking into the Asylum, Batman has all of it's inmates freed and offers to improve their stay there if they defeat Bane, however, Bane mercilessly beats his way through every single one of them except Calendar Man, who simply pretends to be knocked out after calmly telling him that, despite what he believes, he will never be done with Batman and vice-versa.
After finally reaching Batman, Bane beats down on Batman yet again, who begins hearing the voice of his mother as he grows closer to death. As Bane is about to kill Batman, Batman manages to knock him out cold with a powerful headbutt.
In the "Breaking the Bat" storyline, he is revealed to have masterminded several events during DC Rebirth, from the plane crash that cause Batman to meet Gotham and Gotham Girl, to his wedding to Catwoman and the Joker sabotaging it, all to break Batman further.
Eventually Bane confronts an infuriated Batman at Wayne Manor and manages to defeat the Dark Knight in combat before his acquaintance Thomas Wayne, who was pulled from the Flashpoint timeline, takes the fallen vigilante out of Gotham City.
Believing to have finally broken the Bat completely, Bane takes control of Gotham City using various supervillains he commanded with the help of Psycho Pirates powers and plans to achieve the one thing Batman has tried to do for years: make Gotham a safer place. With the help of Thomas Wayne and Gotham Girl, Bane maintained an iron-fisted rule over Gotham.
He made a deal with Lex Luthor to keep away government interference and had threaten to murder Alfred Pennyworth if the Bat Family try to infiltrate the city. Damien Wayne tried to save Alfred despite the warnings, but was caught by Thomas who imprisoned him in the Batcave while Bane snapped Alfred's neck, seemingly killing him.
However, despite appearing to have finally achieved victory, What Bane did not realize was that his success was all part of Batman's own convoluted plot. He had Damien sneak into Gotham in other to let the rest of the Bat Family enter while Batman rekindled his relationship with Catwoman and they worked together to take back the city.
Bane and Batman eventually fought each other once again, but this time Batman proved himself the mightier of the two by using tainted Batarangs to induce Bane with a Venom overdose his body could not handle.
However, before Bane could be defeated, Thomas Wayne barges into the room and shoots both him and Batman before shooting Bane again in the head, apparently killing him for his inability to stop Wayne's son.
It is later revealed Bane survived the gunshot but now laid in a coma at Arkham Asylum. Bane later regains consciousness after Thomas Wayne's defeat and gets his revenge for Thomas' betrayal by seemingly breaking his back.
Infinite Frontier
Death of Bane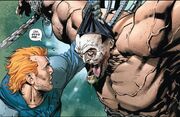 In Infinite Frontier #0, Joker Gas has spread through whole Arkham Asylum and on most inmates and officers are dead. When guards came to check in on Bane they find him dead from the Joker laughing gas
Task Force Z
Task Force Z first mission to capture Crazy Quilt Man Tracking him down he begging to Man-bat let him go before that he use blast through Langstrom out the roof. Before try to escape he get hit crowbar by Red hood telling him step from ledge and ask question but he not going back to prison then he behind form Bane grab him about break him in half until he will tell everything then Man-Bat come back about killing Jason tell Bane to make him stay down.
They Next mission is Mr Freeze location to get his supplies that been halt by Mr Freeze fighting him and his minions. Bane get frozen by him Jason ask working as team Kirk start go after him but his head frozen use it break Bane into piece.
Jason tell Ahrakm Knight go get Mr. Freeze but her legs got frozen Red Hood take that chance use a crowbar hit Mr Freeze helmet with better luck Victor was defeat. Before taking him Victor told him that his cooling suit is gas can no longer be concatenated that cause explosion of wasteland on ice.
Crispin send the team goes on next mission from Koba Cult to get a loaded until red Hood and team in chooper and start attack. They gain upper hand this fight when evryone been poisoned where they encounter Chesire Cat. The villain nearly takes down Jason Todd before Bane saves him and smashes her into the ground.
Bane thanks the Red Hood for the increased Lazarus Resin dose, which allows him to be more human, leading Jason to ask him his all memories return answer pieces it getting there he say "good". Jason attacks Bane telling him why he doing this after realizing he remembers killing Alfred, kicking him off the side of a skyscraper.
Powers and Abilities
Bane has an eidetic memory, and so is capable of easily studying and fully reading and understanding the actions and the physical movements of another individual.
One half of Bane's greatest self-taught achievements was his strong dedication on keeping himself in perfect physical condition. During his prison stint, Bane studied and designed new methods of calisthenics, meditation, and a fighting style that he uses against other well-known martial arts fighters within the DC Universe, often to great success. Notable victories include, Batman (Bruce Wayne), Nightwing (Dick Grayson), and Judo Master, killing the latter.
Through the years, Bane has built his mind and body to the point his body doesn't endure much fatigue from sleep loss or by physical means. It was said that Bane used a certain drug during his prison stint that connected both hemisphere's within his mind, it is unclear if the drug's effect is still active within Bane's body or not, but it would seem that the possible combination of Venom usage is still having its effects on Bane.
It was through years of his enduring physical training, that even without Venom usage, Bane is capable of having strength, stamina, agility, coordination, and fighting skills that are slightly compared to a metahuman. It's unclear if Bane possesses a metagene or not, but so far he's still labeled as a human at his highest peak for physical and mental perfection in all respects.
Aside from his physical and mental capabilities, Bane also has knowledge within the fields of heavy weapons handling and explosives. For the most part, Bane wouldn't prefer using these type of weapons when confronting somebody; he would use such items when trying to destroy a building or any other man-made construction.
Even though Bane hasn't yet been verified on having metahuman powers of any sort, there was an incident within Bane's history as a teenager where he witnessed a future version of himself. It is a strong coincidence that he eventually became the same man, yet Bane was unconscious when encountering this vision.
Venom
Bane is known for using his signature Venom drug. Venom is a potently addictive strength-enhancing super-steroid. It is based on the Miraclo formula. The drug enhances the user's physical attributes to superhuman levels. By using the drug, Bane increases his already impressive strength.
The amount of power Bane has is dependent on how much Venom he takes. It gives him accelerated healing, incredible stamina, and peak human speed. His durability increases to the point where bullets from most conventional firearms cause only superficial damage.
The Venom drug increases his strength into the two ton range depending on how large a dosage he uses. Exactly how strong he can become has never been fully established. Venom has a severe withdrawal effect if the injections are not continuous.
The symptoms are intense pain, dehydration, madness, coma and eventual death. Bronze Tiger once remarked that Venom withdrawal felt like his soul was being ejected by his body, and that it was much worse than the withdrawal effects of other drugs.
If Bane overdoses on Venom, he will temporarily go into a feral state in which his physical abilities increase tremendously, but he becomes little more than a mindless berserker. More savvy opponents have used this to their advantage, although many more have fallen before the onslaught.
The weakness of the Venom is removing the hoses from the tank leaving Bane weaker. Batman usually removes the hoses either with a batarang or even with his bare hands.
Equipment
Venom delivery system: Bane uses a mechanical tube system to feed the Venom drug into his system. Using an apparatus on his wrist, he can injects Venom into the base of his skull with the press of a button.
Guns/Firearms: Bane has used a wide varieties of firearms despite not normally carrying them. He has used handguns, shotguns, SMGs, machine guns, miniguns, and rocket launchers.
Bladed Weapons: Bane has used various types of bladed weapons, though he normally doesn't carry them around. He has used knives, machetes, swords, axes, and spears.
Batsuit(formerly): During Batman's disappearance due to the crime Syndicate, Bane wore his own bat suit and took up the role of Batman.

Television
DC Animated Universe
Bane is a recurring villain in the DC Animated Universe. He made his debut in Batman: The Animated Series. This incarnation was an inmate of a Cuban prison meant to contain the most dangerous convicts ever captured. While in the prison, Bane gained genius level intellect by reading as many books as he could, eventually learning of Gotham's vigilante Batman.
In the episode "Bane", he is hired by Rupert Thorne to kill Batman, though he schemes with Thorne's secretary Candace to take Thorne's place after Batman is gone. Batman manages to defeat Bane in combat by turning up the device that supplies his venom, causing his body to swell beyond his control until he collapses from exhaustion. After his defeat, Bane makes it a personal mission to destroy Batman as revenge for his humiliation.
In the Batman episode "Over the Edge", Bane is released from prison by a revenge-crazed Commissioner Gordon who blames Batman for the death of his daughter Barbara. Gordon hires Bane to find and defeat Batman so that Gordon can arrest him and commit him to Arkham Asylum.
Ultimately, however, Bane betrays Gordon, unwilling to give up his dream of killing Batman, and throws both of them over a building before the episode's events are revealed to merely be Barbara's nightmare.
Bane later appears in the Superman: The Animated Series episode "Knight Time", where he returns to Gotham with a new, enhanced form of Venom. During Batman's mysterious disappearance (due to being brainwashed by the supervillain Brainiac), Bane conspired with the Riddler and the Mad Hatter to take over Gotham during the Dark Knight's absence.
But when the villains met to discuss their scheme, they are interrupted by Superman (posing as Batman) and Robin (Tim Drake). At first, Bane managed to subdue "Batman" by burying him in a pile of rubble, though the hero surprises Bane by emerging and demonstrating superhuman strength. And although Bane was stronger than ever, the Man of Steel was ultimately able to pummel the villain into submission.
Bane made his final appearance in Batman Beyond. Bane's Venom formula is delivered in patch form as an influx called 'slappers' and distributed on the streets of the future version of Gotham and even to given teenagers. Bane is initially suspected to be the supplier. But after tracking him down, Batman learns that a lifetime of Venom usage has taken its toll on the once formidable villain and that he's now a frail old man using a wheelchair and reliant on an oxygen tank and the support of a nurse due to years of substance abuse.
Batman: The Brave and the Bold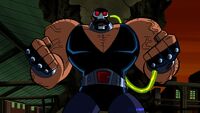 Bane appears in Batman: The Brave and the Bold episode "Menace of the Conquering Caveman" having escaped prison only to be caught by Batman and Wildcat. In "Night of the Batmen" Bane is seen with Blockbuster, Solomon Grundy, and Killer Croc trying to steal Lady Liberty but are eventually beaten by Captain Marvel dressed like Batman. Unlike his comic book counterpart Bane is shown to be weak and skinny before taking venom.
The Batman
Main article: Bane (The Batman)
Young Justice
Main article: Bane (Young Justice)
Bane appears in the Young Justice episode "Drop Zone", where he is the head of a drug operation on Santa Prisca, dealing the enhanced steroid Venom. Beaten by Mammoth, who is enhanced by a mixture of Venom project Blockbuster, he does battle with the Cult of the Cobra and later tricks the team to help him before attempting to kill them in a way that would make the Justice League come after the Cultists in a way that would allow him to take control of his drug factory, but fails and see's his factory destroyed. He later joins Lex Luthor as an associate of the Light.
Gotham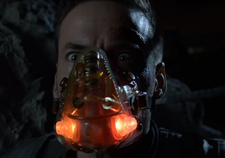 Main article: Eduardo Dorrance
Bane appears as one of the main antagonists in the fifth and final season of the FOX television series, Gotham. In this adaption, his real name is Eduardo Dorrance and he is a former army buddy of Jim Gordon who initially arrives in Gotham City to liberate it from its "No Man's Land" state. However, in reality, he arrives to actually enforce rogue government agent Theresa Walker's plan for the city.
He is portrayed by Shane West.
Harley Quinn (TV series)
Bane appear in DC Universe's adult animation series Harley Quinn.
Film
Batman: Mystery of the Batwoman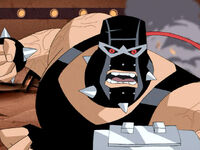 In the animated movie Batman: Mystery of the Batwoman, Bane is the central antagonist. He, Penguin, Rupert Thorne and Carlton Duquesne plot to dispose of Batman and track down the three Batwomen.
Batman and Robin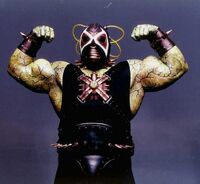 Main article: Bane (Batman & Robin)
In the critically despised live-action 1997 film Batman & Robin, Bane appeared as the secondary antagonist and as the main henchman/right-hand man of Poison Ivy.
The Dark Knight Rises
Main article: Bane (Nolanverse)
Bane is one of the two main antagonists in the 2012 live action film, The Dark Knight Rises. He was portrayed by Tom Hardy.
Superman/Batman: Public Enemies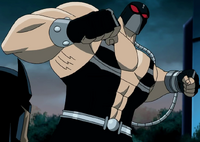 Bane appears in the animated film Superman/Batman: Public Enemies. In the film, he is one of the dozens of villains after the one billion dollar bounty on Superman's head placed by President Lex Luthor. He gets knocked out by Batman after he cuts Bane's Venom delivery system.
Justice League: Doom
Bane is the first member of the Legion of Doom to be introduced, trekking through Slaughter Swamp to the Hall of Doom before being attacked by a giant alligator. He is dragged underwater, but manages to free himself and break the beast's neck.
He meets Metallo, Star Sapphire, Ma'alefa'ak, and Cheetah on the way to the Hall of Doom before they are invited in. Bane is chosen by Vandal Savage to kill Batman. Bane digs up the Wayne's graves and lures Batman over to the graveyard before he reveals himself and brutally beats Batman. He then buries him along with his parents. Bane stays with Vandal Savage after he revealed his true plans, and faces off against Batman when the Justice League storms the Hall of Doom. Despite overpowering Batman early on he manages to defeat Bane by cutting his Venom tube.
Batman: Assault on Arkham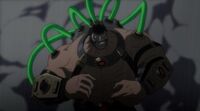 Bane appears in the 2014 animated film along with many of Batman's notorious villains including the Joker, Harley Quinn, Deadshot. Bane was not one of the main characters who played in this film as a member of the Suicide Squad, but was introduced during a breakout at Arkham Asylum, along with many other villains. He was hooked up with venom tubes and was strong enough to flip over police cars, but was eventually defeated by Batman.
Lego Justice League: Gotham City Breakout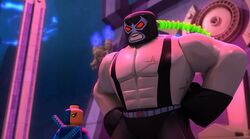 In the Lego DC movie Lego Gotham City Breakout, Bane teams up with Deathstroke and attacks a peaceful race known as Trogowogs, who Bane now rules over them as their leader.
After Deathstroke and the Trogowogs capture Batman, Nightwing, and Batgirl, they bring them before Bane, who they discover him as the ruler of the Trogowogs.
Bane is about to unveil his plan to them until the heroes interrupt him, as they predict Bane's plan is to rule the world with the Trogowogs, which they then assume he used the Psyche Stone on Batman's old master, Madame Mantis, who is friends with the Trogowogs, to learn a technique called "the forbidden move" to teach to his Trogowog army, but failed and planned to use it on Batman instead. Bane mutters to the heroes that they take the fun out of being a villain as detectives, but then remarks that they do it sometimes.
Bane and Deathstroke interrogates Batman with the Psyche Stone as it fires a beam upon his head that shows a projection of Madame Mantis teaching Batman the forbidden move. As the secret to it was about to be revealed, however, Batman moves his head away from the beam, ending the memory projection. Deathstroke demands they re-position Batman's head underneath the beam again, but Bane warns him not to, as he explains that Batman barely survived from the beam's deadly effects, which if Batman dies, the secret to the forbidden move will be lost to them forever.
Bane orders the Trogowogs to take Batman to the dungeons, where Nightwing and Batgirl are with Madame Mantis and the Trogowog prince, Grungel, who is paranoid, especially by Bane. Once they discovered Batman already tortured by Bane and Deathstroke, Batgirl runs over to his side, but is pushed by the Trogowog guard. Prince Grungel tells the Trogowogs to leave her alone, only to be scared by their growl. The two Trogowogs laugh at Prince Grungel before they left.
Prince Grungel tells the heroes it was his fault they are in this mess, as he explains the Trogowogs were once peaceful creatures who used the Psyche Stone to spread friendship until Bane discovered them and used the Psyche Stone to turn them evil after he killed the Trogowog king while Grungel stood by and watched. Batgirl tells Grungel it is okay to be afraid, as she says that bravery is fighting for what is right.
Once Batman and the heroes escaped, after Batman used a brick separator to free themselves from their cell, Bane appears before them as a projection from the Psyche Stone, telling Batman to surrender, although it is actually a trap to scare Grungel and separate him from the heroes to lure him to Deathstroke. Bane then reappears as a projection again, telling Batman he has someone who likes to see him as he presents Grungel in his hand, who he calls him not as a talker, but instead of a "whimperer". He then tells Batman that he will see him soon, as he knows that Batman would come to save Grungel.
Batman surrenders himself to Bane, as Bane is seen pinning him down while the Psyche Stone fires a beam at his head again. Bane orders Deathstroke to increase the Psyche Stone's power, bringing up the projection again. After Bane finally learns the secret of the forbidden move, he gathers all of the Trogowogs and have them stand under the Psyche Stone, giving them the information of the technique. He then sends them to the surface until Batman appears before them with Deathstroke, who now reforms himself, and fights the Trogowogs.
Bane goes over to Prince Grungel and berates him for his peaceful ways and nearly destroys him until Nightwing and Batgirl fight him. Bane manages to beat them, as he is seen pinning them under a pillar. Just then, Prince Grungel becomes brave and fights Bane.
Bane tries to hit Grungel, but Grungel dodges his every attack with ease. Bane threatens Grungel that will destroy him like he did with his father. Grungel, on the other hand, stands up to Bane and tells him that he will die as a king. While Nightwing and Batgirl watches the fight, Madame Mantis advises them to use the Psyche Stone to show a projection of Bane and Grungel fighting. Madame Mantis gives a Grungel a stick to fight Bane, which Bane comments the stick as small while he brags about himself as a big man. Grungel uses the stick to cut the chords leading to Bane's venom, rendering Bane weak. Bane, refusing to give up, attempts to strike at Grungel, but then falls down a long flight of stairs and lands in front of the Trogowogs, who all laugh at Bane in his defeat.
Batman Vs Teenage Mutant Ninja Turtles
Bane is one of the antagonists. He was locked up in Arkham Asylum along with Scarecrow, Harley Quinn, Poison Ivy, Mr. Freeze, Two-Face and Joker. With the alliance of both Ra's and Shredder arrived to Arkham Asylum to secure Joker, Bane is eagerly to help them for his rematch against Batman. He was freed and turned into a jaguar when exposed to Shredder's Ooze. He fought both Batgirl and Donatello but was defeated by them.
Batman: Hush
In Batman: Hush, Bane is one of the secondary antagonists (along with Poison Ivy and Joker). He is working for "Hush". He kidnapped a boy for his demand for money. However, Bane was defeated by Batman and freed the boy who the latter calls Bane an asshole. Bane was sentenced to Arkham to work for Amanda Waller for her Suicide Squad but he became furious and killing the guards. When Bane attempted to kill Catwoman, Amanda used a drone to capture him and used the nerve toxins to knock Bane unconscious. Unbeknownst to Bane that Hush is actually the Riddler.
Batman: Unlimited
Main article:

Bane (Batman: Unlimited)
Video Games
Batman: Rise of Sin Tzu
Batman attempts to disarm a weapon of mass destruction but is suddenly attacked by Bane. Nevertheless, Batman defeats Bane and then successfully disarms the weapon.
Arkhamverse
Main article: Bane (Arkhamverse)
Telltale Batman Universe
Main article: Bane (Telltale)
DC Universe Online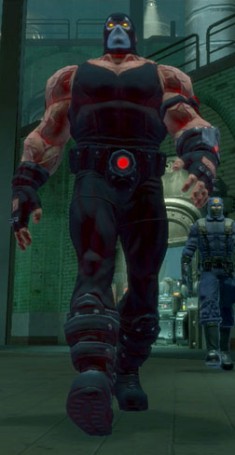 On the Heroes side, Batman wants to stop Bane from supplying a new type of Venom throughout Gotham while using Cape Carmine Lighthouse as his hideout. Batman enlists the help of the new Justice League recruits to defeat and interrogate Bane's dealers and then assist Nightwing in taking Bane down. In duo mode of the level, the players have to fight Killer Croc and Deathstroke before they can get to Bane.
On the Villains side, Bane attracts the ire of the Joker when he moves into the Falcone family turf. The Joker wants this to cease and he commissions new recruits supported by the Secret Society of Super Villains to thwart Bane's plans and then join Falcone muscle Killer Croc in taking out Bane himself.
Injustice
In the first game he is a supporting antagonist. Bane is shown working for Lex Luthor, and attacks the Watchtower alongside him, Catwoman and Solomon Grundy. He fights and defeats Nightwing, but Batman arrives and eventually defeats him. After Luthor's defeat, he is shown being taken through a portal to Arkham Asylum alongside the other villains.
In the Regime universe, Bane has joined Superman and his One Earth Regime, and is later seen during the attack on the Insurgency base. He fights Wonder Woman but she ultimately defeats him. Before she can kill him, she is teleported to Themyscria by Ares. The Prime Universe Batman and Injustice Universe Batman then defeat him. Bane is later arrested alongside other villains following Superman's defeat.
In the second game he returns as a supporting antagonist. Bane escapes prison and eventually joins the Society, led by Gorilla Grodd. Bane is present onstage during Grodd's speech before Black Canary and Green Arrow arrive. While the player chooses one character to defeat Catwoman, Bane sends the other hurling backwards. One of the character is chosen and defeats Bane and the other severs his venom tubes. He is then knocked unconscious by Canary.
Bane is present during the invasion of Atlantis, shown fighting the guards. Upon storming into the throne room, he confronts and fights Green Lantern. After being defeated, Atrocitus toys with Lantern's mind, who conjures a hammer and angrily slams Bane into the wall, knocking him unconscious.
Bane and Deadshot then confront Catwoman and Cyborg as they infiltrate the Batcave to restore Brother Eye, and is defeated by whoever the player chooses. Like the other Society members, he quits when he discovers their master Brainiac seeks to destroy Earth, not conquer it.
He also appears in the animated film simply titled Injustice as a minor antagonist where he is released alongside the other Arkham Asylum inmates by Harley Quinn and battles the combined forces of the Regime and Insurgency. He is beaten and electrocuted by Batman.
Trivia
He was created by Chuck Dixon and Graham Nolan.
According to the Batman Arcade game, Bane serves as one of Batman's most infamous archenemies to date, alongside The Joker and Mr. Freeze.
In Mystery of the Batwoman, even though The Penguin is the one who drove the plot to catch Batwoman, Bane is the true main villain as he was a direct threat to Batman and had bigger plans than anyone else.
Bane fought Venom (the Marvel character) in the popular show DEATH BATTLE and lost.
Thanks to his immense strength and infamy as the one who literally broke Batman, Bane is one of the few (if not the only) villains in his franchise who can consistently outshine Joker.

Villains
Comics
2-Face-2 | Abraham Langstrom | Alfred Protocol | Alfred Stryker | Alice | Amanda Waller | Amygdala | Anarky | An Innocent Guy | Ares | Arkham Knight | Arnold John Flass | Azrael | Baby Doll | Bane | Barbatos | Bat-Mite | The Batman Who Laughs | Black Glove | Black Mask | Blockbuster I | Blockbuster II | Brain | Broker | Brother EYE | Calculator | Calendar Man | Castle Bat | Captain Fear | Captain Boomerang | Carmine Falcone | Catman | Catwoman | Cheetah | Cheshire | Circus of Strange | Clayface | Clayface (Matt Hagen) | Claything | Clock King | Clownface | Club of Villains | Cluemaster | Composite Superman | Condiment King | Copperhead | Cornelius Stirk | Court of Owls | Crazy Quilt | Crime Doctor | Curtis Base | Dark Archer | David Cain | David Li | Dark Knights | Deacon Blackfire | Deadshot | Dealer | Deathstroke | Dick Grayson (Frank Miller) | The Dawnbreaker | The Devastator | Dr. Crane | Doctor Death | Doctor Double X | Doctor Phosphorus | Doctor Randolph Porter | Donna Troy | Dr. Silversmith | The Drowned | Electrocutioner | Emperor Penguin | Enigma | Ernie Chubb | Faceless | Falcone Crime Family | Film Freak | Firebug | Firefly | Flamingo | Floronic Man | Gearhead | General Ulysses Armstrong | Gilda Dent | Gorilla Boss | Gotham City Police Department | Gillian B. Loeb | Great White Shark | The Grim Knight | Harley Quinn | Holiday | Holly Robinson | Humpty Dumpty | Hugo Strange | Hush | Instigator | Jack the Ripper | James Gordon, Jr. | Jason Todd | Jeremiah Arkham | Joe Chill | Joker (Earth-22, 2008 Graphic Novel) | Judge of Owls | Joker's Daughter | Key | KGBeast | King of Cats | King Snake | King Tut | Killer Croc | Killer Moth | Kite Man | Lady Shiva | League of Assassins | Leviathan | Lex Luthor | Lock-Up | Lord Death Man | Mad Hatter | Mad Monk | Magpie | Malochia | Man-Bat | Mary Keeny | Maxie Zeus | Maxwell Lord | The Merciless | Merrymaker | Micheal Atkins | Monk | Mr. Bloom | Mr. Freeze | Mrs. Freeze | Mayor Oswald Cobblepot | Mr. Toad | Mr. Whisper | Mutants | Neo Joker | Neron | Nightslayer | Nocturna | Omega | Onomatopoeia | Orca | Outsider | Owlman | Phantasm | Penguin | Penny Plunderer | Phosphorus Rex | Planet Master | Poison Ivy | Polka Dot Man | Professor Arnold Hugo | Professor Pyg | Prometheus | Punchline | Ra's al Ghul | Ragdoll | Ratcatcher | Reaper | Red Death | Reverse-Flash | Riddler | Robin King | Roland Daggett | Roxy Rocket | Royal Flush Gang | Rupert Thorne | Saint Batman | Sal Maroni | Scarecrow | Sensei | Sewer King | Signalman | Simon Hurt | Sinestro | Snowman | Solomon Grundy | Spellbinder | Squid | Steeljacket | Suicide Squad | Talia al Ghul | Talon | Tally Man | Ten Eyed Man | Terrible Trio | Thomas Wayne | Tiger Shark | Timecode | Tony Zucco | Tweedledum and Tweedledee | Two-Face | Ubu | Vandal Savage | Ventriloquist | Ventriloquist II | Ventriloquist III | Vertigo | Victor Zsasz | Whisper A'Daire | White Rabbit | Wrath | The Wonderland Gang | Zebra-Man
Theatrical Movies
Batman (1966): Penguin | Catwoman | Joker | Riddler
Batman (1989): Joker | Joker Goons (Bob Hawkins) | Alicia Hunt | Carl Grissom | Max Eckhardt | Vinnie Ricorso | Joe Chill | Harvey Dent
Batman Returns: Penguin | Red Triangle Circus Gang (Organ Grinder, Poodle Lady, Tattooed Strongman, Stungun Clown, Thin Clown, Fat Clown, Sword Swallower, Knifethrower Dame & Fire Breather) | Max Shreck | Catwoman
Batman: Mask of the Phantasm: Phantasm | Joker | Salvatore Valestra | Arthur Reeves | Chuckie Sol | Buzz Bronski
Batman Forever: Riddler | Two-Face | Sugar | Spice | NygmaTech (Frogmen) | Neon Gang (Neon Gang Leader) | Salvatore Maroni
Batman & Robin: Poison Ivy | Mr. Freeze | Bane | Snowy Cones Thugs | Golums | Jason Woodrue
Batman Begins: Ra's al Ghul | League of Shadows (Ra's Decoy) | Scarecrow | Falcone Crime Family (Carmine Falcone, Victor Zsasz, & Arnold Flass) | Joe Chill
The Dark Knight: Joker | Joker's Thugs (Thomas Schiff, Chuckles, Kilson, Happy, Dopey, Grumpy & Bus Driver) | Two-Face | Sal Maroni | The Chechen | Gambol | Lau | Bank Manager | Michael Wuertz | Burmese Bandit
The Dark Knight Rises: League of Shadows (Bane, Talia al Ghul & Barsad) | Catwoman | John Daggett | Phillip Stryver | Ra's al Ghul | Scarecrow
Batman v Superman: Dawn of Justice: Lex Luthor | Doomsday | Anatoli Knyazev | Mercy Graves | Cesar Santos | Amajagh | Joe Chill | Zod | Joker | Steppenwolf
Suicide Squad: Eyes of the Adversary (Enchantress & Incubus) | Suicide Squad (Deadshot, Harley Quinn, Captain Boomerang, El Diablo, Killer Croc, Slipknot & Amanda Waller) | Joker's Gang (Joker, Jonny Frost, Panda Man & Monster T) | Griggs
The Lego Batman Movie: Joker | Harley Quinn | Phantom Zone Criminals (Zod, Sauron, Kraken, Lord Voldemort, Agent Smith, Jaws, Gremlins, Medusa, Lord Vampyre, Wicked Witch of the West, Flying Monkeys, The Swamp Creature & Daleks) | Catwoman | Poison Ivy | Two-Face | Bane | Riddler | Salvatore Maroni
Joker: Clowns (Joker, Clown & Ambulance Clown) | Penny Fleck | Wall Street Three | Penny Fleck's Boyfriend
The Batman (2022): Riddler | Falcone Crime Syndicate (Carmine Falcone, Penguin, William Kenzie, Vinnie, & The Twins) | Catwoman | Salvatore Maroni | Riddler's Cult | Pete Savage | Gil Colson | Don Mitchell Jr. | Train Gang | Joker
Direct-to-video Movies
Batman & Mr. Freeze: SubZero: Mr. Freeze | Dr. Gregory Belson
Batman Beyond: Return of the Joker: Joker | The Jokerz (Chucko, Dee-Dee, Ghoul, Bonk, & Woof) | Harley Quinn
Batman: Mystery of the Batwoman: Penguin | Bane | Rupert Thorne | Carlton Duquesne
The Batman vs. Dracula: Dracula | Penguin | Joker
Superman/Batman: Public Enemies: Lex Luthor | Major Force | Metallo | Amanda Waller | Toyman | Solomon Grundy | Gorilla Grodd | Killer Frost | Lady Shiva | Giganta | Mongul | Captain Cold
Batman: Under the Red Hood: Jason Todd | Joker | Black Mask | Ra's al Ghul | Riddler | Ms. Li
Superman/Batman: Apocalypse: Darkseid | Female Furies (Granny Goodness, Gilotina, Mad Harriet, Lashina & Stompa) | Doomsday
Batman: Year One: Batman | Gotham City Police Department (Commissioner Loeb, Arnold John Flass, & Howard Branden) | Falcone Crime Family (Carmine Falcone & Johnny Viti) | Catwoman | Joker
Batman: The Dark Knight Returns: Batman | Joker | Mutant Leader | Ellen Yindel | Harvey Dent | Selina Kyle
Son of Batman: Deathstroke | League of Assassins (Ra's al Ghul & Talia al Ghul) | Ubu | Killer Croc | Man-Bats
Batman: Assault on Arkham: Suicide Squad (Amanda Waller, Deadshot, Harley Quinn, Captain Boomerang, Killer Frost, King Shark, Black Spider, KGBeast) | Joker | Riddler | Penguin | Scarecrow | Victor Zsasz | Bane | Two-Face | Poison Ivy
Lego DC Comics: Batman Be-Leaguered: Bat-Mite | Lex Luthor | Joker | Penguin | Man-Bat | Captain Cold | Black Manta
Batman vs. Robin: Court of Owls (Samantha Vanaver, Talon, Owls Lieutenant, & Talon Warriors) | Dollmaker
Batman Unlimited: Animal Instincts: Animalitia (Penguin, Killer Croc, Man-Bat, Cheetah & Silverback)
Batman Unlimited: Monster Mayhem: Joker | Scarecrow | Clayface | Silver Banshee | Solomon Grundy
Batman: Bad Blood: League of Assassins (Talia al Ghul, The Heretic, Onyx, Firefly, Tusk, Mad Hatter, Electrocutioner, Hellhound, Calculator, & Killer Moth) | Black Mask
Batman: The Killing Joke: Joker | Vinnie & Joe | Paris Franz
Batman Unlimited: Mechs vs. Mutants: Penguin | Mr. Freeze | Cheetah | Hush | Mad Hatter | Two-Face | Bane | Chemo | Killer Croc | Clayface | Joker | Dr. Kirk Langstrom
Batman: Return of the Caped Crusaders: Joker | Penguin | Riddler | Catwoman | Archer | Black Widow | Bookworm | Clock King | Egghead | False Face | King Tut | Louie the Lilac | Mad Hatter | Minstrel | Mr. Freeze | Sandman | Shame | Siren
Batman and Harley Quinn: Harley Quinn | Poison Ivy | Floronic Man
Batman vs. Two-Face: Two-Face | Hugo Strange | Catwoman | King Tut | Bookworm | Joker | Penguin | Riddler | Clock King | Egghead | Mr. Freeze | Shame | Harley Quinn
Scooby-Doo! & Batman: The Brave and the Bold: Riddler | Clayface | Joker | Mr. Freeze | Catwoman | Penguin | Harley Quinn | Poison Ivy
Batman: Gotham by Gaslight: Jack the Ripper | Barbara-Eileen Gordon | Selina Kyle | Harvey Dent | Hugo Strange
Batman Ninja: Joker | Harley Quinn | Catwoman | Gorilla Grodd | Bane | Penguin | Poison Ivy | Deathstroke | Two-Face
Batman vs. Teenage Mutant Ninja Turtles: Foot Clan (Shredder & Baxter Stockman) | League of Assassins (Ra's al Ghul & Ubu) | Joker | Penguin | Harley Quinn | Mr. Freeze | Scarecrow | Two-Face | Poison Ivy | Bane
Batman: Hush: Riddler/Hush | Catwoman | Poison Ivy | Bane | Joker | Harley Quinn | Clayface | Scarecrow | Lex Luthor | Lady Shiva | Two-Face | Penguin | Mr. Freeze | Thomas Elliot
Batman: Death in the Family: Jason Todd | Joker | Black Mask | Ra's al Ghul | Riddler | Talia al Ghul | Cheetah | Two-Face
Batman: Soul of the Dragon: Nāga | Kobra (Jeffery Burr, Schlangenfaust, Lady Eve, King Snake & Rip Jagger) | Ben Turner | Shiva | Richard Dragon | Jade
Batman: The Long Halloween: Holiday | Falcone Crime Family (Carmine Falcone, Milos Grapa, Alberto Falcone, Johnny Viti, & Sofia Falcone) | Two-Face | Joker | Solomon Grundy | Salvatore Maroni | Poison Ivy | Penguin | Scarecrow | Mad Hatter | San Ho Hui (Mickey Chen) | Calendar Man | Catwoman

Television
Batman 60s show
Joker | Penguin | Catwoman | Riddler | Mr. Freeze | The Archer | Black Widow | Bookworm | Egghead | Clock King | Queenie Goldstein | Sandman | Dr. Cassandra Spellcraft | Cabala | Minstrel | Shame | False Face | The Siren | Undine | Chandell & Harry | King Tut | Louie the Lilac | Mad Hatter | Cornelia | Baby Jane Towser | Lydia Limpet | Zelda the Great | The Puzzler | Olga, Queen of Cossacks | Marsha, Queen of Diamonds | Lord Marmaduke Ffogg | Lady Penelope Peasoup | Ma Parker | Freddy the Fence | Lola Lasagne | Nora Clavicle | Colonel Gumm | Minerva | Killer Moth | Calamity Jan
1970s Filmation series
Joker | Catwoman | Penguin | Riddler | Clayface | Mr Freese | Sweet Tooth
Batman: The Animated Series and The New Batman Adventures
Joker | Two-Face | Harley Quinn | Penguin | Catwoman | Rupert Thorne | Riddler | Poison Ivy | Scarecrow | Mad Hatter | Killer Croc | Clayface | Ra's al Ghul | Mr. Freeze | Man-Bat | Ventriloquist and Scarface | Roland Daggett | Clock King | Bane | Hugo Strange | Lloyd Ventrix | Kyodai Ken | Baby Doll | Emile Dorian | Red Claw | Boss Biggis | Sewer King | Talia al Ghul | Maxie Zeus | Lock-Up | Professor Milo | Count Vertigo | Daniel Mockridge | Grant Walker | Gil Mason | Arkady Duvall | Ferris Boyle | Arnold Stromwell | Tony Zucco | H.A.R.D.A.C. | Randa Duane | Batman Clone | Calendar Girl
The Batman (2004)
Joker | Penguin | Bane | Catwoman | Mr. Freeze | Ethan Bennett | Killer Croc | Man-Bat | Firefly | Riddler | Punch & Judy | Kabuki Twins | Hugo Strange | Cluemaster | Ragdoll | Temblor | Poison Ivy | Tony Zucco | Count Vertigo | Harley Quinn | Maxie Zeus | Clayface | Gearhead | Francis Grey | Killer Moth | D.A.V.E. | Dracula | Rumor | Toyman | Mirror Master | Lex Luthor | Black Mask | Sinestro | Joker 2.0 | Prank | Killgore Steed | Team Penguin | Julie | Spellbinder | Blaze | The Joining | Cosmo Krank | Marty Slacker | Scorn | Wrath | Metallo | Shadow-Thief
Batman: The Brave and The Bold
Joker | Music Meister | Catwoman | Penguin | Mr. Freeze | Clayface | Riddler | Poison Ivy | Lex Luthor | Flower Children | Harley Quinn | Morgaine Le Fey | Sweet Tooth | Queenie Goldstein | Bane | Kite Man | Black Manta | Gentleman Ghost | Major Force | Mirror Master | Metallo | Brainiac | Flamingo | Mxyzptlk | Toyman | Thinker | Doctor Sivana | Mister Mind | Black Adam
Beware the Batman
Anarky | Ra's al Ghul | Deathstroke | Harvey Dent | Killer Croc | Simon Stagg | Professor Pyg and Mr. Toad | Man-Bat | Cypher | Magpie | Lady Shiva | Tobias Whale | Phosphorus Rex | Lunkhead | Humpty Dumpty | Silver Monkey | Key | Bethany Ravencroft | Daedalus Boch | Junkyard Dog | Sapphire Stagg | Matatoa | Anatol Mykros
Harley Quinn
Harley Quinn | Poison Ivy | Joker | Scarecrow | Queen of Fables | Darkseid | Parademons | Penguin | Mr. Freeze | Bane | Lex Luthor | Killer Croc | Man-Bat | Riddler | Deadshot | Calendar Man | Condiment King | Solomon Grundy | Kite Man | Doctor Psycho | Clayface | King Shark | Nora Fries | Sy Borgman | Doctor Trap | Frank the Plant | Felix Faust | Toyman | Metallo | Livewire | Parasite | Black Adam | Captain Cold | Gorilla Grodd | Black Manta | Cheetah | Giganta | Sinestro | Maxie Zeus | Eris | KGBeast | Two-Face | Catwoman | Nick Quinzel | Sharon Quinzel
Video Games
LEGO Batman
Joker | Penguin | Riddler | Harley Quinn | Catwoman | Two-Face | Bane | Clayface | Killer Croc | Killer Moth | Mad Hatter | Man-Bat | Mr. Freeze | Poison Ivy | Scarecrow | Ra's al Ghul | Hush
Lego Batman 2: DC Super Heroes
Joker | Lex Luthor | Harley Quinn | Riddler | Two-Face | Catwoman | Bane | Penguin | Poison Ivy | Scarecrow | Captain Boomerang | Clayface | Mad Hatter | Ra's al Ghul | Killer Croc | Bane | Killer Moth | Mr. Freeze | Man-Bat | Hush | Zod | Sinestro | Brainiac | Gorilla Grodd | Captain Cold | Black Manta | Black Adam | Bizarro
Lego Batman 3: Beyond Gotham
Brainiac | Joker | Lex Luthor | Cheetah | Solomon Grundy | Firefly | Killer Croc | Sinestro | Atrocitus | Larfleeze | Star Sapphire | Composite Superman | Bane | Arkillo | Condiment King | Music Meister | Captain Cold | Black Adam | Black Manta | Black Hand | Bronze Tiger Cyborg Superman | Deadshot | Deathstroke | Lobo | Dex-Starr | Doomsday | Gorilla Grodd | Harley Quinn | Hush | Kalibak | Killer Moth | Man-Bat | Mad Hatter | Manchester Black | Metallo | Mr. Freeze | Mr. Mxyzptlk | Parasite | Penguin | Poison Ivy | Polka Dot Man | Red Hood | Riddler | Toyman | The Trickster | Ultra-Humanite | Catwoman | Bizarro | Amanda Waller | Captain Boomerang | El Diablo | King Shark | Killer Frost | Plastique | Terra | Zod | Faora | Joker | Two-Face | Ra's al Ghul | Bane | Catwoman | Scarecrow | Blight | Joker | Mr. Freeze | Arrow Deathstroke | Malcolm Merlyn | Darkseid
Injustice
Superman | Wonder Woman | Yellow Lantern | The Flash | Aquaman | Nightwing | Cyborg | Raven | Solomon Grundy | Catwoman | Bane | Black Adam | Deadshot | Poison Ivy | Scarecrow | Joker | Deathstroke
See Also
Arkhamverse Villains | Batgirl Villains | Batman Beyond Villains | Batwoman Villains | Birds of Prey Villains | Catwoman Villains | Gotham Villains | Harley Quinn Villains | Nightwing Villains | Outsiders Villains | Red Hood Villains | Robin Villains | Telltalle Batman Villains

Villains
Comics
Abbadonia | Alice | Amygdala | Bane | Black Mask | Bloody Mary | Bruno Mannheim | Christopher Falchion | Court of Owls | Cutter | Delores Winters | The Drowned | Fright | Green Fairy | Intergang | Killer Croc | Killshot | Kobra Cult | Kyle Abbot | La Llorona | Lamprey | Mad Hatter | Many Arms of Death | Maro Ito | Medusa | Morgaine Le Fey | Mortician | Mr. Freeze | Nathan Grantham | Nocturna | Night-Thief | Nyx | Poison Ivy | Professor Pyg | Religion of Crime | Riddler | Rush | Scatter | Scorpiana | Sister Shard | Tahani | Whisper A'Daire | Wolf Spider
Movies
Batman: Mystery of the Batwoman: Penguin | Bane | Rupert Thorne | Carlton Duquesne
Batman: Bad Blood: League of Assassins (Talia al Ghul, The Heretic, Onyx, Firefly, Tusk, Mad Hatter, Electrocutioner, Hellhound, Calculator, & Killer Moth) | Black Mask

Television
Season 1: Wonderland Gang (Alice, Jonathan Cartwright, & Chuck Dodgson) | August Cartwright | Hush | Crows Security (Catherine Hamilton-Kane & Miguel Robles) | Magpie | The Executioner | The Rifle | Anti-Monitor | Monitor | Lex Luthor | Bruce Wayne (Earth-99) | Shadow Demons | Nocturna | Duela Dent | Mabel Cartwright | Johnny Sabatino | Tim Teslow | Safiyah Sohail | Joker
Season 2: Many Arms of Death (Safiyah Sohail, Tatiana, The Pike, & Dire-Flail) | False Face Society (Black Mask, Rudy, & Circe Sionis) | Alice | Enigma | Crows Security (Russell Tavaroff & Miller) | Ethan Rogers | Hush | Victor Zsasz | Candy Lady | Amygdala | Ellis O'Brien | Kilovolt | Cluemaster | Gotham City Police Department | Wonderland Gang (Jonathan Cartwright) | Catherine Hamilton-Kane | Joker
Season 3: Marquis Jet | Alice | Poison Ivy | Mary Hamilton | Liam Crandle | Killer Croc | Professor Pyg | Victor Zsasz | Kiki Roulette | Joker | Jonathan Cartwright | Black Glove Society (Virgil Getty)

Villains
Comics
Alex Luthor | Amanda Waller | Amazo | Anomaly | Anti-Monitor | Atlas | Atomic Skull | Ballser | Bane | Barbatos | Bernadeth | Bertron | Bizarro | Black Adam | Black Banshee | Black Mercies | Black Zero | Blanque | Blackrock | Blaze | Bloodsport | Bloody Mary | Brainiac | Bruno Mannheim | Boss Moxie | Bug-Eyed Bandit | Captain Boomerang | Captain Cold | Catwoman | Cheetah | Chemo | Chessure | Circe | Clayface | Coldcast | Commander Gor | Composite Superman | Cyborg Superman | Cythonna | Dabney Donovan | Dark Knights | Darkseid | Dax Novu | Deathstroke | Desaad | Deuce & Charger | Dev-Em | Devilance | The Devastator | Doctor Light | Doctor Manhattan | Doctor Polaris | Donna Troy | Doomsday | Earth-Man | Eclipso | The Enchantress | Epoch | Equus | Eradicator | Eradicator (Dark Multiverse) | Ernest Smalley | Eve Teschmacher | Faora Hu-Ul | Fastbak | Female Furies | Fifth-Dimensional Imps | Forgotten Villains | Francis Redhorn | Funky Flashman | Galactic Golem | Gilotina | Gorilla Grodd | Granny Goodness | Green Man | Glorious Godfrey | Gzptlsnz | H'El | Heat Wave | Hector Hammond | Hellgrammite | Helspont | Hfuhruhurr | Imperiex | Intergang | Jax-Ur | Joker | Jon Lane Kent | Justice League of Earth | Kaizen Gamorra | Kalibak | Kanto | Karkull | Killer Croc | King Shark | Kobra Cult | Ku Klux Klan | Lashina | Last Sun | Legion of Super-Villains | Lex Luthor | Livewire | Lobo | Mad Harriet | Magpie | Major Disaster | Major Force | Malice Vundabar | Manchester Black | Mandrakk | Mantis | Master Jailer | Masters of Disaster | Match | Maxima | Maxwell Lord | Mercy Graves | Metallo | Mister Oz | Mongal | Mongul | Mongul II | Morgaine Le Fey | Morgan Edge | Mr. Freeze | Mxyzptlk | Neron | Neutron | Nick O' Teen | Nimrod The Hunter | Overman | Parademons | Parallax | Parasite | Phantom Zoners | Planeteer | Plasmus | Plastique | Prankster | Preus | Princess Zala Jor-El | Prometheus | Psycho-Pirate | Queen Bee | Queen of Fables | Rampage | Rogol Zaar | Reverse-Flash | Royal Flush Gang | Samuel Lane | Scarecrow | Secret Society of Super Villains | Shockwaver | Shrapnel | Silver Banshee | Sinestro | Sleez | Solomon Grundy | Subjekt-17 | Suicide Squad | Superboy-Prime | Superdoom | Superman Revenge Squad | Superman (Earth-2) | Superman (The Dark Side) | The SuperMan | Spellbinder | Steppenwolf | Stompa | Talia al Ghul | Tarantula | Thaddeus Killgrave | Thunder & Lightning | Titano | Tobias Whale | Toyman | Two-Face | Ultra-Humanite | Ultraman | Ursa | Vincent Edge | Virman Vundabar | Vyndktvx | Weather Wizard | Whirlicane | Whisper A'Daire | William Dunn | Xa-Du | Zod
Theatrical Movies
Superman: Lex Luthor | Otis | Eve Teschmacher | General Zod | Non | Ursa | Brad Wilson
Superman II: General Zod | Non | Ursa | Lex Luthor | Otis | Eve Teschmacher | Rocky
Superman III: Ross Webster | Corrupted Superman | Vera Webster | Lorelei Ambrosia | Gus Gorman | Brad Wilson
Superman IV: The Quest for Peace: Lex Luthor | Nuclear Man
Superman Returns: Lex Luthor
Man of Steel: Sword of Rao (Dru-Zod, Faora-Ul, Nam-Ek, Jax-Ur, Tor-An, Car-Vex, Nadira, & Dev-Em II)
Batman v Superman: Dawn of Justice: Lex Luthor | Doomsday | Anatoli Knyazev | Mercy Graves | Cesar Santos | Amajagh | Joe Chill | Zod | Steppenwolf
Direct-to-video Movies
Superman: Brainiac Attacks: Brainiac | Lex Luthor | Mercy Graves | Mister Mxyzptlk
Superman: Doomsday: Lex Luthor | Superman Clone | Doomsday | Toyman | Mercy Graves
Superman/Batman: Public Enemies: Lex Luthor | Major Force | Metallo | Amanda Waller | Toyman | Solomon Grundy | Gorilla Grodd | Killer Frost | Lady Shiva | Giganta | Mongul | Captain Cold
Superman/Batman: Apocalypse: Darkseid | Female Furies (Granny Goodness, Gilotina, Mad Harriet, Lashina & Stompa) | Doomsday
Superman/Shazam!: The Return of Black Adam: Black Adam
All-Star Superman: Lex Luthor | Solaris | Parasite | Nasthalthia Luthor | Bar-El & Lilo-El
Superman vs. The Elite: The Elite (Manchester Black, Coldcast, Menagerie & Hat) | Atomic Skull
Superman: Unbound: Brainiac
The Death Of Superman: Doomsday | Lex Luthor | Intergang (Bruno Mannheim) | Mercy Graves | Cyborg Superman
Reign Of The Supermen: Cyborg Superman | Darkseid | Parademons | Lex Luthor | Mercy Graves
Superman: Red Son: Superman | Brainiac | Lex Luthor | Batman | Superior Man
Superman: Man of Tomorrow: Parasite | Lobo | Lex Luthor
Television
1940's Superman
Bulleteers | Inventor | Mechanical Monsters | Mad Scientist
Superman: The Animated Series
Lex Luthor | Brainiac | Darkseid | Metallo | Toyman | Intergang (Bruno Mannheim, Spider Spinelli, & Blaine) | Mercy Graves | Joey | Parasite | Dr. Vale | Lobo | Gnaww | Preserver | Kanto | Earl Garver | Jax-Ur | Mala | Prometheon | General Hardcastle | Weather Wizard | Livewire | Bizarro | Kurt Bowman | Luminus | Mister Mxyzptlk | Superman (Brave New Metropolis) | Lex Luthor (Brave New Metropolis) | Titano | Desaad | Kalibak | Joker | Harley Quinn | Karkull | Corey Mills | Suit | Maxima | De'Cine | Steppenwolf | Parademons | Female Furies (Granny Goodness, Stompa, Mad Harriet, & Lashina) | Volcana | Kurt | Starro | Roxy Rocket | Penguin | Bane | Riddler | Mad Hatter | Darci Mason | Sinestro | Unity | Reverend Amos Howell | Society of Shadows (Ra's al Ghul, Talia al Ghul, & Ubu)
Krypton
Brainiac | Zod | Doomsday | Lobo | Jax-Ur | Kol-Da | Lis-Ser | Daron-Vex | Araame | Lyta-Zod Clone
Superman & Lois
Tal-Rho | John Henry Irons | Leslie Larr | Mitch Anderson | Bizarro | Zeta-Rho | Superman (John Henry Irons' Earth) | Reno Rosetti | David Fuglestad | Atom-Man | Zod | Phillip Karnowsky | Kit Faulkner | Inverse Society (Ally Allston, Lana-Rho, Jonathan-El, & Erin Wu) | Intergang (Thaddeus Killgrave)
Video Games
Superman Arcade: Emperor Zaas | Lex Luthor | Metallo | Parasite
Superman: Shadow of Apokolips: Lex Luthor | Darkseid | Metallo | Livewire | Parasite | Kanto | Mercy Graves | Volcana
Mortal Kombat vs. DC Universe: Dark Kahn | Lex Luthor | Scorpion | Shang Tsung | Darkseid
Injustice: Superman | Brainiac | Doomsday | Aquaman | Black Adam | Sinestro | Lex Luthor | Joker | Darkseid
See Also
Legion of Super-Heroes Villains | Lobo Villains | Smallville Villains | Steel Villains | Superboy Villains | Supergirl Villains | Superwoman Villains

Villains
Comics
Abra Kadabra | Amanda Waller | Amos Fortune | Amazo | Anarky | Angle Man | Anti-Justice League | Anti-Monitor | Appellaxians | Aquarius | Asmodel | Atomic Skull | Axis America | Bane | Barbatos | The Batman Who Laughs | Black Adam | Black Hand | Black Lantern Corps | Black Manta | Black Mask | Black Spider | Blockbuster | Blue Beetle (Dark Multiverse) | Brainiac | Bronze Tiger | Brother Eye | Brotherhood of Evil | Cadre | Calculator | Calendar Man | Captain Boomerang | Captain Cold | Castle Bat | Catalyst | Catman | Catwoman | Cheetah | Chemo | Cheshire | Circe | Clayface | Clock King | Cluemaster | Copperhead | Construct | Cosmic King | Crazy Quilt | Crime Syndicate of America | Crucifer | Cyborgirl | Darkseid | Dark Supergirl | Deadline | Deadshot | Deathstroke | Demolition Team | Demons Three | Despero | Doctor Alchemy | Doctor Destiny | Doctor Double X | Doctor Impossible | Doctor Light | Doctor Manhattan | Doctor Phosphorus | Doctor Polaris | Doctor Poison | Doctor Psycho | Doctor Regulus | Doctor Sivana | Dominators | Doomsday | Dragon King | Dumas | Earthworm | Eclipso | Electrocutioner | Elite | Empty Hand | Enchantress | Epoch the Lord of Time | Eradicator | Evil Star | Fatal Five | Felix Faust | Fiddler | Floronic Man | Funky Flashman | Gamemnae | General Eiling | Genocide | Gentleman Ghost | Golden Gilder | Goldface | Gorilla Grodd | Great Darkness | Gunhawk | Harley Quinn | Hector Hammond | Hellgrammite | Human Flame | Hyena | Ibac | Icicle | Imperiex | Injustice League | Intergang | I.Q. | Johnny Sorrow | Joker | Key | Killer Croc | Killer Frost | Killer Moth | Kite Man | Kobra | Kobra Cult | Krona | League Buster | League of Assassins | Legion of Doom | Lex Luthor | Libra | Lobo | Mad Hatter | Mageddon | Magpie | Manchester Black | Manhunters | Matter Master | Maxwell Lord | Mekanique | Merlyn | Mirror Master | Mister Atom | Mister Mind | Mister Nebula | Mr. Freeze | Mongul | Mordru | Morgaine Le Fey | Multiplex | Nekron | Nekron (Pre-Crisis) | Neron | Neutron | Nightshade | Obsidan | Ocean Master | Overman | Pariah | Parademons | Parasite | Penguin | Perpetua | Pied Piper | Plastique | Poison Ivy | Professor Ivo | Professor Zoom | Prometheus | Psycho-Pirate | Queen Bee | Queen of Fables | Ra's al Ghul | Rainbow Raider | Rama Khan | Red Death | Red King | Red Panzer | Red Volcano | Riddler | Roulette | Royal Flush Gang | Satanus | Scarecrow | Science Squad | Secret Society of Super Villains | Shadow-Thief | Shaggy Man | Shark | Simon Stagg | Sinestro | Solomon Grundy | Star Sapphire | Starbreaker | Starro | Steppenwolf | Suicide Squad | Superboy-Prime | Tattooed Man | Terra-Man | T.O. Morrow | Two-Face | Upside Down Man | Ultra-Humanite | Vandal Savage | Volcana | Warp | Weather Wizard | White Martians | Wizard
Theatrical Movies
Justice League: Steppenwolf | Parademons (Parademon Scout) | Darkseid | Black Clad (Black Clad Alpha) | Lex Luthor | Deathstroke | Ares
Zack Snyder's Justice League: Darkseid's Elite (Darkseid, Steppenwolf, DeSaad, Granny Goodness, & Parademons) | Lex Luthor | Deathstroke | Black Clad (Black Clad Alpha) | Ares | Joker
Direct-to-video Movies
Justice League: The New Frontier: The Centre | Captain Cold
Justice League: Crisis on Two Earths: Crime Syndicate of America (Owlman, Ultraman, Superwoman, Johnny Quick, Power Ring, J'edd J'arkus, & Black Power) | Lex Luthor | White Martians | President Slade Wilson | Rose Wilson
Justice League: Doom: Legion of Doom (Vandal Savage, Bane, Cheetah, Ma'alefa'ak, Metallo, Mirror Master, & Star Sapphire) | Royal Flush Gang (King, Queen, Jack, Ace, & Ten)
Justice League: The Flashpoint Paradox: Professor Zoom | Wonder Woman | Aquaman | Ocean Master | Black Manta | Deathstroke | Lex Luthor | Clayface | Rogues (Captain Cold, Captain Boomerang, Top, Heat Wave, & Mirror Master) | Joker | Yo-Yo
Justice League: War: Darkseid | Desaad | Parademons | Ocean Master
Justice League: Throne of Atlantis: Ocean Master | Black Manta | The Trench | Lex Luthor
Justice League League: Gods and Monsters: Will Magnus
Justice League vs. Teen Titans: Trigon | Legion of Doom (Lex Luthor, Cheetah, Solomon Grundy, Toymaster, & Weather Wizard) | Atomic Skull | Ra's al Ghul
Justice League vs. the Fatal Five: Fatal Five (Emerald Empress, Mano, Persuader, Tharok, & Validus) | Bloodsport | Two-Face | Harley Quinn | Poison Ivy

Video Games
Injustice: Gods Among Us: One Earth Regime (Superman, Wonder Woman, Yellow Lantern, The Flash, Aquaman, Cyborg, Shazam, Nightwing, Raven, Hawkgirl, Sinestro, Black Adam, Killer Frost, Solomon Grundy, Catwoman, Bane, & Doomsday) | Joker | Lex Luthor | Deathstroke | Ares
Injustice 2: Brainiac | Gorilla Grodd | Captain Cold | Reverse Flash | Cheetah | Deadshot | Poison Ivy | Bane | Scarecrow | One Earth Regime (Superman, Wonder Woman, Aquaman, Cyborg, Nightwing & Black Adam) | Dr. Fate | The Lords of Order | Grid | Atrocitus | Joker | Darkseid
See Also
Justice League Dark Villains | Justice League International Villains | Justice Society Villains | Young Justice Villains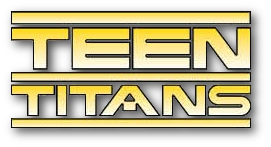 Villains
Comics
Andre LeBlanc | Anti-Monitor | Arsenal | Bane | The Batman Who Laughs | Blackfire | Blizzard | Brother Blood | Brotherhood of Evil (Brain, Monsieur Mallah, Madame Rouge & General Immortus) | Brutale | Calculator | Cheshire | Clock King | Damien Darhk | Deathstroke | Deuce & Charger | Deathwing | Ding Dong Daddy | Doctor Light | Doctor Polaris | Duela Dent | Electrocutioner | Firefly | Gentleman Ghost | Gizmo | Harley Quinn | Holocaust | Ice Kate | Jericho | Jinx | Joker | Kid Kold | Killer Croc | Kwiz Kid | Legion of Doom (Superboy-Prime, Sun Girl, Headcase, Inertia, Indigo, Persuader, Zookeeper) | Lex Luthor | Mad Hatter | Mammoth | Mantis | Match | Mister Freeze | Mister Twister | Neron | Neutron | Ocean Master | Penguin | Phobia | Plasmus | Poison Ivy | Prometheus | Psimon | Puppeteer | Pylon | Ravager | Riddler | Royal Flush Gang | Suicide Squad | Shimmer | Sunburst | Terra | Terra (Dark Multiverse) | Terror Titans | The Agent | Trident | Trigon | Twister | Two-Face | Veil | Ultra-Humanite | Warp | Wildebeest | Wintergreen
Television
Teen Titans (2003)
Slade | Terra | Trigon | Blackfire | H.I.V.E. Five (Jinx, Gizmo, Mammoth, Billy Numerous, See-More, & Kyd Wykkyd) | Dr. Light | Cinderblock | Brother Blood | Brotherhood of Evil (Brain, Monsieur Mallah, Madame Rouge & General Immortus) | Control Freak | Puppet King | Killer Moth | Mad Mod | Mother Mae-Eye | Mumbo Jumbo | Plasmus | Overload | Nega Cyborg | Nega Starfire | Nega Beast Boy | Fang | Kitten | Angel | Adonis | Johnny Rancid | Malchior | Master of Games | Ternion | Glgrdsklechhh | The Source | Guard | Kardiak | White Monster | Thunder & Lighting | Atlas | XL Terrestrial | H.I.V.E. Academy | Private H.I.V.E. | H.I.V.E. Headmistress | H.I.V.E. Soldiers | Krall | Radiation Creature | I.N.S.T.I.G.A.T.O.R. | Professor Chang | Sammy & Cash | Steamroller | Wrestling Star | Baron Ryang | Punk Rocket | Soto | Space Monster | Katarou | Red X | Trogaar
Teen Titans Go!
Trigon | Terra | Slade | Cinderblock | Plasmus | H.I.V.E. Five (Gizmo, Jinx, Mammoth, See-More & Billy Numerous) | Brother Blood | Dr. Light | Control Freak | Mumbo Jumbo | Mad Moe | Killer Moth | Kitten | Mother Mae-Eye | Punk Rocket | Brotherhood of Evil (Brain, Monsieur Mallah & Madame Rouge) | Rose Wilson | Raging Raven | Blackfire | Darkseid | Doomsday | Pain Bot | Sandwich Guardians | Ed | Flex | Muscle | Magic God | Vegetor | Twin Destroyers of Azarath | Slime Monster | Scary Teri | The Invisible Man | Pelicans | Perfect Sandwich | Death | Honk | Giant Robotic Alien | Klatak | Legion of Doom | Santa Claus | Tooth Fairy | Halloween Spirit | Hurt Bot | The Whisper | Money Mummy | Dr. Otto Von Death | Lumino | Piglets | Evil Dragon | The Lumberjack | Dr. Military | Toy Master | Richard Nixon | Muscleor | Punk Crabs | Ultralak | Taker | Ratings Monster | Beetlejuice | Strike
Titans (2018)
Trigon | Dr. Adamson | Nuclear Family (Nuclear Dad, Nuclear Stepdad, Nuclear Mom, Nuclear Sis & Nuclear Biff) | Angela Azarath | Joker | Deathstroke | Cadmus Laboratories (Mercy Graves & Walter Hawn) | Dr. Light | Wintergreen | Shimmer | Blackfire | Scarecrow | Jason Todd | Cyrus Beake
Movies
Teen Titans: Trouble in Tokyo: Uehara Daizo | Brushogun | Saico-Tek | Nya-Nya | Deka-Mido | Timoko | Mecha-Boi | Scarface
Justice League vs. Teen Titans: Trigon | Legion of Doom (Lex Luthor, Cheetah, Solomon Grundy, Toymaster, & Weather Wizard) | Atomic Skull | Ra's al Ghul
Teen Titans: The Judas Contract: H.I.V.E./Church of Blood (Brother Blood, Mother Mayhem, Deathstroke & Terra)
Teen Titans Go! To the Movies: Slade | Balloon Man
Teen Titans Go! vs. Teen Titans: Hexagon (Trigon (Teen Titans Go!) & Trigon (Teen Titans)) | Master of Games | Gentleman Ghost | Megan Claus | Raven's Demon
Video Games
Injustice: Superman | Nightwing | Cyborg | Raven | Bane | Catwoman | Solomon Grundy | Killer Frost | Deathstroke

Villains
Comics
Amanda Waller | Bane | Basilisk | Black Adam | Black Manta | Black Mask | Black Spider | Blackguard | Bloodsport | Brainiac | Bronze Tiger | Captain Boomerang | Captain Cold | Cheetah | Chemo | Chronos | Clock King | Copperhead | Count Vertigo | Crime Syndicate of America | Darkseid | Deadshot | Deathstroke | Doomsday | Doctor Light | Eclipso | The Enchantress | Electrocutioner | Female Furies | Gentleman Ghost | Giganta | Harley Quinn | Heat Wave | James Gordon, Jr. | Javelin | Joker | Joker's Daughter | KGBeast | Killer Croc | Killer Frost | King Shark | Klarion | Kobra Cult | Lobo | Magpie | Major Disaster | Major Force | Man-Bat | Manchester Black | Manhunters | Master Jailer | Match | Mindboggler | Nocturna | Owlman | Parademons | Parasite | Plasmus | Plastique | Poison Ivy | Professor Zoom | Punch and Jewelee | Shrapnel | Solomon Grundy | Starro | Suicide Squad | Talon | Tattooed Man | Thinker | Ultraman | Vandal Savage | Weasel | Zebra-Man | Zod
Movies
Suicide Squad: Eyes of the Adversary (Enchantress & Incubus) | Suicide Squad (Deadshot, Harley Quinn, Captain Boomerang, El Diablo, Killer Croc, Slipknot & Amanda Waller) | Joker's Gang (Joker, Jonny Frost, Panda Man & Monster T) | Griggs
Suicide Squad: Hell To Pay: Professor Zoom | Suicide Squad (Amanda Waller, Deadshot, Harley Quinn, Captain Boomerang, Bronze Tiger, Copperhead, Punch, Jewelee, & Count Vertigo) | Killer Frost | Blockbuster | Silver Banshee | Vandal Savage | Scandal Savage | Professor Pyg | Tobias Whale | League of Assassins (Deathstroke) | Two-Face
The Suicide Squad: The Thinker | Starro | Silvio Luna | Corto Maltese Armed Forces (Mateo Suarez & Vera) | Suicide Squad (Bloodsport, Ratcatcher 2, Harley Quinn, Peacemaker, King Shark, Polka Dot Man, Captain Boomerang, Blackguard, Mongal, Javelin, The Detachable Kid, Weasel, Savant & Amanda Waller) | Kaleidoscope | Calendar Man | Double Down | Karma | Ratcatcher | Polka Dot Man's Mother | Bloodsport's Father
See Also
Harley Quinn Villains | Peacemaker Villains

Villains
Protagonists