Doctor Strange in The Multiverse o Madness - The Loop
Play Sound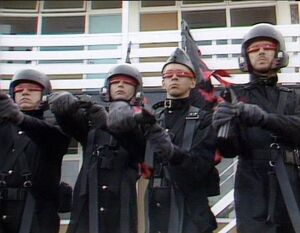 The Bannermen are the main antagonistic faction of the Doctor Who story "Delta and the Bannermen". They were led by Gavrok.
History
The Bannermen were a militaristic culture who led a genocidal war against the Chimerons in order to gain control of their planet. The Bannermen eventually succeeded in wiping out the entire race except for their queen, Delta, who fled the planet with the egg containing a Chimeron infant. The Bannermen pursued her to a tollport and discovered she had gone back in time to 1959, following her.
The Bannermen arrived on Earth, quickly taking American agents Hawk and Weismuller prisoner. They destroyed the tour bus Delta had been on, killing everyone on board, but Delta was not among them. The Bannermen took Mel and holiday camp manager Burton prisoner, then released them to the Doctor hoping he would lead them to Delta. The Doctor managed to lead a false trail that resulted in the Bannermen being attacked by bees.
With the Doctor's group having retired to the holiday camp and set up base there, the Bannermen followed and prepared to attack but the Doctor arranged for the Chimeron Princess, who had hatched from the egg, to send a sonic scream through the camp's public address system, disorientating the Bannermen. Gavrok was killed when he stumbled into the forcefield he had placed around the TARDIS, while the other Bannermen were quickly subdued. They were taken off planet by Delta and her new consort Billy in order to hand them over to the authorities.