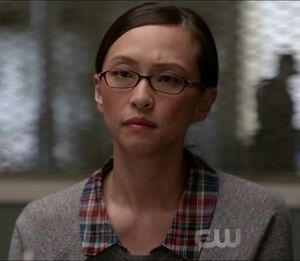 Barb Gant is the main villainess from "Some Like It Hot Mess," episode 3.06 of iZombie.
She was played by Joy Osmanski.
Barb Gant was the roommate of Yvonne Fallon, a grocery store clerk and DJ who often partied frequently. As Barb had stated, Yvonne was months behind on her rent (owing around $1000), which frustrated her. Barb was also the owner of a baseball signed by former Yankees captain Thurman Munson, but Yvonne had taken the ball and sold it on eBay for $10,000, and later replaced it with a fake. Once Barb figured out what Yvonne had done, she went into a rage and confronted Yvonne while she was bathing. The furious villainess tossed a hair dryer into the tub, which electrocuted and killed Yvonne.
Liv's vision of Yvonne attempting to pawn the ball led to Barb being revealed as the killer. After Clive spoke with Barb's boyfriend, Barb was interrogated, as she had lied about when she left her boyfriend's house. Barb's murderous actions were revealed by Clive, and following this, Barb wrote and signed a confession before she was eventually arrested for killing Yvonne.
Community content is available under
CC-BY-SA
unless otherwise noted.