✘
---
This page was marked for deletion because it has little to no content at all. If you think it shouldn't be deleted, please comment in its talk page.
---



Click To Help DIO!

DIO has declared that this article has stopped in time, and any and all information on it may be outdated.
Help improve this article by checking and updating it's info wherever necessary
And now time resumes!

✔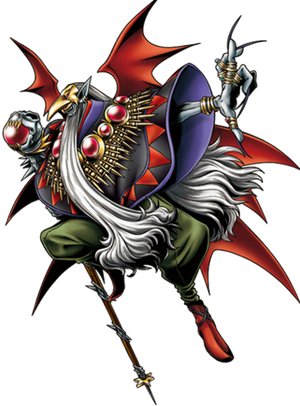 Barbamon is one of the main antagonists in the Digimon Manga, Digimon Next and one of the villains in the videogame Digimon World Data Squad.
Appearance
Barbamon is a Mega Level Digimon that resembles the demon, Barbatos.
Digimon World Data Squad
Barbamon is a member of Digimon World Data Squad. He's a member of the Seven Great Demon Lords and the 2nd member DATS encountered. Barbamon was created by the Code Key of Greed and a child that's greedy.
Digimon Next
Barbamon is the leader of the Commandments.
Attacks
Death Lure
Pandæmonium Lost
Crimson Flame
Gallery
Community content is available under
CC-BY-SA
unless otherwise noted.