✓
This Villain was proposed and approved by Villains Wiki's Pure Evil Proposals Thread. Any act of removing this villain from the category without a Removal Proposal shall be considered vandalism (or a futile "heroic" attempt of redemption) and the user will have high chances of being terminated blocked. You cannot make said Removal Proposal without permission from an admin first.
Additional Notice: This template is meant for admin maintenance only. Users who misuse the template will be blocked for a week minimum.




Click To Help DIO!

DIO has declared that this article has stopped in time, and any and all information on it may be outdated.
Help improve this article by checking and updating it's info wherever necessary
And now time resumes!

✓
| | | |
| --- | --- | --- |
| " | In the end… all roads lead back… To Darkness. | " |
| | ~ Barbatos | |
| | | |
| --- | --- | --- |
| " | Yes. The truth is you are NOTHING without me. You are plain, less than plain. This place, my realm, it is full of worlds created from fears and failings. And you...you have MORE than any other hero, my son. Whole galaxies of worlds built by the unspoken terrors in your heart. I showed you three but there are thousands. Look around you. People think you are a great hero of humanity. Maybe even the greatest. They strive to be like you, all because I willed it. So when your nature was revealed, they would shrink back to the dark. Now look! Look!!! Because THIS is who you are without my help! | " |
| | ~ Barbatos | |
Barbatos
is a major antagonist in the DC Comics universe and the Master of the
Dark Knights
. He serves as the main antagonist of the
Dark Nights: Metal
event and of the entire
New 52 Batman
series, manipulating all of the events associated with the mantling of Bruce Wayne with the metals of the Dark Multiverse.
History
Many eons ago, Barbatos was a dragon from the World Forge created by another powerful cosmic being known as the World Forger who hammered whole universes from the fears and hopes of every living beings of the positive matter Multiverse. Barbatos was tasked with destroying any malformed and twisted worlds that were unstable and destined to decay. However, he eventually killed the World Forger and allowed these malformed worlds to exist, corrupting the World Forge slowly and giving birth to the Dark Multiverse.
Barbatos would find himself becoming a resident of the Dark Multiverse after he was repelled from returning to the central one. Despite this, the dark god had still gained many worshippers within the central Multiverse. With some trying to summon him on worlds he was barred from returning to. Many years later, when Batman shot Darkseid with a radion bullet at the end of Final Crisis, the New God retaliated by striking Bruce down with his Omega Beams, seemingly killing him. Earth's heroes mourned the loss of one of their finest, but in reality, Darkseid had not killed Batman.
He had used his powers to warp time around Bruce, infusing him with Omega energy and sending him back to the Stone Age without any memory of who he really was. During this time, Barbatos realized the similarities between his and Bruce's Bat emblems and believed he could use him as a doorway back into central Multiverse. Barbatos' followers manipulated events throughout history in order for Bruce to be injected with four out of the five metals needed to create the doorway, and after the fifth was injected in the present day, Barbatos was able to transport himself and the Dark Knights to Prime Earth with the intent of conquering it.
After his defeat, Barbatos was left chained down to the bottom of the Dark Multiverse by the Over-Monitor, forced to watch the Forge of Worlds burn bright once more until the return of the World Forger.
During the rise of the dark goddess Perpetua, Barbatos saw the sigil of doom from the Dark Multiverse.
Personality
Barbatos was extremely aggressive, cruel, despotic, deceitful, misanthropic and power-hungry, so he has no qualms enslaving, butchering and ultimately destroying entire dimensions and realities.
Despite his murderous impulses, Barbatos was sly, cunning, manipulative and willing to wait in order to succeed in his schemes. Barbatos despises all form of life and happiness, so he wishes above all to plunge the central DC Multiverse into darkness, eradicating all life from it. 
Perhaps his biggest flaw was that he only knew one thing: destruction. In his eyes, he believed that all worlds are doomed to fall into darkness. To him, leaving the dark at all, to explore outside it, was the ultimate mortal sin.
Powers and Abilities
Powers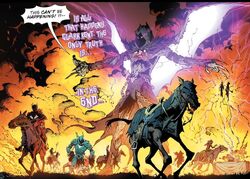 Barbatos can expel the life energy upon his victims and send them into a never ending nightmare which they continually experience failures and death. He can also twsit life forms into their darker selves as he did to Carter Hall and Kendra Saunders.
Furthermore, he can manipulate darkness and shoot dark lightning from his hands. As denizen of the Dark Multiverse, almost nothing from the realm of light can harm him except Nth and Tenth Metals which can do severe harm to him. In the Dark Multiverse, Barbatos has the ability to create dark worlds and resist Nth Metal.
His scream is the wail of billion of failed worlds capable to shake the strings of the Multiverse and pull the Earth further into the Dark Multiverse. When Barbatos was the dragon of the forge, he destroyed countless of dark universes and is as old as time itself.
Weaknesses
Though nearly invincible, Barbatos has the same weakness held by all denizens of the Dark Multiverse: a weakness to contact with the Heavy Metals of the Dark Multiverse. Of these, the Tenth Metal of the World Forge (Element X) is the purest, and therefore the most effective.
Gallery
Trivia
Simon Hurt mistakenly believed he summoned Barbatos after the Hyper-Adapter appeared before him during a demonic ritual.

Villains
Community content is available under
CC-BY-SA
unless otherwise noted.