Boba Fett Returns - The Loop
Play Sound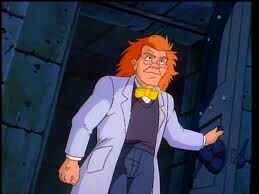 "Don't bring up the fly thing, fellas. It really bugs him." - Raphael, punning at Barney's expense.
Barney Stockman is the twin brother of perennial Teenage Mutant Ninja Turtles mad scientist villain Baxter Stockman. People frequently mistake him for Baxter, a source of great irritation for him.
Role
His only appearance is in Raphael Knocks 'Em Dead, which in the beginning while the Turtles were channel-surfing, Barney was seen mixing chemicals, suggesting he has his own science show. Barney and Pinky McFingers kidnapped Raphael and used him to spread chaos until the turtles rescued Raphael and threw them in jail. His being Baxter's twin brother may have been driven by the animation studio wanting to re-use Baxter's basic model, unused since Baxter was mutated into a Human Fly. It seems Barney must have made some contact with his brother since he first encountered the Turtles, and possibly after he was mutated. Upon meeting Raphael, who thought he was a restored Baxter, Barney mentioned knowing about the Turtles and his brother's fights with them.

Villains
Comics
Shredder (Mirage, Archie, IDW, Mirage Comics, Raphael, Doctor Shreddarius & Lady Shredder) | Foot Clan | Foot Elite | Karai | Ch'rell | Baxter Stockman (Archie & IDW) | Krang (Archie & IDW) | Hun | Purple Dragons | Adolf Hitler | Ninjara | Slash | Leatherhead | Triceratons | Commander Mozar | Zanramon | Shredder Clones | Tokka & Rahzar | Alopex | Kitsune | Koya | Bludgeon | Rat King | Agent Bishop | Bebop and Rocksteady | Savanti Romero | Skonk | Darius Dun | Tatsu | Master Sliver | General Tragg | Dragon | Null (IDW Version) | Maligna (IDW Version) | Craniac | Armaggon | Old Hob | Master Traquer | Johnny Lee Raeburn
Television
1987 TV series: Shredder | Bebop & Rocksteady | Baxter Stockman | Krang | Rat King | Lord Dregg | Antrax | Chrome Dome | Barney Stockman | Don Turtelli | General Tragg | Groundchuck & Dirtbag | Krangazoids
1997 TV series: Foot Clan (Shredder) | The Rank (Dragon Lord | Wick | Dr. Quease | Good Dragon | Rank Lieutenant | Clone Turtles) | Simon Bonesteel | Silver | Monkey Thief Mick and Monkey Thief Dick | VamMi | Bing | Chi Chu | Heavy Duke
2003 TV series: Utrom Shredder (Future Self, Tengu Shredder & Cyber Shredder) | Karai | Hun | Baxter Stockman | Agent Bishop | Rat King | Drako | Ultimate Ninja | Darius Dun | Sh'Okanabo | Dark Turtles | Viral | Torbin Zixx | General Blanque | Zanramon | Commander Mozar | Lonae | Mr. Touch and Mr. Go | Dr. Chaplin | Abigail Finn | Parker | Harry the Pickpocket | Kluh | Ammag | Levram Wizard | Dragon Face | John | Two Ton | Yukio Mashimi | Moriah | Weasel | Master Sliver | Savanti Romero | Skonk | Triple Threat | Nano | Mephos | Boss Zukko | High Mage | Lord Hebi | The Brotherhood (Councilor) | Garbageman | Necro Monster
2012 TV series: Foot Clan (Shredder, Karai, Footbots, Hachiko, Tiger Claw, Rahzar, Fishface, Bebop, Rocksteady, Baxter Stockman, Antrax, Shredder Mutants/Mega Shredder, Hattori Tatsu, Chrome Dome & Koga Takuza) | The Kraang (Kraang Prime, Biotroid, Dracodroid & Kraang Subprime) | Triceraton Empire (Emperor Zanmoran & Captain Mozar) | April Clones | April Derp | Lord Dregg | Armaggon | Savanti Romero | Newtralizer | Slash | Kavaxas | Rat King | Purple Dragons (Hun & Fong) | Visiozo's Mob (Don Vizioso, Fulci Twins & The Hammer) | Snakeweed | Spider Bytez | Overmind | VX3 Warbots | Neutrinos | Wyrm | Za-Naron | Armaggon | Bellybomb | Dracula | Justin | Ms. Campbell | Mutagen Man | Pizza Face | Pizza Minions | Dream Beavers | Speed Demon | Squirrelanoids | Chimera | Spy-Roach | Mushroom Men | Maximus Kong | Verminator Rex | Jei
Rise of the TMNT: Baron Draxum | Albearto | Baxter Stockboy | Big Mama | Meat Sweats | Hypno-Potamus | Foot Brute | Foot Lieutenant | Warren Stone | Repo Mantis | Evil League of Mutants | Shredder
Movies
TMNT 1 & 2: Foot Clan (Shredder, Danny Tatsu, Tokka and Rahzar)
TMNT 3: Walker | Lord Norinaga
TMNT (2007): Stone Generals (Aguila, Gato, Mono & Serpiente) | Foot Clan (Karai)
TMNT (2014): Foot Clan (Shredder, Eric Sacks, Karai & Baxter Stockman)
TMNT: Out of the Shadows: Krang | Foot Clan (Shredder, Karai, Baxter Stockman, Bebop and Rocksteady)
Batman vs. TMNT: Foot Clan (Shredder & Baxter Stockman) | League of Assassins (Ra's al Ghul, Ubu & Talia al Ghul) | Joker | Harley Quinn | Scarecrow | Mr. Freeze | Poison Ivy | Bane | Two-Face | Penguin
Video Games
NES Platformer: Shredder | Mechaturtle
TMNT II: The Arcade Game: Shogun | Tora
TMNT 2: Battle Nexus: Utrom Shredder
TMNT 3: Mutant Nightmare: Utrom Shredder
TMNT: Mutants in Manhatten: Krang | Shredder