Wiki Targeted (Entertainment)
Play Sound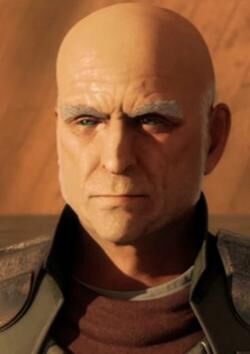 Baron Merillion Tarko is a major antagonist in Star Wars: The Force Unleashed 2. He is an Imperial Moff who governs the planet Cato Neimoidia.
He was voiced by Dee Bradley Baker who also voiced the clones and Admiral Trench in Star Wars:The Clone Wars and Admiral Kassius Konstantine in Star Wars:Rebels.
Biography
Originally hailing from the Core World of Anaxes, Tarko came from a family that possessed ties to the Galactic Republic's government and military. He attended the Anaxes Citadel, from which he graduated with the highest honors. When the Clone Wars broke out between the Republic and the Confederacy of Independent Systems, Tarko was quickly assigned to a Republic flagship. By the conclusion of the war and the birth of the Galactic Empire, he had embarked on a fast rise to positions of power.
With the assistance of Governor Wilhuff Tarkin, Tarko ascended to the rank of Moff and assumed control of Imperial operations on the planet Cato Neimoidia. He established his headquarters in the bridge city of Tarko-se, which he had renamed after himself. The Baron profited greatly from his ventures on the Neimoidian purse world, which included the operation of casinos and the management of a successful slave trade. Using his new-found wealth, Tarko constructed a for-sport-and-profit gladiatorial arena on Cato Neimoidia.
The Rebel Alliance eventually learned of the Baron's slaving activities, and Jedi General Rahm Kota launched an unsanctioned assassination attempt on Tarko during a Rebel reconnaissance of Cato Neimoidia. Kota was captured during the mission and forced to compete for seven straight days in the gladiatorial stadium. Word of Kota's capture eventually reached Starkiller, a clone of the Sith Lord Darth Vader's former apprentice who had fought alongside Kota. Starkiller traveled to Cato Neimoidia to rescue the General, confronting Tarko in the process and defeating the majority of his forces spread throughout Tarko-se. As a last-ditch effort, Tarko released the massive Gorog to deal with both Jedi, but the plan backfired when the Gorog broke free from the arena and devoured the Baron.

Legends Villains