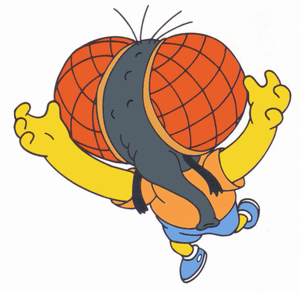 Jafar says: Read my lips and come to grips with the reality!


This article is a stub and is in need of expansion. You can help Villains Wiki by expanding it.                       
The Fly is a villain from The Simpsons: Treehouse of Horror VIII.
History
Bart has a nightmare where he is on the school bus and it crashes. He wakes up very paranoid the next morning. He and Lisa board the real bus to school. Principal Skinner is there to join them. During the ride, Bart looks out the window and sees a gremlin on the side of the bus. It starts to tear the bus open and smiles at Bart. He first warns Otto who mistakes the gremlin as an AMC Gremlin car owned by Hans Moleman, which he promptly knocks away with the bus. Still worried, Bart looks out the window again. He sees the gremlin attempting to gouge the fuel tank. Bart becomes more scared and tells everyone there is a monster on the side of the bus. Everyone, including Skinner and Otto, look out the window. The gremlin hides and everyone assumes Bart is crazy. Annoyed, Skinner closes the curtain to the window. A moment later, tapping is heard. Bart opens the curtain to look for the gremlin. Instead, he sees Groundskeeper Willie who boards the bus claiming to need a ride. Bart then appears in the living room normal. An enraged Homer grabs an axe and starts chasing Bart around for using the teleporter.

Villains]]
Community content is available under
CC-BY-SA
unless otherwise noted.