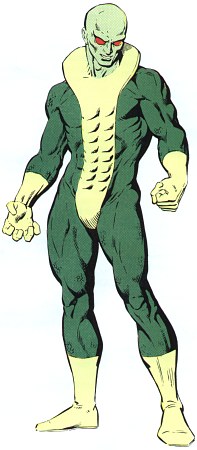 Basil Elks was a common criminal from Norristown, PA. He was trying to steal a mystical gem from a museum when he was shot at by a security guard. Instead of striking Elks, the bullet hit and shattered the gem. The shards of the gem struck Elks, transforming him into the Basilisk: his skin became green and scaly and his eyes large and red. As the Basilisk he possessed superhuman physical attributes and could generate and manipulate energy via beams projected from his eyes; this energy could generate heat and ice and allowed him to fly.
The gem that empowered him was actually a Kree artifact called an Alpha Stone which had crash-landed on the Earth millennia ago along with another gem, the Omega Stone. The Basilisk sought the second gem to increase his powers. While in the primitive Savage Land he obtained it only to fall into a pit of magma. The Omega Stone actually solidified the magma, encasing the Basilisk in a protective shell. He was later freed by an underground race of subterraneans. Now powered by both stones, he fought Spider-Man, the Thing and Captain Marvel (Mar-Vell) in New York City. He created a volcano in the Hudson River, only to once again fall into magma and be petrified. Upon resurfacing, he decided to attack Four Freedoms Plaza, the headquarters of the Fantastic Four, the group to which the Thing belonged. However as soon as he appeared he was shot and killed by the vigilante called the Scourge of the Underworld.
Years later, the Basilisk was resurrected by the Hood to murder Frank Castle, and was one of a number of villains who took part in a mass jailbreak from the superhuman holding facility called the Raft. He was apparently the cellmate of the Man Bull for a time, and the pair briefly assisted Hercules against a common foe.