Spider-Man: No Way Home Trailer Dropped - The Loop
Play Sound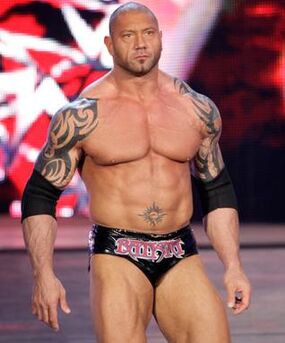 Click To Help DIO!

DIO has declared that this article has stopped in time, and any and all information on it may be outdated.
Help improve this article by checking and updating it's info wherever necessary
And now time resumes!

✓
David Michael Bautista was born on January 18, 1969. He is a former bouncer that met Curt Hennig and Road Warrior Animal in Minneapolis. He went to the WCW Power Plant for a tryout, and in another bad decision, WCW decided that he would never make it as a wrestler. He was trained by Wild Samoan Afa and made his wrestling debut in 1997. Batista started off his career working for Afa's WXW promotion under the name Khan.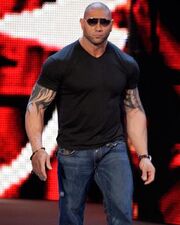 Shortly after, he signed a WWE developmental deal and wrestled in Ohio Valley Wrestling. While there, he was known as Leviathan and Demon of the Deep. He would debut for WWE in May 2002.
After he tore his right triceps ..... way match for WWE Bragging Rights, Batista turned heel by attacking Mysterio, who cost him the World Heavyweight Championship but few weeks later, he was stopped by The Undertaker.