We're Getting Mutants in the MCU - The Loop
Play Sound
This article's content is marked as Mature
The page Mature contains mature content that may include coarse language, sexual references, and/or graphic violent images which may be disturbing to some. Mature pages are recommended for those who are 18 years of age and older.


If you are 18 years or older or are comfortable with graphic material, you are free to view this page. Otherwise, you should close this page and view another page.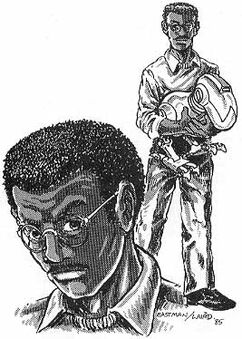 Baxter Stockman is a mad scientist found in the Teenage Mutant Ninja Turtles Mirage Comics.
Biography
In the comics, Stockman was a scientist who used his inventions to achieve his selfish schemes. Appealing to the people that his mousers were to be used to exterminate rats but his real plan was to use them to rob banks and threaten the city because he viewed it as fun. His assistant April O'Neil learned about Stockman's true intentions. Stockman sent his mousers to kill her so that she couldn't jeopardize his scheme. The TMNT managed to defeat the Mousers and rescued April. The Turtles defeated the Mousers and Stockman and left him to be arrested by the police.
In the next volume, he escaped prison and implanted his brain into robot and becomes a cyborg. Stockman escapes and seeks revenge on April injecting her with nanites. Leonardo electrocutes him and is presumed to be destroyed; but Stockman's mind was revealed to be alive and taken prisoner by Donatello.
In his last appearance, Donatello blows Stockman up, after he refuses to help April, destroying him for good. His remains appear in Volume 4.
later comics
Archie comics
Baxter Stockman appears in the Archies comics as a recurring villain and later became a mutant fly
IDW Comics
Baxter Stockman appears in the IDW comics as a normal human scientist.

Villains
Comics
Shredder (Mirage, Archie, IDW, Raphael, Doctor Shreddarius & Lady Shredder) | Foot Clan | Foot Elite | Karai | Ch'rell | Baxter Stockman (Archie & IDW) | Krang (Archie & IDW) | Hun | Purple Dragons | Adolf Hitler | Ninjara | Slash | Leatherhead | Triceratons | Commander Mozar | Zanramon | Shredder Clones | Tokka & Rahzar | Alopex | Kitsune | Koya | Bludgeon | Rat King | Agent Bishop | Bebop and Rocksteady | Savanti Romero | Skonk | Darius Dun | Tatsu | Master Sliver | General Tragg | Dragon | Null (IDW) | Maligna (IDW) | Craniac | Armaggon | Old Hob | Master Traquer | Johnny Lee Raeburn | Punk Frogs | Jasper Barlow | Oroku Hiroto
Television
1987 TV series: Shredder | Bebop & Rocksteady | Baxter Stockman | Krang | Rat King | Lord Dregg | Antrax | Tempestra | Barney Stockman | Don Turtelli | General Tragg | Groundchuck & Dirtbag | Wingnut | Krangazoids
1997 TV series: Foot Clan (Shredder) | The Rank (Dragon Lord | Wick | Dr. Quease | Good Dragon | Rank Lieutenant | Clone Turtles) | Simon Bonesteel | Silver | Monkey Thief Mick and Monkey Thief Dick | VamMi | Bing | Chi Chu | Heavy Duke
2003 TV series: Utrom Shredder (Future Self, Tengu Shredder & Cyber Shredder) | Karai | Hun | Baxter Stockman | Agent Bishop | Rat King | Drako | Ultimate Ninja | Darius Dun | Sh'Okanabo | Dark Turtles | Viral | Torbin Zixx | General Blanque | Zanramon | Commander Mozar | Lonae | Dr. Chaplin | Mr. Touch and Mr. Go | Abigail Finn | Parker | Harry Parker | Kluh | Ammag | Levram Wizard | Dragon Face | Johnny | Two Ton | Yukio Mashimi | Moriah | Weasel | Master Sliver | Savanti Romero | Skonk | Triple Threat | Nano | Mephos | Boss Zukko | High Mage | Lord Hebi | The Brotherhood (Councilor) | Garbageman | Necro Monster
2012 TV series: Foot Clan (Shredder, Karai, Tiger Claw, Rahzar, Fishface, Bebop, Rocksteady, Baxter Stockman, Antrax, Shredder Mutants/Mega Shredder, Hattori Tatsu, Chrome Dome & Koga Takuza) | The Kraang (Kraang Prime & Kraang Subprime) | Triceraton Empire (Emperor Zanmoran & Captain Mozar) | Lord Dregg | Armaggon | Savanti Romero | Newtralizer | Slash | Kavaxas | Rat King | Purple Dragons (Hun & Fong) | Don Vizioso | Snakeweed | Spider Bytez | Overmind | Za-Naron | Dracula | Justin | Mutagen Man | Pizza Face | Dream Beavers | Speed Demon | Squirrelanoids | Chimera | Spy-Roach | Maximus Kong | Verminator Rex | Jei | Wyrm
Rise of the TMNT: Baron Draxum | Albearto | Baxter Stockboy | Big Mama | Meat Sweats | Hypno-Potamus | Foot Brute | Foot Lieutenant | Warren Stone | Repo Mantis | Evil League of Mutants | Shredder | Krang
Movies
TMNT 1 & 2: Foot Clan (Shredder, Danny Tatsu, Tokka and Rahzar)
TMNT 3: Walker | Lord Norinaga
TMNT (2007): Stone Generals (Aguila, Gato, Mono & Serpiente) | Foot Clan (Karai)
TMNT (2014): Foot Clan (Shredder, Eric Sacks, Karai & Baxter Stockman)
TMNT: Out of the Shadows: Krang | Foot Clan (Shredder, Karai, Baxter Stockman, Bebop and Rocksteady)
Batman vs. TMNT: Foot Clan (Shredder & Baxter Stockman) | League of Assassins (Ra's al Ghul, Ubu & Talia al Ghul) | Joker | Harley Quinn | Scarecrow | Mr. Freeze | Poison Ivy | Bane | Two-Face | Penguin
Rise of the TMNT: The Movie: Krang (Krang Leader)
Video Games
NES Platformer: Shredder | Mechaturtle
TMNT II: The Arcade Game: Shogun | Tora
TMNT 2: Battle Nexus: Utrom Shredder
TMNT 3: Mutant Nightmare: Utrom Shredder
TMNT: Mutants in Manhatten: Krang | Shredder
TMNT: Shredder's Revenge: Foot Clan (Shredder, Bebop and Rocksteady) | Krang | Groundchuck and Dirtbag | Rat King | Tempestra | Tokka and Rahzar | Wingnut | Leatherhead | Triceratons | Baxter Stockman | General Tragg | Chrome Dome | Slash