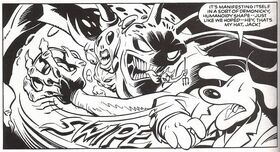 In one of their many bizzare adventures in the comics, Sam and Max come across a case of a monstrosity hiding in the cereal aisle of the local Slothmart Grocery World.
Beast from the Cereal Aisle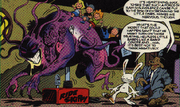 Summoned by the Commissioner per usual, Sam and Max go to their Slothmart Grocery World to investigate bizzare paranormal activity including a series of spectral monstrosities emanating throughout the aisle (and getting stuck in Max's nostril when he tried to investigate the shelves for signs of "evil incarnate").
Eventually, the two come across the monstrosity itself that steals Sam's hat and attempts to kill the manager. However, Max manages to tame the beast rodeo-style and repurposes it as a ride for children.
Community content is available under
CC-BY-SA
unless otherwise noted.