✓



Click To Help Dr. Wily!

Dr. Wily has declared that this article is still under construction.
Please don't delete or edit this article yet, it may contrast with the original author's edits.
After I finish this article, the world will be mine! MWAHAHAHAHA!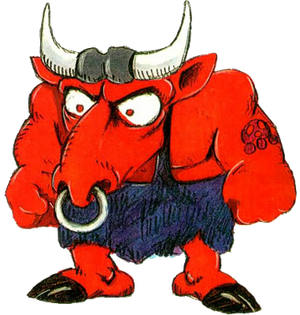 Beefne (ビーフン, Bīfun) is an enemy of Wario and a member of the Brown Sugar Pirates in Wario Land: Super Mario Land 3. Beefne appears as a big red bull with a long nose and large horns.
Description
As the leader of Mt. Teapot, Beefne is the second boss Wario needs to overcome to reach Captain Syrup's treasure. Beefne is immune to head stomps and Ground Pounds, due to his horns and thick hide. Beefne attempts to destroy him by picking him up and throwing him into the lava below their battleground. To defeat him, Wario has to use Beefne's method of attack against him and throw him into the lava instead.

Villains
Community content is available under
CC-BY-SA
unless otherwise noted.