Wiki Targeted (Entertainment)
Play Sound
Beezen is the main antagonist of the My Little Pony two-part episode "The Revolt of Paradise Estate". He is an evil sorcerer who seeks to take over Paradise Estate.
He was voiced by the late Paul Winchell, who originally played Dick Dastardly.
Biography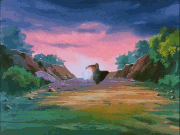 Beezen was a traveling salesman who sold Paradise some magic paint that he said would fix Paradise Estate. The paint brought all of the furniture of Paradise Estate to life, along with the door, a floorboard, and a fence board. The furniture kicked the ponies out, allowing Beezen to move in and take over Paradise Estate, where he enslaved the furniture.
As the ponies found out about Beezen and made their way back to Paradise Estate, Baby Cuddles convinced the furniture to turn on Beezen, since they preferred the ponies over him. However, Beezen turned the furniture back to normal.
As Beezen was about to destroy the ponies with his magic wand, Paradise threw the bucket of magic paint on his wand, which came to life. As revenge for "enslaving" it for centuries, the wand chased after Beezen, shooting deadly magic beams at him.
It is unclear whether Beezen escaped or whether the wand eventually killed him, but he has not been seen since.
Powers and Abilities
Beezen possesses no natural magic ability of his own, all of his magic comes from his wand, which created the paint that he used to give life to Paradise Estate's furniture.
Trivia
Beezen is the only human in all of G1, be it the cartoon or the comics, with a different skin color. It's most likely that he may not be a human at all, similar to some of the series' wtiches.