Jurassic World: Dominion Dominates Fandom Wikis - The Loop
Play Sound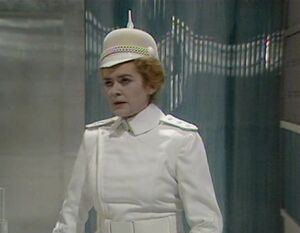 Belazs is the secondary antagonist of the Doctor Who story "Dragonfire".
She was portrayed by Patricia Quinn, who also played Magenta in The Rocky Horror Picture Show and one of the Doyle Sisters in The Lords of Satan.
Biography
At the age of sixteen, Belazs took Kane's sovereign, permanently scarring her hand and bounding herself to him for life. Twenty years later, she was the captain of his guard and had long come to regret her decision: She was desperate to leave his service but Kane refused to let her go. She assisted him in his plan to manipulate Glitz into searching for the Dragonfire, having Glitz's ship, the Nosferatu, impounded. She asked Kane to let her have the ship but Kane ordered it destroyed instead. Belazs secretly had the order countermanded.
She arrested Ace and Mel after they used explosives to clear a blockage in the docking bay and was berated by Kane for not taking Ace's explosives from her, allowing the pair to escape. Belasz attempted to steal the Nosferatu and was prepared to kill the Doctor and Glitz when they stumbled upon her but was overpowered by the pair and returned to Kane, defeated.
Belasz changed her plan and decided to kill Kane. She had entered his restricted zone and learned that he required constant freezing to keep his body temperature at the sub zero temperatures he required. She thus convinced her sergeant, Kracauer, to sabotage the equipment. Kane survived the attempt and confronted Belazs, telling her he would finally allow her to leave his service...and then killed her with his icy touch.