House of the Dragon Trailer - The Loop
Play Sound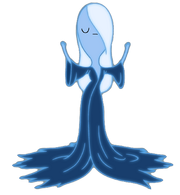 Bella Noche is the main antagonist of the Adventure Time episode "Betty". It is a being of anti-magic that was summoned from another dimension by the Secret Society.
It was voiced by Maurice LaMarche.
Appearance
In its weaker form, Bella Noche resembles a large, slimy green head in a gray box. In its "true form", it appears to be a blue, robed humanoid entity with long white hair inside of a black cube with several tentacles. Its cubical form can absorb magic and grow into more complex shapes.
Biography
Bella Noche first appeared in the beginning of its debut episode, where it had the Secret Society deliver magical items that would allow it to enter their realm, by tricking them into thinking it would give them "lost system of Antediluvian magic." While they were discussing their reward, the Ice King appeared, distracting the society and allowing Bella to absorb the power of the magic items and enter the realm. It removed the magic of all of the wizards, including the Ice King, turning him back into Simon Petrikov. The Grand Master Wizard sent the Wizard Police to destroy Bella , but none of their attacks harmed it.
Bella Noche is later seen towards the end of the episode, where it was attacking Wizard City. The one potion used against it only made it grow larger and more powerful. Betty went after Bella, entering the geometric mass and confronting its humanoid form. She quickly knocked it out by punching it, causing the wizards to regain their magic and Simon to turn back into the Ice King. It's unknown what happened to Bella Noche afterwards.