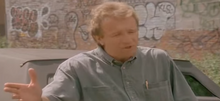 Ben was a criminal in business with Bamboo in the 1993 movie Strapped.
He was played by Craig Wasson.
He is first shown making a deal with Bamboo. He sells a load of guns to Bamboo. Another villainary of his is what he does to Bamboo in retaliation. Basically, Dequan sets Ben up, saying he sells guns, which he does do, but he hates being caught. When the cops get to him, if front of his wife and kids, he denies his involvement in gun-dealing. He's also racist, which is besides the point - it has nothing to do with him being the villain. When he suspects Bamboo ratted him out, he calls him. tells, "You are a walking corpse - F**KING DEAD, NI**ER." In retaliation, Ben says that Bamboo is selling guns, to get him into trouble. This is significant to the story. Because of Ben's lies, a nasty aftermath follows. Not only does Bamboo get arrested, but he also starts to think everyone is out to get him. Because of Ben's lie, a friendship is destroyed.
Community content is available under
CC-BY-SA
unless otherwise noted.