She-Hulk Trailer Dropped - The Loop
Play Sound



Click To Help Darkseid!

Darkseid has declared that this article requires immediate Cleanup in order to meet a higher standard.
Help improve this article by improving formatting, spelling and general layout - least it fall victim to an Omega Effect


✓

✓
| | |
| --- | --- |
| | This Article Contains Spoilers - WARNING: This article contains major spoilers. If you do not wish to know vital information on plot / character elements in a story, you may not wish to read beyond this warning: We hold no responsibility for any negative effects these facts may have on your enjoyment of said media should you continue. That is all. |
Jafar says: Read my lips and come to grips with the reality!


This article is a stub and is in need of expansion. You can help Villains Wiki by expanding it.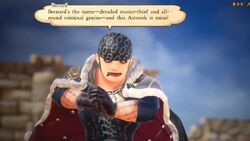 Bernard is an antagonist in Bravely Default II. He is a major antagonist in Chapter 1, and is the initial holder of the water crystal. He is also the bearer of the thief asterisk, and is the master of Anihal, herself an asterisk wielder. Additionally, he is the employer of Orpheus.
Appearance
Bernard is muscular and wields a knife. He also wears black gloves on his hands, and has a red cape.
Powers and Abilities
Bernard has the ability to counter many different attacks. He has a more versatile arsenal than his predecessor Jackal from the original Bravely Default.
Biography
The party learn how to infiltrate his mansion through Anihal. However, she is initially unwilling to help them due to her loyalty to Bernard.
Prince Castor distracts Bernard so that the party can infiltrate his mansion and take the water crystal for themselves. However, Castor is ultimately not able to distract him long enough. He returns to the mansion before the party locate the crystal and attacks the party just as they discover where it's hidden.
He realizes that Anihal helped the party inside.
Fortunately, he is defeated and has his asterisk taken from him. He is killed by Prince Castor so that he can have the water crystal for himself. Before he dies, he reveals that Castor had been using the party the whole time.
Personality
Bernard is greedy and wishes to use the Water Crystal for profit, as opposed to Prince Castor who wishes to use the water crystal for the welfare of his people.
Despite his negative traits, he was kind enough to rescue Anihal once.