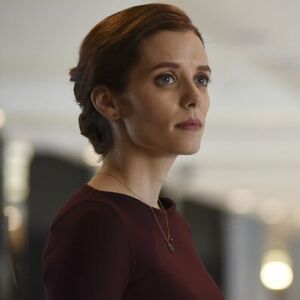 Beth MacLeish was a recurring villainess from ABC's Designated Survivor.
She was played by Lara Jean Chorostecki.
Biography
Beth MacLeish was the wife of Peter MacLeish, who survived the bombing of the Capitol, which killed President Richman and many others and resulted in Tom Kirkman (the designated survivor) becoming President. It was revealed later on that the bombing was part of a conspiracy to put Peter MacLeish in power, as his "heroic survival" resulted in him being offered the Vice Presidency.
Beth turned heel in the midseason finale, "The Oath," when she was revealed as part of the conspiracy, and with Peter officially becoming VP in the episode, the evil Beth became the Second Lady of the United States. She temporarily became First Lady in the following episode when Peter became President after Kirkman was shot in the end of the midseason finale.
In the final scenes of the episode, "The End of the Beginning," Beth arrived at the military cemetery with gun in hand as Hannah Wells was set to arrest Peter. In a shocking twist, the villainess shot and killed her husband, before turning the gun on herself and committing suicide.
Personality
Beth MacLeish was portrayed as a supporting wife at the start, but following her villainous reveal, she was portrayed as power hungry and murderous--even hoping for Kirkman to die while he was hospitalized. In a play on her name, she has been nicknamed "Lady MacBeth," by viewers.
Gallery
Community content is available under
CC-BY-SA
unless otherwise noted.