We're Getting Mutants in the MCU - The Loop
Play Sound



Click To Help DIO!

DIO has declared that this article has stopped in time, and any and all information on it may be outdated.
Help improve this article by checking and updating it's info wherever necessary
And now time resumes!

✓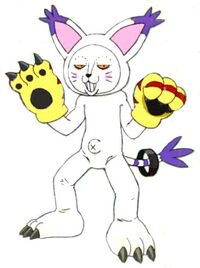 Betsumon is a minor villain in the 3rd season of Digimon Fusion and Digimon Ghost Game.
It was voiced by Daisuke Kishio and Wasabi Mizuta in the Japanese version.
Appearance
Betsumon is an Ultimate Level Digimon that resembles a comedic cosplay monster that wears usually a Gatomon suit. It's face usually has orange colored eyes and wears a permanent grin that resembles the Cheshire Cat from Alice in Wonderland. Betsumon also has the ability to disguise himself into any Digimon he wants including Angemon, Astamon, AxeKnightmon, Examon, Monitormon, Omnimon, Pandamon, Persiamon, Shoutmon and Stingmon.
Biography
Digimon Fusion season 3
In the past, Betsumon used to be Gumdramon's friend and partner in crime, until Betsumon escaped, abandoning Gumdramon for him to be caught. Betsumon even lost his memories of Gumdramon. Betsumon eventually came to the Human World in order to gather clothing to build more costumes to cosplay with, focusing on kidnapping Digimon hunters in order to help him complete his masterpiece Examon costume. Gumdramon Digivolved to Arresterdramon to fight Betsumon in his Examon disguise. Betsumon was then defeated, and Tagiru captured him, thus restoring Betsumon's memories.
Digimon Ghost Game
Betsumon first appeared when Gammamon is outdoors, disguising himself as Gammamon so that Hiro and his friends can put less trust on the real Gammamon. Later when the real Gammamon arrives and tells that he is the real Gammamon, Hiro and his friends didn't trust him. After Gammamon see this, he was sad, and zones out in loneliness. Later Gammamon found out that the Betsumon disguising Gammamon is rallying other Betsumon to take over the academy. After the real Gammamon reunites with Hiro, Gammamon and Betsumon started an eating competition. Ultimately Gammamon become the winner, and Hiro is finally able to recognize the true Gammamon. Then Betsumon reveals his true form and calls up his ally Betsumon to fight against Hiro and Gammamon. They manage to almost defeat WenzenGammamon, but ultimately, they were all defeated by Canoweissmon. Then Clockmon shows up to sort them out.
Attacks
Cold Gag
Tsukkomi Punch
Copied Attacks

Grey Sword
Rock Damashi
Hellfire
Twin Spear
Smoke Bombs
Pendragon's Glory
Gallery
Trivia