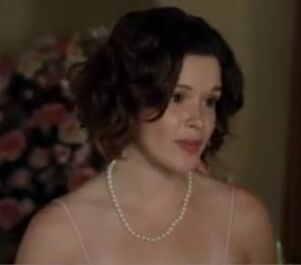 Betsy Monroe is the main villainess from the 2012 film, Undercover Bridesmaid.
She was portrayed by Kayla Mae Maloney, who also played Leah Gideon on Supernatural.
Biography
Betsy Monroe is one of the bridesmaids for Daisy Thompson, who is set to marry her equally wealthy fiancee, Chip. Her backstory reveals that she was Chip's ex-girlfriend, but she had no interest in him until she found out how much he was worth. She came from a wealthy family herself, as they own companies that make everything from watches to wedding cakes. However, they lost their wealth due to a bad investment in one of the companies owned by Daisy's father, Wes, and that plus Chip's engagement to Daisy drove Betsy to revenge.
Betsy had been sending threatening notes warning Thompson to cancel the wedding, and even colluded with wedding planne Carlo Santi in her evil plot. On the day of the wedding, bodyguard Tanya Harsin figures out that Betsy is the true mastermind, and catches the villainess detonating a bomb she placed in the wedding cake, with intent on killing Daisy. After Tanya destroyed the bomb, Daisy confronted Betsy, who accused Daisy of ruining her life. Betsy is later decked by a left hook by Daisy, and is later arrested (off-screen).