Wiki Targeted (Entertainment)
Play Sound
| | | |
| --- | --- | --- |
| " | I'm the Black Cat...and I just crossed your path. | " |
| | ~ Black Cat to Spider-Man (and many others). | |
Felicia Hardy, mainly known as Black Cat, is a recurring character in the Spider-Man comics. Though nowadays a more anti-heroic character Black Cat was originally a fairly self-interested and amoral individual who would frequently try to tempt Spider-Man and usually try to convince him that she had feelings for him. Over time though she did indeed begin to develop a strong romantic attraction to him, thus marking the beginning of her transition from villain to hero.
She appears as Harry Osborn's Oscorp assistant in The Amazing Spider-Man 2, where she was portrayed by Felicity Jones.
Personality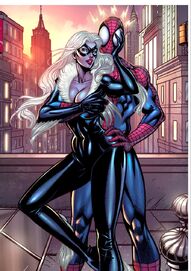 Felicia Hardy is kind and means well as a person and she's always in the mood to have fun.
Felicia uses her good wits to become a thief and steal various merchandise and jewelry because she loved the thrill and excitement. When she met Spider-Man she was at first against him for stopping her from achieving what she wants, but she fell in love with him for his brave and heroic moments and sense of justice.
After joining Spider-Man Felicia decided she wouldn't steal anymore and would go on working as Spider-Mans partner and lover.
While all was fine it wasn't until Peter introduced himself as Spider-Man in which Felicia took it hard and felt it wasn't right as she felt it took away the mystery and excitement of being Spider-Man. Although hurt Peter still carried on, eventually Felicia started appreciating him afterwards.
After numerous battles and Spider-Man protecting Felicia, she felt like a burden to Peter and wanted to help in someway she wouldn't need protection by going to Kingpin. However it gave her bad luck powers which affected Spider-Man negatively causing her to be saddened, fortunately Spider-Man managed to free these powers with the help from Doctor Strange.
After this Spider-Man and Black Cat's relationship remained strained but they eventually reconciled.
Appearance
Black Cat appears to be an attractive, tall woman with white hair and fair-skin. She wears a black-latex suit while under her alter-ego with white-fur around the top half of the suit.
Biography
Felicia Hardy first resolved to become Black Cat in an attempt to get vengeance on her former boyfriend for date-raping her. When he died in a drunk-driving accident before she could kill him, Black Cat instead elected to use her new talents to follow in her father's footsteps and become an expert cat burglar, also attempting to free him from prison. She is skilled at hand-to-hand combat and is extremely agile.
Though Black Cat was originally a foe of Spider-Man, she eventually fell in love with him and became both his ally and for a time love interest, also helping him stop Doctor Octopus from destroying New York City and nearly paying for it with her life.
Despite her being an anti-hero though, Felicia Hardy is also a criminal, and tends to not let Spider-Man's morals get in the way of what she wants, particularly post-One More Day where she has resumed her thieving ways. Nevertheless, Black Cat eventually became more consistently heroic than villainous, settling into a Chaotic Neutral alignment.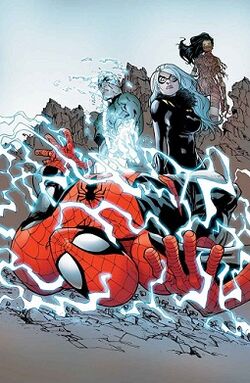 When the Superior Spider-Man wrapped her up during one of her thieving missions, it caused the authorities to catch her, making her lose everything she had stolen. Since then, she resented Spider-man, swearing vengeance on him. She even became a crime-lord now, making her Neutral Evil.
After her escape from prison she made up an alliance with Electro, and the both of them began to attack Spider-Man and Silk. While Electro was captured Felicia continued rising up in the criminal underworld, the Spider-Woman eventually joined up with Black Cat to work under her. While a ruse on Cindy Moon's part under the orders of S.H.I.E.L.D Felicia did train the girl becoming a twisted mentor figure.
Later on she would encounter Miles Morales, and she offered the newer Spider-Man the chance to work for her like Silk, but he quickly refused the offer attempting to take her back into prison. Ever since she's taken part in several criminal activities in the underworld involving heroes like Star-Lord and Patsy Walker.
After working together with Spider-Man, the original Venom Eddie Brock and the new Anti-Venom (Flash Thompson) against the Maniac after he took control of her and her gang, Black Cat was able to end her feud with Spider-Man. Despite losing her gang, Brock was able to convince her to give up trying to be a crime boss, and instead return to being a vigilante.
In other media
The Amazing Spider-Man 2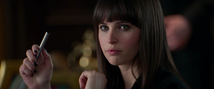 In The Amazing Spider-Man 2, Felicia Hardy makes an appearance as the assistant to Harry Osborn/Green Goblin. Felicia is not presented as a villainous person herself, but rather a punch-clock villain due to her employment with Oscorp. However, despite this, her actress considers her character a part of the darkside and the accomplice to the Green Goblin. She was portrayed by Felicity Jones.
Spider-Man: Web of Shadows
In Web of Shadows, Black Cat is again depicted as a villain. When Spider-Man first encounters her, she escapes into a building in an attempt to get away from him. A chase ensues, followed by a boss battle. After she's defeated, Spider-Man gets to chooses if he still loves Mary Jane or if he want to be with Black Cat. Either way, she then becomes an ally to the Black Suit Spider-Man.
While the Symbiotes have taken over New York, Black Cat becomes an ally to help defeat them. However, she gets infected with one and fights Spider-Man with an army of Symbiotes. Spider-Man has to defeat the Symbiote Black Cat and the Symbiote army, while protecting MJ.
After Black Cat is defeated, she lies on a roof injured. The player is given a choice of whether to take her back to SHIELD where she can be both safe and have her injuries taken care of, or infect her with a more stable symbiote.
After that, Black Cat becomes incapacitated for the rest of the game. At the end of the game if the player chose for Spider-Man to be with Black Cat and chose to be evil, she rules an army of symbiotes by his side. If the player chose to be good, a sonic weapon developed by Tinkerer removes both Spider-Man's and Black Cat's symbiotes and Spider-Man ends up alone.
Marvel's Spider-Man
Black Cat appears as a major antagonist in the The City that Never Sleeps DLC for the game.
Powers and Abilities
Black Cat's choices of weaponry include her claws and rope that reacts the same way as Spider-Man's webbing. She also has superpowers, notably spreading bad luck on her foes (including Spider-Man most likely) and has enhanced physical Strength, Speed, and Stamina. Her additional powers (though temporary) include the following whether as her regular black cat self, a clone, or even a symbiote monster:
Teleportation (Spider-Man: Edge of Time, The Amazing Spider-Man (VG))
Self-Multiplier (Spider-Man: Edge of Time, Spider-Man: Web of Shadows)
Electrikenetic (The Amazing Spider-Man (VG))
External Links

Villains
Comics
Abomination | Absorbing Man | Agony | A.I.M. | Alistair Smythe | Annihilus | Answer | Arcade | Arnim Zola | Awesome Android | Baron Zemo | Basilisk | Beetle | Beyonder | Black Cat | Blackie Drago | Blastaar | Blizzard | Blob | Bombshell | Boomerang | Brothers Grimm | Burglar | Bullseye | Bushwacker | Cadaverous | Calypso | Carlton Drake | Carnage | Carrion | Chameleon | Chance | Constrictor | Crime Master | Crossbones | Daemos | Dark Avengers | Deadpool | Demogoblin | Diablo | Doctor Doom | Doctor Faustus | Doctor Octopus | Doppelganger | Dormammu | Electro | Enforcers | Equinox | Fancy Dan | Firelord | Freak | Frightful Four | Ghost | Gog | Goliath | Grant Ward | Graviton | Green Goblin (Norman Osborn, Harry Osborn and Bart Hamilton) | Grey Goblin | Grizzly | Hammerhead | Hand | Hazmat | High Evolutionary | Hitman | Hobgoblin | Hood | Human Fly | Hybrid | HYDRA | Hydro-Man | Inheritors | Iguana | Jackal | Jack O' Lantern | Jigsaw | J. Jonah Jameson | Johnny Ohm | Jonas Harrow | Juggernaut | Justin Hammer | Kaine | Karn | Killer Shrike | King Cobra | Kingpin | Knull | Kraven the Hunter | Lasher | Lady Deathstrike | Leader | Lightmaster | Living Brain | Living Laser | Lizard | Loki Laufeyson | Madame Masque | Madame Viper | Maestro | Magneto | Mandarin | Man-Spider | Man-Wolf | Mania | Masters of Evil | Menace | Mephisto | Mesmero | Mister Brownstone | Mister Fear | Mister Hyde | Mister Negative | Mojo | Molten Man | Montana | Morbius | Morlun | Moses Magnum | Mysterio | (Quentin Beck, Daniel Berkhart and Francis Klum) | Nekra | Nightmare | Niles Van Roekel | Nitro | Onslaught | Overdrive | Owl | Ox | Phil Urich | The Prowler | Psycho-Man | Puma | Punisher | Punisher (Earth-95126) | Ramrod | Raze | Red Ghost | Red Skull | Rhino | Rhino II | Richard Fisk | Ringer | Riot | The Rose | Roxxon Energy Corporation | Sabretooth | Sandman | Sauron | Scarecrow | Scorcher | Scorpion | Scorn | Scream | Sebastian Shaw | Secret Empire | Sentinels | Seth Youngblood | Shocker | Shriek | Silver Sable | Sinister Six | Skip | Skrulls | Solus | Patton Parnel | Spider-Man Revenge Squad | Spider-Slayers | Spot | Street | Super-Apes | Supercharger | Swarm | Symbiotes | Tarantula | Taskmaster | Terminus | The Thousand | Thunderball | Thunderbolts | Tinkerer | Titania | Titanium Man | Tombstone | Trapster | Tyrannus | Ultimatum | Ultron | Venom (Eddie Brock) | Vermin | Vulture | Walrus | Whiplash | White Rabbit | Whirlwind | Will-O'-The-Wisp | Wizard | Worthy | Wrecker | Zodiac | Zombie Spider-Man | Zombie Giant-Man
Movies
Spider-Man: Green Goblin | Dennis Carradine | Bank Robbers | Harry Osborn | J. Jonah Jameson
Spider-Man 2: Doctor Octopus | Harry Osborn | J. Jonah Jameson | Green Goblin
Spider-Man 3: Venom | Sandman | New Goblin | J. Jonah Jameson | Green Goblin | Dennis Carradine
The Amazing Spider-Man: Lizard | Gustav Fiers | Cash Register Thief | Norman Osborn
The Amazing Spider-Man 2: Electro | Green Goblin | Donald Menken | Rhino | Alistair Smythe | Ashley Kafka | Felicia Hardy | Gustav Fiers | Norman Osborn
Spider-Man: Homecoming: Bestman Salvage (Vulture, Tinkerer, Shocker #1, Shocker #2 & Randy Vale) | Mac Gargan | Aaron Davis
Spider-Man: Into the Spider-Verse: Kingpin | Doctor Octopus | Prowler | Tombstone | Scorpion | Green Goblin | Vanessa Fisk | Richard Fisk
Spider-Man: Far From Home: Mysterio's Crew (Mysterio, William Ginter Riva, Victoria Snow, Gutes Guterman, Janice Lincoln, & Doug) | Elementals (Molten Man, Hydro-Man, Sandman, Cyclone and Elemental Fusion) | Skrulls (Talos) | Obadiah Stane | J. Jonah Jameson
Television
Spider-Man (1967)
Vulture | Green Goblin | Electro | Rhino | Mysterio | Doctor Octopus | Scorpion | Human Fly | Kingpin | Lizard | Spider-Slayer | Sandman | Dr. Matto Magneto | Enforcers (Cowboy and Ox) | Frederick Foswell | J. Jonah Jameson
Spider-Man (1981)
Doctor Doom | Kingpin | Doctor Octopus | Lizard | Black Cat | Sandman | Magneto | Mysterio | Ringmaster | Green Goblin | Sidewinder | Kraven the Hunter | Red Skull | Chameleon | Vulture | Hammerhead | Wizard
Spider-Man and His Amazing Friends
Green Goblin | Kraven the Hunter | Doctor Doom | Swarm | Chameleon | Electro | Brotherhood of Mutants (Magneto, Blob, Toad and Mastermind) | Mysterio | Loki Laufeyson | Ymir | Mordred | Kingpin | Doctor Faustus | Red Skull | Juggernaut | Shocker | Sandman | Dracula | Scorpion | Beetle | Doctor Octopus | A.I.M.
Spider-Man: The Animated Series
Kingpin | Green Goblin (Norman Osborn and Harry Osborn) | Doctor Octopus | Hobgoblin | Venom | Vanessa Fisk | Richard Fisk | Insidious Six (Scorpion, Rhino, Mysterio, Chameleon, Shocker and Vulture) | Black Cat | Lizard | Morbius | Spider-Carnage | Spider-Slayers (Alistair Smythe) | Carnage | Baron Mordo | Dormammu | Silver Sable | Hydro-Man | Prowler | Doctor Doom | Red Skull | Electro | Hammerhead | Tombstone | Kraven the Hunter | Calypso | Herbert Landon | Jackal | Spot | J. Jonah Jameson
Spider-Man: The New Animated Series
Harry Osborn | Electro | Kraven the Hunter | Turbo Jet | Kingpin | Lizard | Shikata | Silver Sable
The Spectacular Spider-Man
Green Goblin | Tombstone | Doctor Octopus | Hammerhead | Venom | Sinister Six (Rhino, Vulture, Electro, Sandman, Mysterio and Kraven the Hunter) | Chameleon | Tinkerer | Enforcers (Shocker, Ricochet and Ox) | Molten Man | Silver Sable | Harry Osborn | Lizard | J. Jonah Jameson | Black Cat | Miles Warren | Frederick Foswell | Calypso | Roderick Kingsley | Morris Bench | Cletus Kasady
Ultimate Spider-Man
Doctor Octopus | Green Goblin | Harry Osborn | Taskmaster | HYDRA (Arnim Zola, Crossbones, Morbius and Baron Mordo) | Sinister Six (Kraven the Hunter, Rhino, Electro, Scorpion, Vulture & Hydro-Man) | Batroc the Leaper | Beetle | Lizard | Frightful Four (Wizard, Trapster & Klaw) | Juggernaut | Sandman | Venom | Loki Laufeyson | The Collector | Grandmaster | Carnage | Wolf Spider | Shocker | Shriek | Swarm | Dracula | Spider-Slayers (Kaine) | Absorbing Man | Abomination | Annihilus | Arcade | Attuma | Awesome Android | Blastaar | Blizzard | Boomerang | Chitauri | Deadpool | Destroyer | Doctor Doom | Dormammu | Skurge | Enforcers (Montana, Fancy Dan, Ox) | Frost Giants | Grizzly | Hammerhead | Jack O'Lantern | Korvac | The Leader | Living Laser | Man-Wolf | Maximus | Melter | Mesmero | M.O.D.O.K. | Molten Man | Mister Negative | Mysterio | Nightmare | Norma Osborn | Phalanx | Sabretooth | Toad | Ulik | Whirlwind | Wrecker | Piledriver | Thunderball | Ymir | Zodiac | Scorpio | Zzzax | J. Jonah Jameson
Spider-Man (2017)
Symbiotes (Venom, Scream, Scorn and Mania) | Dark Goblin | Hobgoblin | Doctor Octopus | Vulture/Goblin King | Alistair Smythe | Rhino | Jackal | Hammerhead | Electro | A.I.M. (M.O.D.O.K.) | Spider-Slayers | Lizard | Tinkerer | Swarm | Scorpion | Sinister Six | Kraven the Hunter | Man-Wolf | Silver Sable | Beetle | Spot | Prowler | Molten Man | Mister Negative | Chameleon | HYDRA (Crossbones and Arnim Zola) | Black Cat | Ghost | Blizzard | Absorbing Man | Crimson Dynamo | Overdrive | Mysterio | Jack O'Lantern | Paladin | Puma | Shocker | Living Brain | Sandman | Technovore | Baron Mordo | Knull | J. Jonah Jameson
Video Games
Spider-Man: Return of the Sinister Six: Sinister Six (Doctor Octopus, Electro, Hobgoblin, Mysterio, Sandman and Vulture)
Spider-Man and Venom: Maximum Carnage: Carnage | Shriek | Doppelganger | Demogoblin | Carrion
Spider-Man and Venom: Separation Anxiety: The Jury | Sentry | Ramshot | Screech | Bomblast | Firearm | Wysper | Life Foundation | Symbiotes (Carnage | Riot | Lasher | Agony | Scream)
Spider-Man (2000): Doctor Octopus | Symbiotes | (Carnage, Venom) | Jade Syndicate | Monster Ock | Scorpion | Rhino | Mysterio, J. Jonah Jameson, Lizard
Spider-Man 2: Enter Electro: Electro | Beetle | Hammerhead | Lizard |Sandman | Shocker
Spider-Man (2002): Green Goblin | Shocker | Vulture | Spider-Slayers | Scorpion | Kraven the Hunter | Dennis Carradine | Harry Osborn | J. Jonah Jameson
Spider-Man 2: Doctor Octopus | Harry Osborn | Rhino | Mysterio | Shocker | Puma | Black Cat | Vulture | Calypso | J. Jonah Jameson
Ultimate Spider-Man: Bolivar Trask | Venom | Vulture | Silver Sable | Shocker | R.H.I.N.O. | Electro | Beetle | Green Goblin | Sandman | Carnage
Spider-Man 3: Venom | Sandman | New Goblin | Lizard | Scorpion | Kraven the Hunter | Calypso | Kingpin | Rhino | Morbius | Shriek | H-Bombers (Mad Bomber) | J. Jonah Jameson
Spider-Man: Web of Shadows: Spider-Man | Venom | Kingpin | Black Cat | Vulture | Electro | Tinkerer | Rhino
Spider-Man: Shattered Dimensions: Mysterio | Kraven the Hunter | Hammerhead | Hobgoblin | Electro | Sandman | Vulture | Scorpion | Deadpool | Juggernaut | Silver Sable | Goblin | Serena Patel | Carnage
Spider-Man: Edge of Time: Peter Parker | Atrocity | Walker Sloan
The Amazing Spider-Man: Spider-Slayers (Alistair Smythe) | Lizard | Rhino | Vermin | Scorpion | Felicia Hardy | Iguana | Nattie
The Amazing Spider-Man 2: Carnage | Kingpin | Green Goblin | Shocker | Kraven the Hunter | Black Cat | Electro | Chameleon | Norman Osborn | Cash Register Thief
Marvel's Spider-Man: Sinister Six (Doctor Octopus, Mister Negative, Electro, Vulture, Rhino and Scorpion) | Inner Demons | Norman Osborn | Silver Sable | Kingpin | Shocker | Tombstone | Taskmaster | Black Cat | Screwball | Hammerhead | Walter Hardy | Yuriko Watanabe
Marvel's Spider-Man: Miles Morales: Roxxon Energy Corporation (Simon Krieger) | The Underground (Tinkerer) | Prowler | Rhino | Kingpin | Norman Osborn | Doctor Octopus | Vulture

Villains
Animated Features
Loc-Nar | The Girl | The Queen | Captain Lincoln F. Sternn | Tyler | The Beast | Constance Nebbercracker | Shaw | Tank Evans | Reggie Belafonte | Mayor Shelbourne | General Grawl | Professor Kipple | Fifi | Doug | Ivan Ivanovitch Sakharine | Sakharine's Pirates (Allan, Tom & Pedro) | Falcon | Aristides Silk | Red Rackham | Queen Victoria | Black Bellamy | Quasimodo Wilson | Esmeralda | Chester V | Live Corp (Chester V's Holograms & Barb) | Bela | Bat Cronies | Ed and Edna | King Leonard Mudbeard | Green Pigs | Douche | Gargamel (2017) | Azrael (2017) | Monty | Smiler | Anti-Virus Bots | Hunter | King Herod | Thaddeus and Rufus | Abraham Van Helsing | Ericka Van Helsing | Kingpin | Doctor Octopus | Prowler | Green Goblin | Scorpion | Tombstone | Vanessa Fisk | Richard Fisk | Zeta | PAL Labs (PAL, PAL Max, Glaxxon 5000 and PAL Max Prime) | Pockets | Lutador
Live-Action Films
Miss Hannigan | Rooster and Lily St. Regis | Christine | Gozer | Stay Puft Marshmallow Man | Terror Dogs (Zuul & Vinz Clortho) | Library Ghost | Murray Plotsky | Central Park Thief | Jerry Dandridge | Billy Cole | Evil Ed | Jareth | Goblin Army | Helping Hands | Dr. Christopher Meddows | Regine Dandrige | Vigo | Janosz Poha | Scoleri Brothers | Mink Coat | Luis Cali | Jack Thrope | Carlos | Ruiz | Jorge | Captain James Hook | Mr. Smee (1991) | Luc Deveraux | Andrew Scott | Eric Qualen | Richard Travers | Kynette | Delmar | Kristel | Ryan | Heldon | Mike | Ray | Koga | Ishikawa | Glam | Vinnie | Slam | Darren | Gerald Thomas | Jack Harding | J.J. | Jimmy | Eddy | Fouchet | Casper | Ferguson | Van Pelt | Agatha Trunchbull | Harry Wormwood | Cable Guy | Edgar the Bug | Egor Korshunov | Andrei Kolchak | Vladimir Krasin | Agent Gibbs | Boris Bazylev | Sergei Lenski | Igor Nevsky | General Ivan Radek | Arachnids | Mary Ann Rogers | Lothar Zogg | C.J. | Carl | Buelow | Zed | Klaus | Lars | Eric | Zilla | Alley Cats (Smokey, Monty, Lucky, Red & Unnamed Gray Cat) | Snowbell | S.E.T.H. | Deacon | Altaaf Khan | Hilal Kohistani | William Tavington | Genus | General Russell Woodman | Green Goblin | Dennis Carradine | Bank Robbers | Harry Osborn | J. Jonah Jameson | Falcon | Chuck Cedar | Mac McGrath | Serleena | Scrad & Charlie | Jarra | Dog Poop | Corn Face | Pineal Eye | Mosh Tendrils | Flesh Balls | Jeff | Creepy | Kylothians | Devlin Bowman | Rachel Wright | Arnold Gundars | Zhu Tam | Miss Gwyneth Harridan | Jenny | Bruce | Johnny Tapia | Captain James Hook | Mr. Smee (2003) | Grigori Rasputin | Karl Ruprecht Kroenen | Ilsa Von Haupstein | Sammael | Ogdru-Jahad (Behemoth) | Warren Vandergeld | Vandergeld Sisters | Heath and Russ | Doctor Octopus | Brother Sum | The Beast | Landlady | The Axe Gang | The Harpists | Big Al | Boogeyman | Warden Hazen | Mr. Electric | Minus | Zorgons | Robot | Jerry McDowell | Calvin Sims | Mr. Walken | Rosco | Bruno | Venom | Sandman | Lance Warner | Camp Canola (Robert Jeffrey Warner) | Fatoush | Grant Walbridge | Salim Yousfobdal | Derek Huff | Ted Jones | Budlofsky | Matheson | Carol Brazier | Veck Simms | James Kent | Ted Winter | Roger Wesley | David Ershon | Benjamin Chudnofsky | Frank Scanlon | Shane | Stephanie | Gargamel (2011) | Azrael (2011) | Boris the Animal | Weasel | Lilly | Obadiah Price | Mr. Wu | Boglodites | Lizard | Gustav Fiers | Cash Register Thief | Norman Osborn | Eli Raphelson | Martin Walker | Emil Stenz | Skip Tyler | Muriel Walker | Vexy and Hackus | Electro | Green Goblin | Donald Menken | Rhino | Ashley Kafka | Felicia Hardy | Frat boy Andy | Agent Kruger | Jessica Delacourt | John Carlyle | Guy Danlily | Miss Hannigan | Annie's Fake Parents | Vincent Moore | Hippo | Amerika | Ninja | Yolandi | Vincent Sofel | Donkey Kong | Pac-Man | Eddie Plant | Lady Lisa | Slappy the Dummy | Monsters (Giant Praying Mantis, Will Blake, Madame Doom, Brent Green, Count Nightwing & The Haunted Mask) | Norman Nordstrom | Rowan North | Mayhem | Electrocuted Ghost | Gertrude Aldridge | Francis Begbie | Sick Boy | Bestman Salvage (Vulture, Tinkerer, Shocker #1, Shocker #2 & Randy Vale) | Mac Gargan | Aaron Davis | Niander Wallace | Luv | Russel Van Pelt | Tommy Madigan | Thomas McGregor | Mr. McGregor | Mrs. McGregor | James Tod | Eddie Brock/Venom | Carlton Drake/Riot | Roland Treece | Cletus Kasady | High-T | The Twins | Riza Stavros | Luca Brasi | The Hive | Mysterio's Crew (Mysterio, William Ginter Riva, Victoria Snow, Gutes Guterman, Janice Lincoln, & Doug) | Elementals (Molten Man, Hydro-Man, Sandman, Cyclone & Elemental Fusion) | Jurgen the Brutal | Fiona Landers | Melinda Landers | Sam Landers | Kayako Saeki | Isabel Aretas | Armando Armas | Melanie Cole | Barnabas | Samuel Whiskers | Tom Kitten | Mitten | Raylan | Carnage
See Also
007 Villains | Aardman Villains | Angry Birds Villains | Bad Boys Villains | The Boys Villains | Community Villains | Ghostbusters Villains | Ghost Rider Villains | Godzilla Villains | Goosebumps Villains | Hotel Transylvania Villains | Jackie Chan Adventures Villains | Jumanji Villains | Karate Kid Villains | Marvel Cinematic Universe Villains | Men in Black Villains | Sony Pictures Universe of Marvel Characters Villains | Spider-Man Villains | The Grudge Villains | Stuart Little Villains | The Boondocks Villains | Total Recall Villains | Trainspotting Villains | Underworld Villains | Universal Soldier Villains | XXX Villains