Doctor Strange in The Multiverse o Madness - The Loop
Play Sound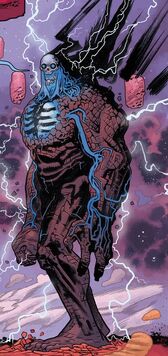 The Black Flame is a recurring villain in the Hellboy comic book series.It is an entity that has had many hosts and is often connected to the Ogdru Hem, most notably Katha-Hem.
History
The Black Flame is a recurring villain in Hellboy main series and  the BPRD spin-off series often having hosts.
The First known Black Flame was Raimund Diseal from 1914 who originally worked from the German army before he defected. He had been the Black Flame from 1922-1944.
The Second Black Flame was a man named Landis Pope in the 2000's.Landis was the CEO of his own company called the Zinco Corporation. He worked with Karl Ruprecht Kroenen and Leopold Kurtz and turned him into the undead Black Flame.
The Third Black Flame in the 2010's appeares in the The Return of the Master created by Grigori Rasputin and his assisant Ilia.
Powers and Abilities
As an undead creature The Black Flame is powerful enemy and is very hard to kill in many incarnations.

Villains
Comics
Alphina | Anti-Monitor | Appex | Atomic Skull | Atrocitus | Barry Metznerr | Belinda Zee | Bizarro | Bizarro-Girl | Black Banshee | Black Flame | Blackstarr Blithe | Brainiac | Buzz | Carnivore | The Council | Chemo | Cyborg Superman | Dark Angel | Darkseid | Dark Supergirl | Decay | Delacore | Despero | Diasporans | Dollmaker | Dominators | Doomsday | Emerald Empress | Eradicator | Female Furies | Felix Faust | The Gang | Granny Goodness | Graviton Man | H'el | Hecate | Insect Queen | Indigo | Intergang | Kryptonite Man | Lady Styx | Lena Luthor | Lesla-Lar | Lex Luthor | Livewire | Lobo | Metallo | Mongul | Mxyzptlk | Nasthalthia Luthor | Nightflame | Parasite | Positive Man | Powerboy | Princess Zala Jor-El | Psi | Reactron | Reign | Rogol Zaar | Roho | Satan Girl | Selena | Shrapnel | Silver Banshee | Simon Tycho | Splyce | Superboy-Prime | Superman Revenge Squad | Superwoman | Toyman | Twilight | Ultra-Humanite | Worldkiller-1 | Xenon | Zod
Television
Season 1: Astra and Non's Army (Non, Astra, Indigo, Vartox, Hellgrammite & Maxima) | Maxwell Lord | Reactron | Livewire | Ethan Knox | Red Tornado | T.O. Morrow | Jemm | Dirk Armstrong | Bizarro | Toyman | Miranda Crane | Master Jailer | Silver Banshee | Project Cadmus (Colonel James Harper)
Season 2: Queen Rhea | Project Cadmus (Lillian Luthor, Cyborg Superman & John Corben) | Scorcher | Roulette | Parasite | Dominators | Phillip Karnowsky | Livewire | Mister Mxyzptlk | Music Meister | Beth Breen | Rick Malverne | Lex Luthor | Zod
Season 3: Worldkillers (Selena, Reign, Purity, Pestilence & Thomas Coville) | Morgan Edge | Bloodsport | Psi | Dominators | New Reich (Dark Arrow, Overgirl & Promethus) | Eobard Thawne | Red Tornado | Livewire | Lillian Luthor | Red Daughter
Season 4: Lex Luthor | Children of Liberty (Agent Liberty, Mercy Graves, Raymond Jensen & Natalie Hawkings) | Otis Graves | The Elite (Manchester Black, Pamela Ferrer, The Hat & Morae) | Hellgrammite | Monitor | John Deegan | A.M.A.Z.O. | Psycho-Pirate | Leviathan (Eve Teschmacher & Margot Morrison) | Red Daughter | Phil Baker | Lillian Luthor | Malefic J'onzz
Season 5: Leviathan (Gamemnae, Rama Khan, Tezumak, Sela, Andrea Rojas, Margot Morrison, & Eve Teschmacher) | Lex Luthor | Malefic J'onzz | Lena Luthor | Lillian Luthor | Anti-Monitor | Midnight | Shadow Demons | Toyman | Mister Mxyzptlk | Worldkillers (Selena, Reign, & Thomas Coville) | Children of Liberty (Agent Liberty & Otis Graves) | Dominators
Season 6: Nyxlygsptlnz | Lex Luthor | Lillian Luthor | Otis Graves | Zulian Maletarians | Eve Teschmacher | Mister Mxyzptlk | Leviathan (Gamemnae)
Video Games
Injustice: Superman | Brainiac | Wonder Woman | Black Adam | Nightwing | Cheetah