Doctor Strange in The Multiverse o Madness - The Loop
Play Sound

✓
| | |
| --- | --- |
| | This Article Contains Spoilers - WARNING: This article contains major spoilers. If you do not wish to know vital information on plot / character elements in a story, you may not wish to read beyond this warning: We hold no responsibility for any negative effects these facts may have on your enjoyment of said media should you continue. That is all. |
Black Krrsantan is a recurring character in the Star Wars franchise, serving as a major antagonist in the 2015-2019 comic book series Star Wars, a supporting character in the 2015-2016 comic book series Star Wars: Darth Vader and the 2015-2019 comic book series Star Wars: Doctor Aphra. He later returns in the 2021 Disney+ series The Book of Boba Fett, initially as a minor antagonist before becoming a supporting character.
Krrsantan is a fearsome Wookiee bounty hunter who often takes jobs from the Galactic Empire and the Hutt Cartel, working directly under individuals such as Darth Vader and Jabba the Hutt. For a time Krrsantan traveled with Doctor Chelli Aphra, a rogue archaeologist who owned him a sizeable amount of money.
He is portrayed by Carey Jones.
Biography
History
Black Krrsantan is a Wookiee from Kashyyyk. At some point he did something to disgrace himself, and he became a pariah to his people. Seeking a new path in life, Krrsantan sought to fight in the gladiatorial arenas of the Xonti Brothers. Killing several team of Trandoshian hunters, Black Krrsantan finally found one who would take him to the Xonti Brothers.
Upon arriving, the Xonti Brothers shocked him unconscious and turned him into an unwilling participant of the arenas. Seeking to sell him off as an Ultraheavy fighter, the Xonti Brothers gave him enhancements in the way of body modifications. Becoming an unbeatable champion of the ring, Krrsantan was sold off to the highest bidder, and eventually gained freedom.
Hunt for Ben Kenobi
| | | |
| --- | --- | --- |
| " | You're Black Krrsantan. The infamous Wookiee bounty hunter. I've heard of you. I know why you were forced to leave Kashyyyk. And how you've disgraced your people ever since. | " |
| | ~ Obi-Wan Kenobi upon meeting Black Krrsantan. | |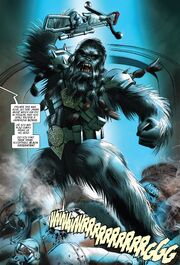 Eventually Black Krrsantan became a freelance bounty hunter with a fearsome reputation. On one occassion, he was summoned to the palace of the Hutt crime lord Jabba Desilijic Tiure on Tatooine. Jabba wanted Krrsantan to bring him a man who had attacked one of his crews dead or alive. Before giving Krrsantan the job however, Jabba had several of his Gamorrean guards attack the Wookiee to prove his skill. Black Krrsantan brutally killed all of his assailants, which impressed Jabba enough to give him the job.
Krrsantan was brought to the scene of the incident by a pair of Jabba's men, where they explained everything they knew of the incident. Believing the man who had attacked the crew was likely a good samaritan, Krrsantan headed to a nearby moisture farm and kidnapped a farmer by the name of Owen Lars. Krrsantan brought Lars to the top of a mountain and began torturing him in the hopes that his screams would draw the hero out. The hero, a Jedi Master in hiding named Obi-Wan Kenobi, eventually arrived to confront the Wookiee.
Krrsantan attacked Kenobi, and although he initially had the upperhand Kenobi's lightsaber and his use of the Force eventually overwhelmed the bounty hunter. Krrsantan fell from the mountain, although not before receiving a permanent scar across his face from a lightsaber slash. The Wookiee survived the fall and took the first opportunity to flee the planet aboard a starship, as he knew Jabba would be upset with his faliure to kill the Jedi.
Bringing in Cylo
| | | |
| --- | --- | --- |
| " | Black Krrsantan's guy may not have all their limbs when he delivers them, but they won't get away. | " |
| | ~ Boba Fett assuring Darth Vader of Krrsantan's skill. | |
In 0 ABY, shortly after the destruction of the Death Star, Black Krrsantan was hired by Jabba to fulfill a job for his Sith lord ally Darth Vader. Alongside fellow bounty hunter Boba Fett, Krrsantan met Vader outside the remains of a Tusken camp on Tatooine. Vader tasked each hunter with a different job, with Black Krrsantan being given the task of finding and kidnapping an Imperial scientist named Cylo who had recently been working closely with the Emperor himself.
Black Krrsantan accepted the job and was soon able to track down Cylo. Although he planned to follow the scientist back to his base, Cylo noticed Krrsantan following him which forced the Wookiee to capture him prematurely. Krrsantan then brought the scientist aboard Darth Vader's private starship, where he assisted the protocol droid 0-0-0 in torturing Cylo for information.
Son-tuul Pride Heist
| | | |
| --- | --- | --- |
| " | I've captured enough Wookieesss and ssold them to tradersss to feed the pitsss... until Krrsantan I'd never met one who volunteered. | " |
| | ~ Bossk commenting on Black Krrsantan. | |
Sometime after working for Vader, Black Krrsantan was summoned to a cantina on the jungle planet Son-tuul alongside the other bounty hunters Bossk, IG-90, and Mister Beebox. While they waited for their employer, the rogue archaeologist Doctor Chelli Aphra, Krrsantan noticed a pit fighting ring in the back of the cantina and decided to participate. Jumping into the pit, Krrsantan strangled one of the fighters and began facing off against the other. After he had beat his opponent to death, Krrsantan left the pit and rejoined the other hunters at a table.
Aphra soon arrived and began explaining to the bounty hunters that the vast wealth of the recently dissolved Son-tuul Pride crime syndicate was being transported aboard an Imperial cruiser to an Imperial facility. She revealed that she had intel on how to find the transport and get away with the score without any repercussions, but wanted Krrsantan and the other hunters to help her. Privately, Krrsantan and Aphra conspired to keep a majority of the profits for themselves. Aphra also promised to help Krrsantan find the Xonti Brothers for revenge if he continued to work for her.
As Aphra and the others worked on breaking into the Imperial cruiser, Black Krrsantan waited aboard his gunship for the opportune moment to breach the starship's hull by smashing a gigantic asteroid that he attached to his ship against it. While Aphra's astromech droid BT-1 collected a portion of the credits, Krrsantan secretly used a device to collect the rest. After giving the portion of the credits that BT-1 had collected to the other bounty hunters, Krrsantan and Aphra kept the profits that the Wookiee had collected.
Bar Fight with Bossk
| | | |
| --- | --- | --- |
| " | While I get the urge to murder Black Krrsantan... I really do... I'm afraid you're going to have to let him go. I kind of need him for a job. | " |
| | ~ Aphra asking Bossk to spare Krrsantan. | |

In 3 ABY, Black Krrsantan entered the Carbon Score Cantina on Burnin Konn in the Anoat Sector with Doctor Aphra for a drink. They were quickly interrupted by the Trandoshan bounty hunter Bossk, who was upset about recent personal developments and decided to attack Krrsantan as a result. Bossk quickly gained the upperhand on Krrsantan, although before the Trandoshan could do any real damage Aphra stepped in and offered to give Bossk information on a bounty hunter named Nakano Lash whom he had a vendetta against.
Working for the Twins
| | | |
| --- | --- | --- |
| " | You can bring as many gladiators as you wish but these are not the death pits of Duur and I am not a sleeping Trandoshan guard. | " |
| | ~ Boba Fett after seeing Krrsantan. | |
After the fall of the Galactic Empire, Krrsantan found employment under a pair of Hutt crime lords known as "the Twins" who spent most of their time indulging themselves on Nal Hutta. Around 9 ABY, Krrsantan accompanied the Twins to the city of Mos Espa on Tatooine after control of the late Jabba's criminal empire had been claimed by Boba Fett. Alongside his masters and a procession, Krrsantan confronted Fett and his allies outside a cantina called the Sanctuary. Krrsantan tried to intimidate Fett into passing control of the empire over to the Twins, although the new crime lord didn't concede. Ultimately no blood was shed, as the Twins decided to delay any action to a later date albeit only after leaving Fett with a threat after advising Fett to sleep lightly.
The Twins made good on their threat a few days later when they sent Krrsantan to assassinate Fett in his bed/healing chamber. After a short but fierce battle with Fett's people. Krrsantan was captured by Fett in the chamber Jabba once used to feed individuals to his rancor. The Twins then showed up to apologize for trying to have Fett killed, and said that in light of the news that another more powerful group was making its own moves on Tattooine they were returning to Nal Hutta and advised Fett that he should leave too. When Fett tried to return Krrsantan to the Twins, they washed their hands of the Wookie bounty hunter, telling Fett to sell him back to the gladiators. After the Twins left, Fett released Krrsantan, telling him that it wasn't a good idea to work for Hutts. The pair exchanged glances before Krrsantan ran off.
Working for Fett
Following his release, Krrsantan wound up drinking away his sorrows at the Sanctuary cantina in the Tattooine city of Mos Espa. Becoming enraged, he took on a group of Tandroshans. Garsa Fwip tried to intervene but Krrsantan was not interested and ripped off a Tahdroshan's arm before he paid his bar tab and left. Seeing him walking through the streets of Mos Espa, Boba Fett approached Krrsantan and offered him a position in his organization. At a meeting of Jabba's former Captains, Krrsantan hung out in thethrone room, and when the Captains began making noises about killing Fett, Krrsantan intimidated the Captains into not interfering with Fett.
Later, he participates at the Battle against the Pyke Syndicate and survives, killing many Pykes and Trandoshans when the Mos Espa crime families betrayed Boba and joined the the Pykes.
Equipment
Black Krrsantan's weapon of choice is a Bowcaster, a weapon popular among members of his species. During his battle with Obi-Wan Kenobi, Krrsantan carried a shock baton and a gun that fired an energy net. He has also shown to employ brass knuckles, using them during his fight with Chewbacca to great effect. Krrsantan flew an Auzituck Anti-Slaver Gunship, a ship manufactured on Kashyyyk for use against slavers.
Relationships
Allies
Galactic Empire (sometimes)
Boba Fett
Fennec Shand
8D8
Boba Fett's Gamorrean guards (deceased)
Boba Fett's Rancor
Unnamed Rancor Keeper
Mods
Mos Espa crime families (formerly)
Ratcater LEP-series droid
Hutts (sometimes)
Jabba the Hutt (sometimes; deceased)
Darth Vader (sometimes; deceased)
Citizens of Mos Espa
Citizens of Freetown
Mandalorian
Mok Shaiz's majordomo
Peli Motto
Peli Motto's droids
Cobb Vanth
Garsa Fwip (deceased)
Enemies
Galactic Empire (sometimes)
Pyke Syndicate
Kintan Striders
Hutts (sometimes)
Jabba the Hutt (sometimes; deceased)
Darth Vader (sometimes; deceased)
Rebel alliance
Luke Skywalker
Han Solo
Chewbacca
Trandoshans
Galactic Republic
Cad Bane (deceased)
Mok Shaiz (deceased)
Mok Shaiz's majordomo (formerly)
Mos Espa crime families
Dokk Strassi (deceased)
Garfalaquox (deceased)
Unidentified Klatooinian don (deceased)
Gallery
External links