Obi-Wan Finale - The Loop
Play Sound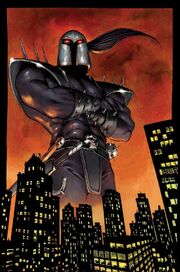 Black Spectre is an antagonist in Marvel Comics and one of the recurring foes of Moon Knight. There had been at least two people who taken on the mantle the first and most notable is Carson Knowles and the short lived second one is named Ryan Trent.
The First Black Spectre is called carlson Knowles a vietnam War Veteran and the son of a Politian after returning He found out that his wife left him and his son was murdered ,then later couldn't get a job and later decides to get revenge on the city since it turned on him when he needed it most. He was later inspired by Moon Knight and Decide to become the Black Spectre a master criminal He would later decide to become mayor but was foiled by Moon Knight and was later sentenced to prison. He would later team up with fellow Moon Knight Foes Bushman and Morpheus to used the power of the god Seth and to take down U.N. Confernce by using Curses but this was foiled again by Moon Knight. Carson was recently released from Prison and eventually becomes Black Sprectre again and attempts to Destroy Moon Knight again and hunt the city once more. Knwoles would frame Moon Knight for several Murders and make him a fugitive from Shield and would use Nano Technolagy to lanuch an attack by Moon Knight Stops him and makes Black Spectre fall to his death. During the events of Dark Reign Quasimdo did some reacsreach for Norman Osborn that should hammer go after Moon Knight they would try to revive Black Spectre for it. Carson Knowles debuted in Moon Knight Volume 1 in Issue 25 in 1982.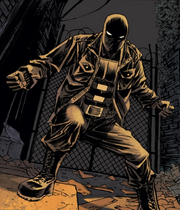 After the the death of the first Black Spectre a new one named Ryan Trent appears He Grew up underminted and his actions were quesetioned and even when he joined the Police he always felt he didn't feel good enough. When Moon Knight appeared to Flint who prefers the viglanites help over Ryan's finally broke him. He would later become the Second Black Spectre after being inspirited by the first Carson Knowles which he would later held a belief that if he replaced moon knight and get his boss's aproveled he would be loved by all. Trent would later fight Moon Knight at first he would be winning but Moon Knight overpowred and defeated him calling him a poor man's copycat compared to the original. He had not been seen since.