Jurassic World: Dominion Dominates Fandom Wikis - The Loop
Play Sound
This article's content is marked as Mature
The page Mature contains mature content that may include coarse language, sexual references, and/or graphic violent images which may be disturbing to some. Mature pages are recommended for those who are 18 years of age and older.


If you are 18 years or older or are comfortable with graphic material, you are free to view this page. Otherwise, you should close this page and view another page.
| | | |
| --- | --- | --- |
| " | I now realize that His Holy Corpse must be gathered to the President of this nation, who will one day become the head of the world! | " |
| | ~ Blackmore | |
Blackmore is a minor antagonist featured in JoJo's Bizarre Adventure: Steel Ball Run. Blackmore is one of Funny Valentine's henchmen, he is tasked with tracking and eliminating whoever tried to spy on the President. He wields the Stand Catch the Rainbow.
Biography
One of Funny Valentine's henchmen, Valentine enlists Blackmore's help in finding Lucy Steel in Kansas City, discussing on the missing Johnny Joestar and Gyro Zeppeli. Heading to the aviary to find a message Ringo Roadagain send via carrier pigeon, and although Blackmore catches the escaping bird, the message it was supposed to have sent came up missing. Alarmed, Blackmore checks the premises for a spy, but although he catches a sighting, he is unable to catch them.
Checking the phone, Blackmore tracks a call Steven Steel made to Mountain Tim. Confronting him, Mountain Tim engages in a fight with him, with Mountain Tim tries to use Oh! Lonesome Me to trap Blackmore, only for him to yank the rope, cut Mountain Tim down, and the fight ending with Blackmore shooting the hero dead. Checking the body, Blackmore finds part of his clothes are wet more than the others, discovers Lucy Steel is the traitor, and gives chase towards her after being told she left her apartment.
Getting to her, Blackmore lets his guard be lowered on discovery Lucy Steel lacks a Stand. Taking the Saint's Spine, he tries to call the president only for a spatial anomaly interrupts the call. The arrival of Jesus makes Blackmore both entranced and an easy target for a shot to the neck, the latter happening. Healing his wound, Blackmore heads off to face the heroes and to stay loyal to the President.
Finding the heroes, Johnny and Gyro try to attack Blackmore only for their attacks to be unsuccessful due to Catch the Rainbow. Blackmore tries to kill Lucy and Johnny, but Gyro manages to land a successful shot with a Steel Ball by doing a backward motion. Blackmore then tries to stab Lucy with his ability, only for Blackmore to be defeated by the Steel Ball and later die from his earlier gunshot.
Appearance
Blackmore is of a average height and build, with blue eyes and a blond ponytail. His main choice of clothing is a black, hooded poncho over grey clothing, consisting of a shirt, pants with yellow markings, and shoes. With Catch the Rainbow, activated, he wears a large white mask, with three stripes (Blue, green, and red) on it.
Personality
Blackmore's personality is rather enigmatic, being a neutral, stoic figure who excels in his work as a assassin. He hails Funny Valentine as a true leader, and is both ruthless and analytical. Blackmore also might be a man of faith (as he stops what he is doing in the presence of Jesus) and has a verbal tic of muttering  "'Scuse me".
Powers And Abilities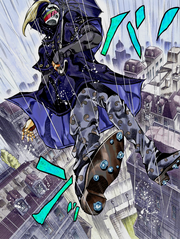 Blackmore's Stand, Catch the Rainbow, allows Blackmore to utilize or manipulate rain in various unusual ways, including by halting falling drops, making them into threatening obstacles or a path he may cross in air and relocating functioning parts of/or his entire body with their moving touch and force. Although its powerful in heavy rains, Catch the Rainbow deactivates if the weather becomes clear again. Its most basic ability is to freeze the rain midfall, allowing it to support Blackmore's weight and deflect projectiles. He can also turn the rain into blades, tearing and ripping through foes. Blackmore is also able to literally meld with rain, allowing rain to poke holes through his body to materialize his body parts. He can, for example, project his mouth form afar to talk to someone. He can also fuse with his rain and become both immune to damage and being able to travel quickly through the rainfall.
Gallery
Images
Videos