She-Hulk Trailer Dropped - The Loop
Play Sound
| | | |
| --- | --- | --- |
| " | Perhaps. I truly am not sure. Though there is one thing of which I am certain...I'am called Blackout. And...you and your compatriots...will provide my evening's nourishment. Thank you. | " |
| | ~ Blackout. | |
| | | |
| --- | --- | --- |
| " | Everything that he loves -- everyone -- will be taken from him -- beginning with you, dearest Barbara. | " |
| | ~ Blackout. | |
Blackout is a demonic supervillain from the Marvel comics. He is a Lilian, a race of demon that are the spawns of the Mother of Demons, Lilith. He is He is an enemy of the Ghost Rider, notably Johnny Blaze and Danny Ketch.
History
One of Blackout's earliest victims is the Morlock Pixie, not to be confused with the X-Men character of the same name. The Morlocks had been in conflict over a plan to change babies into mutated forms. Ghost Rider's incorrect belief it was Blackout behind the vanishing of babies brings the attention of the real Blackout. Though the children are rescued safely, with the assistance of X-Factor, Blackout manages to kill Pixie and escape.
He later finds Dan Ketch and tears his throat out while he is in human form. Only supernatural intervention from other sources allows Dan to recover. In the meantime, Ghost Rider is still able to fight.
Around this time, Blackout went on a murderous rampage through Central Park, leading to a hostage situation with the police. He later became allied with Lilith, the demon-goddess, who claimed she was his grandmother. Blackout would team up with many super-powered offspring of Lilith, all doing her will. After being defeated by the Midnight Sons, Blackout had his face deformities repaired and went back to work as a hired assassin, also eliminating a few personal grudges along the way until finally being captured by Ghost Rider. He was hoisted and chained over the World Trade Center where he is thought to have burned to death. Much later, was seen among the escaping villains in the prison breakout in New Avengers #1.
Blackout has been hired by the Hood to take advantage of the split in the superhero community caused by the Superhuman Registration Act. He helped them fight the New Avengers but was taken down by Doctor Strange.
In Secret Invasion, he is one among many supervillains who rejoined the Hood's crime syndicate and attacked an invading Skrull force
He joins with the Hood's gang in an attack on the New Avengers, who were expecting the Dark Avengers instead. He has been recruited by Zadikiel to assemble a "task-force" of Ghost-Rider foes in order to hunt down and destroy both the Ketch & Blaze Ghost-Riders. Later, he attacked the church filled with the gun armed nuns, alongside Orb, Deacon and the new Vengeance. He cloaks the place in darkness threatening and mocking the nuns but is stopped by being shot with bullets that were covered in holy water. Blackout runs away screaming in pain into the night.
Blackout was seen during the Siege of Asgard as part of the Hood crime syndicate.
Powers and Abilities
Blackout possesses superhuman strength, one of the more common powers possessed by demons or beings with some degree of demonic heritage. At his peak, Blackout can lift about 2 tons. Blackout can run and move at speeds that are beyond the natural physical limits of the finest human athlete. Blackout's advanced musculature produces less fatigue toxins during physical activity than the musculature of a human. At his peak, he can exert himself at peak capacity for several hours before the build up of fatigue toxins in his blood begins to impair him. Blackout's body was somewhat tougher and more resistant to physical injury than the body of a normal human, possibly a by-product of his superhuman strength. Blackout's body could withstand the rigors of great impact forces. He could withstand impacts, such as falling from several stories or being struck by someone possessing a lower level degree of superhuman strength, that would severely injure or kill a human being. Blackout's agility, balance, and bodily coordination are enhanced to levels that are beyond the natural physical limits of the finest human athlete. Blackout's reflexes are similarly enhanced and are superior to those of a normal human. Blackout's eyesight is heightened to a degree well beyond that of a normal human. He can see with perfect clarity at much greater distances than a normal human. He retains this same level of clarity at night, even to the point of being able to see perfectly in near-total darkness. Blackout, befitting the name he uses, is able to telepathically extinguish any natural or artificial light source within his immediate vicinity.
Ghost Rider: Spirit of Vengeance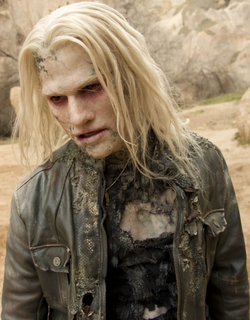 Blackout serves as the secondary antagonist in the movie Ghost Rider: Spirit of Vengeance.
Ray Carrigan is an Agent of Hell who works for Roarke. He invades Corvin's Castle in Europe Eastern, he sees Danny escape and chases Nadya's car. When Moreau, starts chasing him and Danny, he shoots his motorcycle wheel. Before his confrontation with Ghost Rider, Roarke found him crashed into a wall, he felt that he was going to die so Roarke gives Carrigan the power of becoming a shadow demon called Blackout. He has the ability to instantly kill whoever and whatever he comes in contact with. Before Methodius' betrayal, the monks have a ceremony to execute Danny. Before Methodius manages to complete the execution, Blackout appears in his shadow, and then he touches and kills all the monks including Methodius. He kidnaps Danny and takes him to a ritual. Blackout fights and kills Moreau when he tries to intervene. When Johnny Blaze becomes Ghost Rider, Blackout chases them and suddenly appears on Nadya's car. He and Ghost Rider fight. Blackout is ultimately killed by Ghost Rider's Penance Stare.
Trivia
He was created by Howard Mackie and Javier Saltares.
Blackout often poses as a vampire, and is sometimes confused to be one.
Villains
Comics
Abomination | Absorbing Man | Air-Walker | Alioth | All-Black | Amatsu-Mikaboshi | Angela | Annihilus | Apocalypse | Arcade | Ares | Arnim Zola | Asteroth | Baron Mordo | Beyonder | Bi-Beast | Blackheart | Blackout | Blastaar | Blockbuster | Bolivar Trask | Bulldozer | Celestials | Collector | Crimson Dynamo | Crusader | Dark Gods | Darkoth | Desak | Destroyer | Diablo | Dormammu | Dracula | Dweller-In-Darkness | Ego the Living Planet | Enchanters Three | Enchantress | Executioner | Fafnir | Fenris Wolf | Fin Fang Foom | Frost Giants | Galactus | Godzilla | Gorr the God Butcher | Grandmaster | Graviton | Grey Gargoyle | Gog | Grog | Growing Man | Hela | Hera | High Evolutionary | Impossible Man | Immortus | Jormungandr | Juggernaut | Justin Hammer | Kang | Karnilla | King Cobra | Kingpin | Knorda | Knull | Korath | Korvac | Kurse | Leader | Living Monolith | Loki Laufeyson | Lorelei | Maestro | Magneto | Mangog | Malekith the Accursed | Man-Beast | Masters of Evil | Megatak | Mephisto | Mercurio the 4-D Man | Mister Hyde | M.O.D.O.K. | Mongoose | Moonstone | Morgan le Fay | Moses Magnum | Namor | Nebula | Norman Osborn | Onslaught | Perrikus | Piledriver | Pluto | Punisher | Punisher (Earth-95126) | Purple Man | Quicksand | Quicksilver | Radioactive Man | Ragnarok | Rhino | Ringmaster | Rock Trolls | Roxxon | Sandu | Scarlet Witch | Set | Seth | Skaar | Skrulls | Space Phantom | The Stranger (Marvel) | Super-Adaptoid | Super-Skrull | Surtur | Terminus | Terrax | Thanos | Thunderball | Thunderbolt Ross | Thunderbolts | Titania | Titanium Man | Valkyrie | Venom | Worthy | Wrecker | Ulik | Ultimus | Ultron | Umar | Ymir | Zarrko
Movies
Hulk Vs. Thor: Loki Laufeyson | Hela | Enchantress | Skurge | Surtur | Malekith the Accursed | Valkyrie
Thor: Tales of Asgard: Algrim | Frost Giants | Loki Laufeyson | Fenris Wolf | Amora the Enchantress | Surtur
Thor: Loki Laufeyson | Frost Giants (Laufey, Grundroth, Hailstrum, Raze & Jotunheim Beast) | The Destroyer | Jasper Sitwell
Thor: The Dark World: Dark Elves (Malekith the Accursed & Kurse the Strong) | Loki Laufeyson | Marauders (Duhg & Kronan Marauder) | Jotunheim Beast | The Collector
Thor: Ragnarok: Berserker Army (Hela Odinsdottir, Skurge & Fenris Wolf) | Sakaaran Guards (The Grandmaster & Topaz) | Loki Laufeyson | Fire Demons (Surtur & Fire Dragon) | Thanos

TV Series
The Mighty Thor: Loki | Amora the Enchantress | Skurge the Executioner | Absorbing Man | Grey Gargoyle | Thunderbolt Ross | Zarrko | Pluto | Sandu | Surtur | Mr. Hyde
Loki: Loki Laufeyson's Variants (Loki Laufeyson (Variant L1130), Sylvie Laufeydottir, Boastful Loki & President Loki) | Time Variance Authority (He Who Remains, Miss Minutes, Ravonna Renslayer, Hunter D-90) | Alioth | Kang the Conqueror
What If: Infinity Ultron | Yellowjacket | Loki Laufeyson | The Destroyer | Brock Rumlow | Jack Rollins | Thunderbolt Ross | Skrulls | Nebula | Grandmaster | Skurge | Yondu Udonta | Ego | Arim Zola | Prince Killmonger | Strange Supreme | Surtur | Frost Giants

Video Games
Thor: God of Thunder: Loki Laufeyson | Frost Giants (Ymir) | Rock Trolls (Ulik) | Fire Demons (Surtur) | Hela
Thor: The Dark World: Loki Laufeyson | Dark Elves (Malekith the Accursed, Kurse the Strong) | Ymir | Mangog | Marauders | Frost Giants

See Also
Hercules (Marvel) Villains
Villains
Comics
Absorbing Man | A.I.M. | Ani-Men | Arcade | Arnim Zola | Baron Mordo | Baron Wolfgang von Strucker | Baron Zemo | Batroc | Beetle | Black Knight | Black Widow | Blackout | Blizzard | Blood Brothers | Boomerang | Brothers Grimm | Bulldozer | Collector | Commander Kraken | Constrictor | Count Nefaria | Crimson Cowl | Crimson Dynamo | Crossbones | Controller | Crusher | Death's Head | Destroyer | Diablo | Doctor Doom | Doctor Octopus | Dreadknight | Ego | Electro | Ezekiel Stane | Fin Fang Foom | Firebrand | Fixer | Galactus | Gargantus | Ghost | Gladiator | Goliath | Godzilla | Grant Ward | Graviton | Green Goblin | Grey Gargoyle | Griffin | Growing Man | Hammerhead | Hand | Harry Osborn | Hela | High Evolutionary | HYDRA | Iron Monger | Iron Patriot | Justin Hammer | Kang the Conqueror | Killer Shrike | Living Laser | Loki Laufeyson | Lucia Von Bardas | Mad Pharaoh | Mad Thinker | Madame Masque | Madame Viper | Magneto | Malekith | Mandarin | Masked Marauder | Masters of Evil | Mephisto | Melter | Mister Hyde | M.O.D.O.K. | Mole Man | Monica Rappaccinni | Morgan le Fay | Moses Magnum | Nitro | Norman Osborn | Omega Red | Paladin | Piledriver | Porcupine | Puppet Master | The Punisher (Earth-95126) | Radioactive Man | Red Ghost | Rhino | Ronan | Roxxon | Sandman | Scarecrow | Secret Empire | Shocker | Shockwave | Simon Krieger | Sinister Six | Skrulls | Spymaster | Super-Adaptoid | Super-Apes | Supreme Intelligence | Taskmaster | Technovore | Temugin | Thanos | Ten Rings | Thunderball | Thunderbolt Ross | Thundersword | Tinkerer | Titania | Titanium Man | Ulik | Ultimo | Ultron | Unicorn | Vermin | Vulture | Warlord Krang | Whiplash | Whirlwind | Wrecker | Yellow Claw | Zodiac
Movies
The Invincible Iron Man: Mandarin | The Elementals | Deities of Death (Dormammu, Hela, Mephisto & Pluto)
Iron Man: Iron Monger | Ten Rings (Raza Hamidmi Al-Wazar, Abu Bakaar, Ahmed & Omar) | William Ginter Riva
Iron Man 2: Whiplash | Hammer Industries (Justin Hammer, Jack & Hammer Drones) | Ten Rings (Ten Rings Agent) | Senator Stern | Anton Vanko
Iron Man: Rise of Technovore: Technovore | Ezekiel Stane | Obadiah Stane | Black Widow | Punisher
Iron Man 3: A.I.M. (Aldrich Killian, Eric Savin, Trevor Slattery, Ellen Brandt, Sweat Shop Agent, Ponytail Express, Maya Hansen & Extremis Soldiers) | Vice President Rodriguez
Heroes United: Iron Man and Hulk: Zzzax
Heroes United: Iron Man and Captain America: HYDRA (Red Skull & Taskmaster)
All Hail the King: Trevor Slattery | Herman | Ten Rings (Jackson Norriss & The Mandarin) | White Power Dave | Justin Hammer

Television
Iron Man (1994): Mandarin | Whirlwind | Blizzard | Dreadknight | Backlash | Grey Gargoyle | Living Laser | M.O.D.O.K. | Fin Fang Foom | Justin Hammer | Beetle | Crimson Dynamo | Titanium Man | Madame Masque | Ghost | Dark Aegis
Iron Man: Armored Adventures: Mandarin | Obadiah Stane | Madame Masque | Ghost | Zhang | Dreadknight | Crimson Dynamo | Titanium Man | Black Knight | Whiplash | Doctor Doom | Magneto | Unicorn | Count Nefaria | Fixer | M.O.D.O.K. | Justin Hammer | Shockwave | Grim Reaper | Grey Gargoyle | Thunderbolt Ross | Killer Shrike | Unicorn | Rhona Irwin | The Controller | Living Laser | Blizzard | Fin Fang Foom | Technovore
Marvel Anime: Iron Man: Zodiac
What If...?: Infinity Ultron | Yellowjacket | Loki Laufeyson | The Destroyer | Brock Rumlow | Jack Rollins | Thunderbolt Ross | Whiplash | Arnim Zola | Prince Killmonger | Strange Supreme | Georges Batroc | Ego | Zombies (Iron Man) | Ulysses Klaue
Video Games
Iron Man and X-O Manowar in Heavy Metal: Crimson Dynamo | Titanium Man | Arnim Zola | Baron Zemo | Mr. Hyde | Melter | Goliath | Titania | Absorbing Man
The Invincible Iron Man: Crimson Dynamo | Blizzard
Iron Man Iron Monger | Ten Rings | Backlash | Whitney Frost | Count Nefaria | A.I.M. (Titanium Man, The Controller & Melter)
Iron Man 2: Whiplash | A.I.M. (Ghost) | Roxxon Energy Corporation (Crimson Dynamo)
Iron Man 3: The Official Game: Crimson Dynamo | A.I.M. (M.O.D.O.K, Ezekiel Stane & Living Laser)
Iron Man VR: Gunsmith | Ghost | Living Laser
See Also
War Machine Villains

Villains
Comics
Abomination | Abominatrix | Absorbing Man | Adolf Hitler | Agony | A.I.M. | Air-Walker | Alkhema | Aleksander Lukin | Alistair Smythe | Amatsu-Mikaboshi | Amora | Anaconda | Annihilus | Ani-Men | Answer | Apocalypse | Arcade | Ares | Arnim Zola | Atlas | Attuma | Avalanche | Awesome Android | Badoon | Barracuda | Baron Blood | Baron Mordo | Baron Wolfgang von Strucker | Baron Zemo | Basilisk | Batroc | Beetle | Beyonder | Bi-Beast | Black Knight | Blackout | Black Order | Black Cat | Black Mamba | Black Talon | Black Widow | Blackie Drago | Blastaar | Blitzkrieg | Blizzard | Blob | Blood Brothers | Bombshell | Boomerang | Brothers Grimm | Brotherhood of Evil Mutants | Bulldozer | Bullseye | Burglar | Bushmaster | Bushwacker | Cache | Cannibals (Marvel Universe Vs) | Carnage | Carrion | Calypso | Celestials | Centurion | Chameleon | Chance | Chemistro | Chester Goudal | Chitauri | Collector | Colonel Ross Whittaker | Commander Kraken | Constrictor | Corruptor | Cottonmouth | Count Nefaria | Cowled Commander | Crime-Master | Crimson Dynamo | Crimson Widow | Cristu Bulat | Crossbones | Crossfire | D'Spayre | Daken | Damage | Daniel Whitehall | Dark Avengers | Dark Elves | Deadpool | Deathbird | Deathurge | Death Adder | Deke Wainscroft | Demogoblin | Diablo | Diamondback | Doctor Doom | Doctor Faustus | Doctor Octopus | Doctor Spectrum | Dormammu | Dracula | Dreadknight | Eddie Brock | Eel | Egghead | Ego the Living Planet | Electro | Elementals | Elements of Doom | Enclave | Enforcers | Equinox | Exodus | Ezekiel Stane | Fabian Cortez | Famine | Fin Fang Foom | Finn Cooley | Firelord | Fixer | Fold | Frost | Frost Giants | Frightful Four | Galactus | Gargantus | Garthan Saal | Ghost | Giganto | Goliath | Gladiator | Godzilla | Grand Director | Grandmaster | Grant Ward | Graviton | Green Goblin (Norman Osborn, Harry Osborn) | Grey Gargoyle | Grey Goblin | Griffin | Grim Reaper | Grizzly | Growing Man | Grotesk | Hammerhead | Hand | Hazmat | Hela | Hera | Herr Kleiser | Heinz Kruger | High Evolutionary | Hitman | Hive | Horsemen of Apocalypse | Hobgoblin | Hood | Hydro-Man | HYDRA | Immortus | Impossible Man | Inner Demons | Ironclad | Iron Monger | Jackal | J. Jonah Jameson | Jack O' Lantern | Jester | Jigsaw | Johnny Ohm | Jonas Hambleton | Jormungandr | Juggernaut | Justin Hammer | Kaine | Kang the Conqueror | Killer Shrike | King Cobra | Kingpin | Klaw | Knull | Korath the Pursuer | Korvac | Kraven the Hunter | Kree | Kristoff Vernard | Lady Deathstrike | The Leader | Lightmaster | Living Brain | Living Laser | Living Monolith | Lizard | Loki Laufeyson | Lucia Von Bardas | Ma Gnucci | Machinesmith | Mad Pharaoh | Mad Thinker | Madame Masque | Madame Viper | Madcap | Madelyne Pryor | Maelstrom | Maestro | Maginty | Magneto | Magus | The Maker | Malekith the Accursed | Man-Ape | Mandarin | Mandrill | Man-Spider | Man-Wolf | Master Man | Master Pandemonium | Masters of Evil | Masked Marauder | Maximus the Mad | Medusa | Melter | Menace | Mentallo | Mercurio the 4-D Man | Mesmero | Mephisto | Mister Fear | Mister Hyde | Mister Negative | Mister Payback | Mister Sinister | M.O.D.A.M. | M.O.D.O.K. | Mojo | Molecule Man | Mole Man | Molten Man | Monica Rappaccinni | Moonstone | Morbius the Living Vampire | Morgan le Fay | Moses Magnum | Mystique | Mysterio | Namor | Nebula | Nekra | Nicky Cavella | Nightmare | Nightshade | Niles Van Roekel | Nicky Cavella | Omega Red | Onslaught | Orka | Overdrive | Owl | Paladin | Phalanx | Phil Urich | Piledriver | Pluto | Presence | Princess Python | Proctor | Psycho-Man | Punisher | Puppet Master | Puma | Purple Man | Quasimodo | Quicksand | Quicksilver | Radioactive Man | Ragnarok | Ramrod | Rattler | Reavers | Red Ghost | Red Skull | Reverend Samuel Smith | Rhino | Rhino II | The Rose | Ringer | Ringmaster | Riot | Ronan the Accuser | Roxxon | Sabretooth | Sandman | Säurespritze | Sauron | Savage Land Mutates | Scarecrow | Scarlet Witch | Scorcher | Scorpion | Screaming Mimi | Sebastian Shaw | Secret Empire | Selene Gallio | Sentinels | Sentry 459 | Serpent Society | Shriek | Shocker | Shockwave | Sidewinder | Silver Sable | Sin | Sinister Six | Skaar | Skeleton Crew | Skrulls | Skurge | Slug | Space Phantom | Spider-Man Revenge Squad | Spider-Slayers | Spot | Squadron Sinister | Stranger | Street | Sunstroke | Superia | Super-Adaptoid | Super-Apes | Super Patriot | Super-Skrull | Supreme Intelligence | Superia | Surtur | Swarm | Swordsman | Symbiotes | Tarantula | Taskmaster | Technovore | Temugin | Ten Rings | Terminus | Thanos | Thorr Odinson | Thunderball | Thunderbolts | Thunderbolt Ross | Thundersword | Tiger Shark | Tinkerer | Titania | Titanium Man | Toad | Tombstone | Trapster | Trick Shot | Terrax the Tamer | Typhoid Mary | Tyrannus | U-Foes | Ulik | Ultimus | Ultron | Unicorn | Universal Church of Truth | Vapor | Vector | Venom | Vermin | Vulture | Walrus | Warlord Krang | Whiplash | Whirlwind | White Rabbit | Will-O'-The-Wisp | Winter Soldier | Wizard | Wonder Man | Wrecker | Worthy | X-Ray | Yellow Claw | Ymir | Yon-Rogg | Zahnmörder | Zodiac | Zombie Giant-Man | Zombie Sentry | Zzzax
Movies
Ultimate Avengers 1 & 2: Herr Kleiser | Chitauri
Next Avengers: Heroes of Tomorrow: Ultron
The Avengers: Loki Laufeyson | Chitauri (The Other & Leviathans) | HYDRA (Gideon Malick & Jasper Sitwell) | Georgi Luchkov | Thanos
Avengers: Age of Ultron: Ultron | Ultron Sentinels | HYDRA (Wolfgang von Strucker, List, Scarlet Witch & Quicksilver) | Ulysses Klaue | Madame B | Chitauri (Leviathans) | Thanos
Avengers: Infinity War: Black Order (Thanos, Ebony Maw, Proxima Midnight, Corvus Glaive, Cull Obsidian, Nebula, Outriders, Chitauri & Leviathans) | Red Skull | The Collector | Loki Laufeyson | Winter Soldier | M'Baku | Scarlet Witch | Thunderbolt Ross
Avengers: Endgame: Black Order (Thanos, Ebony Maw, Proxima Midnight, Corvus Glaive, Cull Obsidian, Nebula, Outriders, Sakaaran Mercenaries, Chitauri, Leviathans & Chitauri Gorillas) | HYDRA/STRIKE (Red Skull, Alexander Pierce, Crossbones, Jasper Sitwell & Jack Rollins) | Loki Laufeyson (Variant L1130) | Winter Soldier | M'Baku | Scarlet Witch | Kraglin Obfonteri | Dark Elves | Thunderbolt Ross | Akihiko
Television
The Avengers: United They Stand
Ultron | Kang the Conqueror | Swordsman | Ringmaster | Masters of Evil (Baron Zemo, Absorbing Man, Boomerang, Moonstone, Tiger Shark & Whirlwind) | Attuma | Zodiac (Taurus & Scorpio) | Egghead | Scarlet Witch | Grim Reaper | Quicksilver | Namor | Doctor Doom | Baron Strucker | HYDRA | A.I.M. | Black Knight | The Collector
The Super Hero Squad Show
Doctor Doom | Mole Man | Fin Fang Foom | Abomination | Wrecker | Thunderball | Piledriver | Bulldozer | M.O.D.O.K | Klaw | Toad | Melter | Dormammu | Sabretooth | Juggernaut | Pyro | Whirlwind | Zzzax | Enchantress | Baron Mordo | Punisher | Egghead | Ringmaster | Skrulls (Super-Skrull) | Trapster | Mystique | Impossible Man | The Leader | Mad Thinker | Skurge | Crimson Dynamo | Batroc the Leaper | Loki Laufeyson | Magneto | Quicksilver | Scarlet Witch | HYDRA (Red Skull , Arnim Zola & Baron Wolfgang von Strucker) | Galactus | Terrax the Tamer | Firelord | Stardust | Thanos | Kree | Ego the Living Planet | Grandmaster | Annihilus | Nebula | Ronan the Accuser | Nightmare | Ultron | Dark Surfer | Sentinels | Dracula | High Evolutionary | Screaming Mimi

Avengers: Earth's Mightiest Heroes
HYDRA (Red Skull, Baron Von Strucker, Grim Reaper, Arnim Zola, Doughboy & Madame Viper) | Masters of Evil (Baron Zemo, Enchantress, Skurge, Chemistro, Abomination, Crimson Dynamo & Grey Gargoyle) | A.I.M. (M.O.D.O.K) | Kree Empire (Supreme Intelligence, Colonel Yon-Rogg & Ronan the Accuser) | Absorbing Man | Klaw | Ultron | Wrecker | Thunderball | Piledriver | Bulldozer | Red Hulk | Frost Giants (Loki Laufeyson & Ymir) | Technovore | Bi-Beast | The Leader | Whirlwind | Kang the Conqueror | Man-Ape | Malice | Mad Thinker | Mandrill | Graviton | Fenris Wolf | Lucia Von Bardas | Zzzax | Blizzard | Constrictor | Griffin | Living Laser | Whiplash | King Cobra | Magneto | Wendigo | Skrulls (Super-Skrull) | Ulik | Malekith the Accursed | Hela | Doctor Doom | Surtur | Glenn Talbot | Winter Soldier | J. Jonah Jameson | Destroyer | Annihilus | Purple Man | Galactus | Firelord | Stardust | Terrax the Tamer | Red Ghost | Super-Apes | Mandarin | Bushmaster | U-Foes (Vector, Vapor, X-Ray & Ironclad) | Crossfire | Serpent Society | Rattler | Death Adder | Anaconda | Air-Walker

Avengers Assemble
HYDRA/A.I.M. (Red Skull, M.O.D.O.K, Blood Brothers, Grim Reaper, Crossbones & Baron Wolfgang von Strucker) | J. Jonah Jameson | Doctor Doom | Ulik | Impossible Man | Dracula | Attuma | Hyperion | Wrecker | Thunderball | Piledriver | Bulldozer | Destroyer | Loki Laufeyson | Chitauri | Justin Hammer | Mojo | Galactus | Ringmaster | Black Order (Thanos) | Hela | Winter Soldier | Nighthawk | Zarda | Crimson Dynamo | Radioactive Man | Zzzax | Dormammu | Ultron | U-Foes (Vector, Vapor, X-Ray & Ironclad) | Roxxon Energy Corporation | Absorbing Man | Titania | Whirlwind | Fin Fang Foom | Maximus | Medusa | Masters of Evil/Thunderbolts (Baron Zemo, Beetle, Screaming Mimi, Moonstone, Fixer & Goliath) | Klaw | Ghost | A.I.M. (Kang the Conqueror, Whiplash & Spymaster) | Abomination | Kree Empire | Egghead | The Leader | Crimson Widow | Arnim Zola | Enchantress | Skurge | Typhoid Mary | Ares | Taskmaster | Doughboy | Ulik | Beyonder | Baron Mordo | Symbiotes | Morgan le Fey | Tiger Shark | Erik Killmonger | Princess Zanda | Man-Ape | Madame Masque | Kraven the Hunter | Vulture | Orka

Marvel Disk Wars: The Avengers
Loki Laufeyson | A.I.M. (M.O.D.O.K.) | Abomination | Baron Zemo | HYDRA (Red Skull, Crossbones) | King Cobra | Whirlwind | Tiger Shark | Whiplash | Diamondback | Crimson Dynamo | Dormammu | Sabretooth | Diablo | Graviton | Juggernaut | Lizard | Absorbing Man | Wrecking Crew (Bulldozer, Piledriver, Thunderball, Wrecker) | Silver Samurai | Green Goblin (Norman Osborn) | Venom | Ultron | Cottonmouth | Doctor Octopus | Mandarin | Ronan | Fin Fang Foom | Baron Blood | Vampires | Bi-Beast | Obadiah Stane | Predator X | Mystique | Taskmaster | Blizzard

Marvel Future Avengers
Masters of Evil (Ares, Enchantress, Leader, Winter Soldier) | Loki Laufeyson | Kang the Conqueror | Maximus | HYDRA/A.I.M. (Red Skull, M.O.D.O.K., Arnim Zola) | Green Goblin (Norman Osborn) | Super-Adaptoid | Deadpool | Morgan le Fay | Klaw | Crossbones | Blizzard | Diamondback | The Hood | Ezekiel Stane

Marvel's M.O.D.O.K.
M.O.D.O.K. | A.I.M. | Monica Rappaccini | The Anomaly | Hexus | Super-Adaptoid | Austin Van Der Sleet | Mister Sinister | Madame Masque | Whirlwind | Mandrill | The Leader | Arcade | Fin Fang Foom | The Brood | Frost Giants

What If...?
Infinity Ultron | Yellowjacket | Loki Laufeyson | The Destroyer | Brock Rumlow | Jack Rollins | Thunderbolt Ross | Whiplash | Arnim Zola | Prince Killmonger | Strange Supreme | Georges Batroc | Ego | Zombies (Scarlet Witch)
Video Games
Captain America and The Avengers: Red Skull | Crossbones | Klaw | Living Laser | Whirlwind | Sentinel | Wizard | Grim Reaper | Mandarin | Juggernaut | Ultron
Avengers in Galactic Storm: Kree (Ronan, Korath & Supreme Intelligence)
Marvel Avengers: Battle for Earth: Skrulls
Marvel Disk Wars: The Avengers - Ultimate Heroes: Red Skull | Loki Laufeyson | Baron Zemo | A.I.M. (M.O.D.O.K.) | Abomination | Graviton | Tiger Shark
LEGO Marvel's Avengers: Loki Laufeyson | Malekith the Accursed | Kurse | Various Villains
Marvel's Avengers: M.O.D.O.K. | Monica Rappaccinni | Abomination | Taskmaster | Super-Adaptoid | Lyle Getz | Maestro | Klaw | Crossbones
See Also
Avengers Academy Villains | Marvel Avengers Alliance Villains | Young Avengers Villains