Boba Fett Returns - The Loop
Play Sound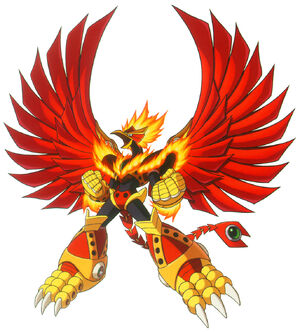 | | | |
| --- | --- | --- |
| " | Welcome! I've been waiting for you! You are strong compared to the others. I was bored because there is no strong Reploid left on the ground. Although I was not ordered to kill, it's too hard, isn't it? Hee hee hee. | " |
| | ~ Blaze Heatnix | |
Blaze Heatnix is one of the eight Maverick bosses fought in Mega Man X6.
Blaze Heatnix was a high-level Reploid created by Gate to withstand very high temperatures. He became a member of a disaster prevention team who studied active volcanoes, but due to him being much more powerful than the other member he would often ignore and even endanger his coworkers. Gate was then demanded to weaken Heatnix, who was disposed after Gate ignored the requests. Gate would later revive Heatnix as one of his Nightmare Investigators, sending him to investigate the Magma Area.
Blaze Heatnix will begin the fight by filling the arena with purple magma. He will then dive into the magma and attempt to jump at the player. While outside the magma, he will shoot flaming rocks at the player. after a while. He will fill the arena with magma again, but upside-down, then shoot energy waves at the player. When low on health, he will fly off screen then attempt to crash at the player three times while covering himself on fire. His weakness are the Ground Dash with X and the Sentsuizan with Zero, though any of Zero's attacks will make him flinch.