Jafar says: Read my lips and come to grips with the reality!


This article is a stub and is in need of expansion. You can help Villains Wiki by expanding it.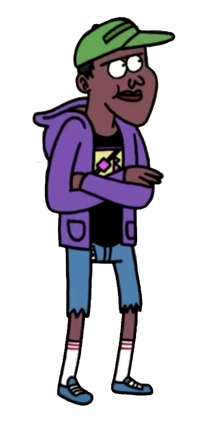 Blitz Comet is the main antagonist of the Regular Show episode "Rap It Up", he is a member of the rap group CrewCrew.
He was voiced by rapper, singer, songwriter, and record producer Tyler, The Creator, who voices Big Trouble.
Appearance
He resembles his real counterpart of Odd Future in various ways. He wears a purple hoodie, with a green cap (resembling "Supreme" caps he often wears), has gapped teeth, and a black undershirt. The black undershirt has the initials B.o.B. with a cross through it. He also wears blue shorts and blue shoes, as well as knee-high socks.
History
Blitz is a member of the CrewCrew. He, along with the rest of the CrewCrew, challenged Pops to a rap battle. He is defeated by Mordecai, when he sprouts wings and flies away into the sky. His ultimate fate is unknown, but he most likely flew into space, killing him from the lack of oxygen, since he is never seen again in the show. Despite this, he was not revived in Exit 9B.
Rap Battles
Big Trouble
Blitz Comet on the scene.

You step to me and you gonna get creamed-

Corn! All up in your teeth, you reek,

you're the opposite of chiq, ya freak!

Your rhymes are all antiques.

Nobody wants em

They throw em all away

Right from the get go like your brain is on delay

Matter of fact, yo, you better get a check up

Go ask your doctor, why you be so ugly from the neck UP?
Mordecai
Okay hold up!

You wanna talk words and verbs

but your face is distracting.

So ugly it bugs me.

Take care of that mess and sweep it under the rug please.

So trust me,

you're only takin' matters from bad to worse.

Only solution is to turn around in reverse.
Gallery