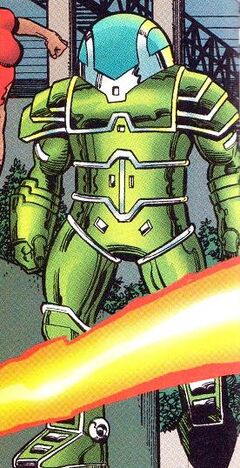 Blizzard is the most mysterious. He possesses monstrous facial features and requires a special environmental suit, which also gives him his powers. It is not known whether Blizzard is a metahuman or an alien.
All of the H'San Natall's experimental subjects shared a psychic link with one another and it wasn't long before the Teen Titans learned of Fringe and that he was in trouble. The Titans, accompanied by Captain Marvel, Jr., Nightwing and Robin tracked the Veil down and fought them at their headquarters. The heroes succeeded in rescuing Supergirl and Fringe, but Pylon and his masked agents escaped.Neutron later joined the Secret Society of Supervillains. He was apparently killed when Lex Luthor used him as a power source for a teleporter and the device self destructed.
Community content is available under
CC-BY-SA
unless otherwise noted.