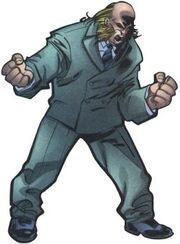 ✔

Roland Desmond became the second Blockbuster after a short prison stay in Outdiders # 9, Roland would be a cesspool south of Gotham named Blüdhaven, home of Mark and Roland's elderly (but devious) mother.
Along the way, Blockbuster has also had run-ins with Young Justice and Encantadora.
His first priority, however, was still completing the hunt for Oracle. Oracle, who'd been following Roland's every move ever since his rampage halted by Batman and Starman, responded by bankrolling her own operations with funds electronically stolen from his own cache in Birds Of Prey # 3. The hunt failed, and Blockbuster eventually turned his attention to a thorn that had become larger in his side, Nightwing.
Desmond's primary goal became the elimination of the young vigilante. He placed a contract on Nightwing's life, employing the services of several assassins, including Lady Vic, Stallion, Brutale, the Trigger Twins, and Shrike.
Powers and Abilities
All Blockbuster's have super human strength, agility and endurance. They have a high degree of resistance to physical and energy attacks. After selling his soul to Neron, Roland Desmond gained super intelligence.

Villains
Comics
Amanda Waller | Amygdala | Anarky | Arkham Knight | Azrael | Baby Doll | Bane | Barbatos | The Batman Who Laughs | Black Glove | Black Mask | Blockbuster I | Blockbuster II | Brother EYE | Calculator | Calendar Man | Carmine Falcone | Catman | Catwoman | Circus of Strange | Clayface | Clock King | Club of Villains | Cluemaster | Composite Superman | Condiment King | Copperhead | Court of Owls | Crazy Quilt | Crime Doctor | Dark Archer | David Cain | Dark Knights | Deacon Blackfire | Deadshot | Deathstroke | The Dawnbreaker | The Devastator| Doctor Death | Doctor Dedalus | Doctor Double X | Doctor Hurt | Doctor Phosphorus | The Drowned| Electrocutioner | Emperor Blackgate | Firebug | Firefly | Floronic Man | Gearhead | General Ulysses Armstrong | Gorilla Boss | Gotham City Police Department | Grant Walker | Great White Shark | The Grim Knight | H.A.R.D.A.C. | Harley Quinn | Holiday | Holly Robinson | Humpty Dumpty | Hugo Strange | Hush | Jack the Ripper | James Gordon, Jr. | Jason Todd | Joe Chill | The Joker | Joker's Daughter | Key | KGBeast | King Snake | King Tut | Killer Croc | Killer Moth | Kite Man | Lady Shiva | League of Assassins | Leviathan | Lex Luthor | Lock-Up | Lloyd Ventrix | Mad Hatter | Mad Monk | Magpie | Man-Bat | Maxie Zeus | The Merciless | Monk | Mr. Freeze | Mr. Toad | Mutants | Nightslayer | Nocturna | Nyssa Raatko | Onomatopoeia | Orca | Outsider | Owlman | Penguin | Phosphorus Rex | Planet Master | Poison Ivy | Polka Dot Man | Professor Pyg | Prometheus | Ra's al Ghul | Rag Doll | Ratcatcher | Reaper | Red Claw | Red Death | Reverse-Flash | Riddler | Roland Daggett | Roxy Rocket | Royal Flush Gang | Rupert Thorne | Sal Maroni | Scarecrow | Sensei | Signalman | Sinestro | Snowman | Solomon Grundy | Spellbinder | Suicide Squad | Talia al Ghul | Tally Man | Ten-Eyed Man | Terrible Trio | Tiger Shark | Timecode | Tony Zucco | Tweedledum and Tweedledee | Two-Face | Ubu | Vandal Savage | Ventriloquist | Ventriloquist II | Ventriloquist III | Vertigo | Victim Syndicate | Victor Zsasz | Wrath | Zebra-Man
Movies
Batman (1989): Joker | Bob Hawkins | Alicia Hunt | Carl Grissom | Max Eckhardt | Vinnie Ricorso
Batman Returns: Penguin | Max Shreck | Catwoman | Charles "Chip" Shreck | Red Triangle Circus Gang (Organ Grinder, Poodle Lady, Tattooed Strongman, Stungun Clown, Thin Clown, Fat Clown, Sword Swallower & Knifethrower Dame)
Batman Forever: Riddler | Two-Face | Sugar & Spice | NygmaTech (Frogmen) | Neon Gang (Neon Gang Leader) | Salvatore Maroni
Batman & Robin: Poison Ivy | Mr. Freeze | Bane | Snowy Cones Thugs | Golums | Jason Woodrue
Batman Begins: Ra's al Ghul | League of Shadows (Scarecrow & Ra's Decoy) | Carmine Falcone | Victor Zsasz | Joe Chill
The Dark Knight: Joker | Two-Face | Sal Maroni | The Chechen | Gambol | Lau | Bank Manager | Michael Wuertz | Joker's Thugs (Thomas Schiff, Chuckles, Kilson, Bus Driver, Happy, Dopey & Grumpy & Truck Driver) | Burmese Bandit
The Dark Knight Rises: Bane | Talia al Ghul | League of Shadows (Barsad) | Catwoman | John Daggett
Batman v Superman: Dawn of Justice: Lex Luthor | Doomsday | Anatoli Knyazev