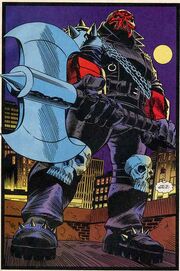 Bloodaxe (real name Jackie Lukus) was a villain from Marvel Comics, and an enemy of Thor and his supporting hero Thunderstrike during the 90's.
At first, Bloodaxe's real identity was a recurring mistery in the Thunderstrike book, with the magic axe turning the weilder into a masked brute with a large physique and undentified gender. It was eventually revealed to be Jackie Lukus, Eric Masterson's love interest.
Story
A shadowy figure found the axe once wielded by Skurge the Executioner, and in picking it up was transformed by its magic into a powerful asgardian-like being. This new being then went into action as Bloodaxe, battling the police and slaying drug dealers and carjackers.
Bloodaxe first fought Thor when the mortal Eric Masterson was using the identity of Thor. Bloodaxe then battled Doctor Strange, and encountered Susan Austin.
When the real Thor Odinson returned, Masterson became Thunderstrike and fought Bloodaxe again. Bloodaxe first encountered Thunderstrike when she arrived to kill a low tier villain called Carjack and his gang. Thunderstrike thwarted Bloodaxe and took custody of the axe. However, Thunderstrike later succumbed to the axe's will in an attempt to obtain more power to defeat an even more powerful villain, Set the Serpent God of Death. After Set was destroyed, Thunderstrike was possessed by the axe's murderous curse. As no-one was able to stop his rampage, Masterson chose to sacrifice himself in order to destroy the Bloodaxe curse forever.
Video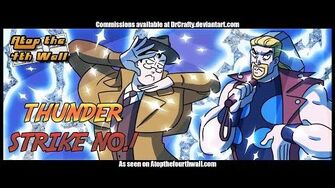 Community content is available under
CC-BY-SA
unless otherwise noted.