This article's content is marked as Mature
The page Mature contains mature content that may include coarse language, sexual references, and/or graphic violent images which may be disturbing to some. Mature pages are recommended for those who are 18 years of age and older.


If you are 18 years or older or are comfortable with graphic material, you are free to view this page. Otherwise, you should close this page and view another page.
Bloody Mary, sometimes referred to as "Hell Mary", is a spirit in English folklore and an urban myth. This legend is one that has fascinated most young people for generations, though the exact origins of the legend or its associated customs are unknown, it was likely inspired by real-life English Queen Mary I of England, who was nicknamed "Bloody Mary", due to the hundreds of people she had burned at the stake during her rule from 1553 until her death in 1558. She was also inspired by the legendary fiend Candyman from the Candyman horror movie franchise. 
Biography
According to legend, Bloody Mary is the ghost of an unhappy woman who either committed suicide due to having her baby stolen or was accused of murdering her children. Depending on the variation used, this turned her spirit mad with grief or anger and she would haunt the world via the use of mirrors (in an almost identical fashion to the Candyman).
Known in life as Mary Worth it is traditionally said that "Bloody Mary" will appear if a brave (or foolish) soul chants her name three or more times next to a mirror in complete darkness at midnight. According to the variations of the legend above one is also said to be able to make the ghost appear via stating "Bloody Mary, I killed your baby" or "I believe in Mary Worth".
Of course, anyone who is foolish enough to provoke Bloody Mary is said to pay the price, unlike many ghosts (who merely scare humans) Bloody Mary is said to be capable of physical harm and will either kill her victims via disfigurement, decapitation or by scratching their eyes out. If she is in a "merciful" mood Bloody Mary is said to simply turn her victim insane or (in rarer tales) she may take a fancy to someone and drag them into the mirror (presumably to the Other Side, like the ghosts in Poltergeist did).
Although the tales of Bloody Mary are dismissed as a modern fairytale of sorts by most people it is still a popular "game" among certain groups of people and may even be a rite of passage to some, a means of confronting one's fears or a way to play a mean prank on someone.
Other Media
DC Series
The Wolf Among Us
Halloween Horror Nights
Grim Tales 5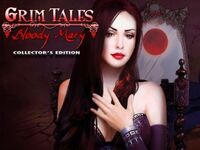 Bloody Mary is the main antagonist of GrimTales 5 and is portrayed as an evil witch who cursed an entire school full of children into being trapped within a demonic Mirror World while shadow demons took their place in the living world and caused murderous mayhem on her behalf.
Bloody Mary took sadistic delight in the suffering of both her child victims and the adults her shadow demons killed, like many beldams she did not kill her child victims as she did the adults but liked to subject them to psychological torture.
Infamous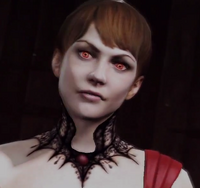 Bloody Mary is a vampire and the main antagonist of inFAMOUS 2 DLC, Festival of Blood.
When Mary was once a human, she became ill and was about to die. Just then, a vampire named Marco found her too beautiful to die and turned her into a vampire. Since then, the two went on a rampaging spree of killing and converting people into vampires.
Father Ignatius, the priest who is in Mary's deathbed, kills Marco, believing that she would turn human again. However, it didn't work and Mary swears revenge on him. She is killed by being burned to death by a pyre.
Years later, she is resurrected when her followers capture Cole MacGrath and use his blood for her corpse. 
Twisted Metal
Marvel Comics
Gallery
Trivia
Bloody Mary is a popular character in fiction and has appeared in varied TV shows such as The X-Files, Ghost Whisperer, and Supernatural.
She also appeared as the icon for Halloween Horror Nights: Reflections of Fear at Universal Orlando Resort in 2008.
There also do exist parodies of the urban legend, such as Ybgir from the Cartoon Network series Regular Show and Scary Teri in Teen Titans Go.
A vampire queen in InFamous: Festival of Blood, who happens to be the main antagonist of the game, shares her moniker with Bloody Mary.

Notable Legends
Chupacabra | Cyclops | Dragons | Fairies | Gremlins | Grim Reaper | Ghosts | Giants | Headless Horseman | Kraken | Loch Ness Monster | Medusa | Minotaur | Monsters | Mothman | Ogres | Siren | Skeletons | Spiders | Vampires | Wendigo | Yeti | Zombies | Stingy Jack
Demonology Legends
The Devil | Demons | Fallen Angels
Abaddon | Abere | Abyzou | Andromalius | Angra Mainyu | Aka Manto | Apep | Asmodeus | Asuras | Antichrist | Baal | Banshee | Baphomet | Beelzebub | Beast | Behemoth | Behemoth the Elephant | Belphegor | Black Cats | Black Monk of Pontefract | Black Shuck | Black Volga | Bogeyman | Buer | Cerberus | Coco | Crom Cruach | Demiurge | Eight Feet Tall | El Charro Negro | Enma Daio | Erlik | Hellhounds | Iblis | Kali | Kelpie of Loch Ness | Kitsune | Kroni | Krampus | Lamia | Legion | Locusts of Abaddon | Mahishasura | Malsumis | Mammon | Mara | Mares | Mephistopheles | Moloch | Nure-Onna | Rakshasa | Ravana | Raven Mocker | Sack Man | Samael | Six Demons | Stolas | Succubi | Termagant | Unholy Trinity | The Watchers | Wa Nyudo | Whore of Babylon | Gargoyles
Disambiguation Pages
Baphomet | Demon | Satan | Succubus
Gods & Spirits
Gods & Goddesses: Ares | Atë | Atlas | Camazotz | Damballa | Geb | Fomorians (Balor, Bres) | Hades | Hera | Jötunn (Ymir, Loki, Hela, Skoll and Hati, Fenrir, Jormungandr, Surtr, Hræsvelgr) | Kali | Kronos | Limos | Nun | Poseidon | Set | Titans | Xolotl | Zeus
Spirits: Dybbuk | El Silbón | Fetch | Hinnagami | La Llorona | La Sayona | La Viuda | Mackenzie Poltergeist | Myling | Poltergeists | Stingy Jack
Humans & Humanoids
Abhartach | Ajax the Lesser | Ame-onna | Bandits | Baron Samedi | Black Rock Witch | Blair Witch | Cain | Cassiopeia | Christie Cleek | Creon | Delilah | Draug | Doppelgangers | Goliath | Gomorrahites | Green Knight | Green Witch | Hags | Haman the Agagite | Hanako-San | Herod Antipas | Herod the Great | Herodias | Horsemen of the Apocalypse | Ixion | Jezebel | Judas Iscariot | King Ahab | King Arthur | King Vortigern | Kuchisake-onna | Lilith | Lord William de Soulis | Louhi | Lucius Tiberius | Lycaon | Meg of Meldon | Morgan le Fay | Nanny Rutt | Pandarus | Paris | Phaedra | The Pharisees | Polyphemus | Rich Man | Romans | Santa Compaña | Saul | Sawney Bean | Shechem | Sodomites | Stingy Jack | Tamamo no Mae | Tantalus | Trauco | Tydeus | Umibōzu | Yallery Brown | Ysbaddaden | Dr. Victor Frankenstein | Frankenstein's Monster | Count Dracula | La Tunda | Davy Jones | Captain Nemo
Monsters, Animals & Anthropomorphic Beings
A-mi'-kuk | Akkorokamui | Averesboro Gallinipper | Aye-aye | Basilisk | Boneless | Cirein-cròin | Cockatrice | Devil Monkeys | Erymanthian Boar | Escornau | Fossa | Fouke Monster | Foxes | Giants of Voronezh | Golden Cicada | Groundhogs | Harpies | Hydra | Jackalopes | J'ba Fofi | Kappa | La Cegua | Lambton Worm | Leviathan | Madman Marz | Michigan Dogman | Mikari Baba | Mordred | Morgan le Fay | Onamazu | Otesánek | Paparrasolla | Pesanta | Redcaps (Robin Redcap) | River Mumma | Scylla | Stymphalian Birds | Tailypo | Tarasque | Trolls | Tsuchinoko | Veles | Wolves | Frankenstein's Monster | Count Dracula
Common Legends
Amanda the Doll | Black Goo | Bunnyman | Bye Bye Man | Candyman | China Doll | Clown Doll | Cropsy | Crying Boy | Cursed Dolls | Hairy-Armed Woman | Hatman | Homey the Clown | Hook Killer | John and Susan Buckley | Joliet the Haunted and Cursed Doll | Licking Maniac | Melon Heads | Men in Black | Mystery Killer | Nain Rouge | Nameless Thing of Berkeley Square | Old Man Try-By-Night | Peeping Tom | Rain Man | Robert the Doll | Paimon | Patasola | Skinned Tom | Teke Teke | The Killer In the Backseat | The Man Upstairs | La Tunda
Cryptids
Beast of Beckley | Beast of Gévaudan | Black Eyed Children | Black Stick Men | Bloop | Cherufe | Devil Monkeys | Emela-Ntouka | Dog-headed Men | Fallen Angels | Fear Liath | Flatwoods Monster | Goatman | Grafton Monster | Greys | Hoop Snake | Indrid Cold | Jackalopes | Jersey Devil | Kelpie of Loch Ness | Kongamato | Malawi Terror Beast | Mamlambo | Manananggal | Maricoxi | Mngwa | Momonjii | Nobusuma | Pope Lick Monster | Popobawa | Pukwudgies | Reptoids | Roc | Ropen | Salawa | Sea-Serpents | Shadow People | Sheepsquatch | Slide-Rock Bolter | Snallygaster | Spring Heeled Jack | Tanuki | Thunderbird | Two-Toed Tom | Water Horses | White-Eyed Children | Yowie | Ghosts
Modern Legends
Charlie | Bloody Mary | Bloody Mary (Halloween Horror Nights) | Ghost (Johnny, I Want My Liver Back) | Ghost Bus of Highway 93 | Ghost Cars | Ghost Trains | Momo | Orie Chef | Aliens (AC) | Martinez Dog Demon | The Spirit of Dark and Lonely Water | Crisis
Possessed Objects
Coffin on Wheels | Ghost Trains | Black Volga | Robert the Doll | Joliet the Haunted and Cursed Doll | China Doll | Amanda the Doll | Clown Doll | Gargoyles
See Also
Cthulhu Mythos Villains | Trevor Henderson Villains | Creepypasta Villains | SCP Foundation Villains
Community content is available under
CC-BY-SA
unless otherwise noted.