She-Hulk Trailer Dropped - The Loop
Play Sound
The Blue Globbor, also known as simply Globber, was a slimy energy-draining monster and the central antagonist of the three-part Mighty Morphin' Power Rangers episode "Master Vile and the Metallic Armor."
He was voiced by Eddie Frierson, best known as Datamon from Digimon Adventure and Frax from Power Rangers Time Force.
Biography
After coming to Earth to obtain the Zeo Crystal and show up Lord Zedd, Master Vile creates the Blue Globbor by throwing up an egg and assigning him the mission of re-capturing the escaped Ninjor. The Blue Globbor goes to Earth during an attack by the Tenga Warriors and saps Ninjor's energy before kidnapping him despite the ninja master growing in size. Globbor is destroyed by the Ninja Mega Falconzord but, much to the Rangers' surprise, Globbor survives the blow as he arose from the flames and continues the assault against the Rangers by assuming a more powerful ninja-like form. At one point, Blue Globbor is able to keep the Rangers from attacking him since Master Vile has established a connection between Blue Globbor and Ninjor so that each blow against Globbor will injure Ninjor and Globbor's destruction would end Ninjor. In the end, the Power Rangers and Ninjor won the fight against Blue Globber and destroyed him by reverting him to his original form using sunlight and striking him with both the Shogun Megazord's Fire Saber finisher and Ninjor's energy ball.
Ranger Globbor makes a cameo with Master Vile during the meeting with the United Alliance of Evil. It can be presumed that this was another version Master Vile spewed up.
Ranger Globbor later joins Rita and Zedd's invasion of the M51 Galaxy killed by Zordon's Energy Wave.
Forms
Globbor also used many different forms to take on the Power Rangers.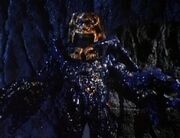 Powers and Abilities
Super Strength: As arguably the strongest monster of Season 3, Globbor had horrendous amounts of strength, knocking the Ninja Megazord back with a single punch to the upper chest as well as hold Ninjor in place to drain his energy and even keep a grip on him once he grew before he grew himself.
Durability: The Blue Globbor survived the Ninja MegaFalconzord finisher and subsequent explosion without a scratch.
Acid Spit: Globbor could spew black goo out of his mouth that stuck to his enemies and would burn them,
Self Growth: Blue Globbor could seemingly summon Rita and Zedd's lightning clowd to grow himself since we didn't see them combine staffs. He did this when Ninjor grew to try and escape his grip.

Shrinking: Blue Globbor could shrink from giant to human sized just by glowing with blue energy, as seen when he did this after stealing the Zords.
Arsenal
Suction Cup Hands: Globbor has suction cup fingers that he can use as weapons.

Energy Draining: By clasping his suction cup fingers to his enemies, he can drain enemies of thier energy, making them far easier to capture. This was powerful enough to drain Ninjor and even drain the Shogn Megazord from quite a distance away. These hand coverings were eventually destroyed by blasts from the Metallic Armour.
Powers and Abilities
Enhanced Strength: Even in comparison to his last form, Ninjor Globbor was now extrenely strong.
Enhanced Durability: Even in comparison to his last form, Ninjor Globbor was now extrenely durable.
Teleportation: Ninjor Globbor could teleport himself out of battle at will.

Mass Teleportation: After blasting the Megazords and the Falconzord, Ninjor Blobbor was able to teleport them away with him.

Synchronization: While using his power, Ninjor was linked to Globbor which meant that any attack it received was felt by Ninjor as well.
Self Growth: Ninjor Globbor enlarged himself by rising out of the ground for his final battle.
Arsenal
Katana: Ninjor Globbor wielded a big katana to aid him in battle.

Blue Lightning Projection: Ninjor Globbor could project blue lightning from the tip of his sword. This was his strongest attack as one blast was able to knock the Ninja Megazord, Shogun Megazord, and Falconzord out of commision.
Powers and Abilities
Super Enhanced Strength: In his ultimate, Ranger powers infused form, Ranger Globbor was the physically strongest monster of the entire season.
Super Enhanced Durability: Ranger Globbor was nearly invunerable with the only way to efficiently destroy him being to sever his connection to Ninjor and force him back to his original form.
Arsenal
Katana: Ranger Globbor retained his katana in this form to aid him in combat.
Crossbow: Ranger Globbor gained a small (although giant) crossbow in this form. It could project very powerful blue energy blasts from it.
Enemies
Aisha Campbell
Ninjor
Katherine "Kat" Hillard 
Adam Park
Rocky DeSantos
Andros
Thomas "Tommy" Oliver
Trivia
The Blue Globbor's creation (consisting of Master Vile throwing up Globbor's egg) has become iconic in the fanbase.
The reason that the Blue Globbor's Ranger Globbor form had helmets resembling the Alien Rangers was because his counterpart stole thier energy alongside Ninjor's counterpart.
The Blue Globbor sounded a lot like the Oozemen when he spoke despite being voiced by Eddie Frierson rather than Neil Kaplan. This was due to both Globbor and the Oozemen having the same gurgle effect added to thier voices.
Whereas the Blue Globbor's weakness was sunlight, Daradara was spiritually linked to Daimaou/Master Vile and any damage done to Daimaou was also done to him. As such, Daradara was reverted to his original form when the Red Kakuranger beat-down Daimaou.

This scene had to be omitted for Power Rangers due to the presence of the unmorphed Kakurangers.

On WatchMojo's Top 10 Best Power Rangers Monsters, Globbor was voted #1.
See Also