Wiki Targeted (Entertainment)
Play Sound
Jafar says: Read my lips and come to grips with the reality!


This article is a stub and is in need of expansion. You can help Villains Wiki by expanding it.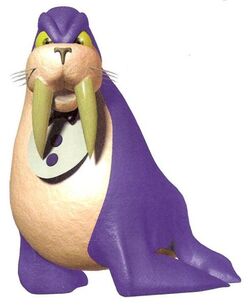 Bluey the Walrus is a walrus and is a resident of Timber's Island.
Diddy Kong Racing
In Diddy Kong Racing and its remake Diddy Kong Racing DS, he is the boss and guardian of Snowflake Valley and the second boss by total in-game.
In the game, Bluey, along with Tricky, Bubbler and Smokey were brainwashed by the evil Wizpig.
When challenged, the player rides a hovercraft down a mountain against Bluey. He is shown to be a quick racer. During the course, his course features two icy tunnels rolling snowballs that can squish the players if they successfully run over the player. When defeated, he is temporarily freed from his brainwash.
After doing all four Silver Coin races in the domain, he is under mind control again and the player must race him again. There are no extra hazards in this race but Bluey moves much faster than before. When defeated again, he is fully freed from the brainwashing effects and gives the player a piece of the Wizpig Amulet as a thanks.
In the remake, he is more challenging than in the original. This is because he switches order with Bubbler, making him the 3rd boss rather than the 2nd.
Like the other bosses, Bluey will start the race before the countdown is finished, giving him a slight advantage.
Villains
Koopa Troop
Universal
Bowser | Baby Bowser | Count Koopula | Bowser Jr. | Captain Goomba | Koopalings: (Larry Koopa | Morton Koopa Jr. | Wendy O. Koopa | Iggy Koopa | Roy Koopa | Lemmy Koopa | Ludwig Von Koopa) | Kamek | King Boo | Boom Boom | Pom Pom | Reznor | Mega Goomba | Burt the Bashful | Salvo the Slime | Roger the Potted Ghost | Koopa Kids | Hoo | Blizzaurus | Army Hammer Bro
Super Mario 64
King Bob-omb | Whomp King | Goomba King
Galaxy armada
King Kaliente | Bugaboom | MegaBug | Peewee Piranha | Topmaniac | Bouldergeist | Dino Piranha | Major Burrows | Prince Pikante | Rollodillo | Glamdozer | Giga Lakitu | Petey Piranha | Gobblegut
Super Mario 3D World
Hisstocrat
Super Mario Odyssey
Mechawiggler | Broodals: (Topper | Harriet | Spewart | Rango) | Madame Broode | Ruined Dragon | Cookatiel | Torkdrift
Mini-Troops
Goombas | Boos | Koopa Troopas | Chain Chomps | Hammer Bros. | Shy Guys | Magikoopas | Lakitu | Toadies | Bob-ombs | Piranha Plants | Bloopers | Wigglers

8 Bit Club
Wart | Mouser | Tryclyde | Birdo | Shy Guys
Paperverse
Koopa Troop (Paperverse)
Paper Bowser | Paper Bowser Jr. | Paper Koopalings: (Larry Koopa | Morton Koopa Jr. | Wendy O. Koopa | Iggy Koopa | Roy Koopa | Lemmy Koopa | Ludwig von Koopa) | Paper Kamek | Kammy Koopa | Paper Petey Piranha | Goomba King | Red & Blue Goomba | Koopa Bros | Tutankoopa | Tubba Blubba | General Guy | Lava Piranha | Huff N. Puff | Crystal King
Mini-Troops
Goombas | Boos | Koopa Troopas | Chain Chomps | Hammer Bros. | Shy Guys | Magikoopas | Bob-ombs | Piranha Plants
The Thousand Year Door
Secret Society of X-Nauts: Sir Grodus | Lord Crump | Shadow Sirens | Doopliss | Shadow Queen
Other
Hooktail | Gloomtail
Super Paper Mario
Count Bleck's Minions: Count Bleck | Nastasia | O'Chunks | Mimi | Dimentio | Mr. L | Brobot
Other
King Croacus | Shadoo | Wracktail | Skellobits: Bonechill | Count Bleck's Father | Francis
Folded Soldiers
King Olly | Handaconda | Paper Macho Soldiers
Legion of Stationery: Colored Pencils | Rubber Band | Hole Punch | Tape | Scissors | Stapler
Other: Lamp Scam Snifit

Smithy Gang
Smithy | Exor | Mack | Bowyer | Yaridovich | Axem Rangers | Blade | Count Down | Domino
Mario & Luigi
Elite Trio
Beanbean Kingdom
Popple | Rookie | Beanies | Mechawful | Sharpea | Troopea | Beanerang Bro | Clumphs | Lakipea
Cackletta and Fawful's faction
Cackletta | Fawful & Dark Star (Midbus, Fawful Express, Fawful Mountain, Super Peach's Castle of Fury, Crawful, Snawful, Chain Chawful, Fawflant, Fawful Guy, Fawfulcopter, Fawflopper, Mawful Mole, Mechawful)
Shroobs
Elder Princess Shroob | Princess Shroob | Sunnycide
Other
Antasma | Belome | Best Fitness Friends | Big Guy the Stilted | Black Jewel | Booster | Chuckolator | Cortez | Count Cannoli | Croco | Culex | Dodo | Donkey Kong | Donkey Kong (Mario VS Donkey Kong) | Draggadon | Foreman Spike | Gooper Blooper | Grouchy Possessor | Grubba | Harsh Possessor | Jojora | Jr. Troopa | Kaptain Skurvy | Kent C. Koopa | King K. Rool | Kritters | Lena | Lucien | Metal Mario | Mario | Mizzter Blizzard | Mollusque-Lancuer | Nabbit | Overset Possessor | Peps | Phantamanta | Portrait Ghosts: (Neville | Chauncey | Bogmire | Biff Atlas | Boolossus | Sir Weston | Vincent Van Gore) | President Koopa | Rabbids: (Phantom of the Bwahpera | Rabbid Kong) | Rawk Hawk | Ricky | Rudy the Clown | Sabasa | Shake King | Shrewd Possessor | Smorg | Squizzard | Tatanga | Three Little Pigheads | Tolstar | Tough Possessor | Tower Power Pokey | Valentina | Viruses | Waluigi | Wario | Watinga | Wingo | Yellow Belly/Helio
Comics
Bowser
Cartoon
Big Bad Wolf | "Crime Wave" Clyde | King Koopa | Robot Princess | Wizardheimer
See Also
Donkey Kong Villains | Luigi's Mansion Villains | Wario Villains