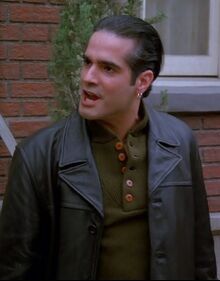 Bob is an antagonist in the famous sitcom, Seinfeld. 
He was played by Yul Vasquez.
History
We first see Bob when he, along with Cedric, his partner - they're gay, try to rob a china. He is exactly the Spaniard counterpart to Frank from Moving. He terrorizes people for the most dumbest of reasons. When Kramer tries to stop them, Bob starts to get agitated. Perhaps the most childish act he's done is in "The Sponge" episode, where Kramer refuses to wear a ribbon - most likely because it's uncomfortable. This angers a few people, and together they get with Bob and Cedric, who are ardent wearers of the ribbon. In a childish outburst of anger, Bob says, "But he's wearing the ribbon. She's wearing the ribbon, we are all wearing the ribbon." Kramer refuses to give in, so Cedric and Bob decide to have the gang up and beat them over a ribbon. The last scene we see of Bob is in "The Puerto Rican Day" episode, when Kramer accidentally stomps the Puerto Rican flag in an attempt to put out a fire. Bob and Cedric then run to attack Kramer, and they, in another childish act, unrelated to the flag burning, trash Jerry's car. With that being said, he has a few charismatic lines to his credit.
Community content is available under
CC-BY-SA
unless otherwise noted.