Doctor Strange in The Multiverse o Madness - The Loop
Play Sound

✓
| | |
| --- | --- |
| | This Article Contains Spoilers - WARNING: This article contains major spoilers. If you do not wish to know vital information on plot / character elements in a story, you may not wish to read beyond this warning: We hold no responsibility for any negative effects these facts may have on your enjoyment of said media should you continue. That is all. |
This article's content is marked as Mature
The page Mature contains mature content that may include coarse language, sexual references, and/or graphic violent images which may be disturbing to some. Mature pages are recommended for those who are 18 years of age and older.


If you are 18 years or older or are comfortable with graphic material, you are free to view this page. Otherwise, you should close this page and view another page.
| | | |
| --- | --- | --- |
| " | My Stand Tohth's predictions are always right! | " |
| | ~ Boingo | |
| | | |
| --- | --- | --- |
| " | Our cards are the god of knowledge Thoth, and the god of creation Khnum! We are the Oingo Boingo brothers! | " |
| | ~ Oingo introducing himself and his brother. | |
Boingo (also known as Mondatta in the English dub of the anime and Voing in the English version of JoJo's Bizarre Adventure: Heritage for the Future) is the younger brother of Oingo, a minor antagonist in JoJo's Bizarre Adventure: Stardust Crusaders, and a major protagonist in Crazy Diamond's Demonic Heartbreak. His stand Thoth represents one of the nine Egyptian gods of knowledge.
In Japanese, Boingo was voiced by Wataru Takagi in JoJo's Bizarre Adventure: Heritage for the Future, Hisayoshi Suganuma in JoJo's Bizarre Adventure: All Star Battle, and Motoko Kumai in the anime. In the English dub of the anime, he was voiced by Jessica Gee.
Biography
We are introduced to Boingo reading Thoth as a comic artist introduces himself to him, desiring to read his book. Though some exchanges, the comic artist becomes interested in the book mostly due to its mainly blank pages, and offers to buy it. He does not gain this, however, as Oingo scares him off. Soon after this, we first see Thoth's ability to predict the future to some degree, as both brothers avoid a bus doomed to a great accident.
Looking into the book for guidance, Oingo and Boingo make their first attempt to kill the heroes through poisoned tea. Despite them successfully convincing them to get it through their earlier plan (soda) not being cold, Iggy interferes through being a general nuisance, causing the hero to change after them in anger, leaving the tea behind.
After a brief assault and thievery from a passerby through Thoth, Oingo tries himself to blow Jotaro to kingdom come using a bomb resembling an orange. Using a disguise as Jotaro, the prediction comes true in the technical sense, with Oingo blowing himself up. As Boingo rushes to his aid and plans to defeat the heroes, the robbed and furious passerby uses an small mob to harm the two enough to send them to the hospital.
Soon after this, Boingo is rather forcefully teamed up with Hol Horse to take revenge on the heroes for the defeat of their partners. The first prediction Boingo has with his new partner (Hol Horse kicking a woman, following by her giving them payment.) draws ire from Hol Horse's respect for the opposite sex, but following actually doing so for the prediction's sake, it is revealed that he actually killed a scorpion, and the woman gives them their cash out of relief for them saving her hide.
Following the next prediction (Hol Horse shoving his fingers up Jeanne Pierre Polnareff's nose leading for the heroes to be hit by a truck) coming true through chain reaction, a fully confident Hol Horse follows yet another prediction by shooting Emperor through pipes to shoot Jotaro down. However, the watch used to time the attack was off, causing the bullets to circle back to the man and instead hitting him. Boingo wonders if he should use his powers for good instead, kicking his hiding crate aside for it to only hit Iggy, the enraged mutt attacking Boingo and sending him back to medical care, now even more of a shut-in.
Crazy Diamond's Demonic Heartbreak
Boingo first appears in Crazy Diamond's Demonic Heartbreak breaking up a fight between Hol Horse and Mariah in a hideout he is staying in with her and Oingo, showing to him that they must go to Morioh to rescue a parrot DIO took from his deceased owner. After Ryoko put Thoth in her bag, Boingo is first seen in Morioh within a police station, with Ryohei Higashikata trying to coax him out of his hiding place. After thinking of a prediction Thoth gave him of needing to part with the book for sometime to grow, Thoth begins to tell of Ryoko's story as well, also creating predictions for her own behavior. Boingo is then seen fleeing from the barrage of emeralds that appeared following Hol Horse's brainwashing.
Powers and Abilities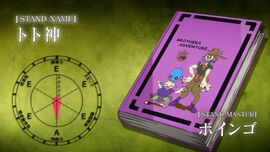 | | | |
| --- | --- | --- |
| " | M... M... my Stand Tohth can only see the near future... It can't see too far... but... once something is printed it can't be changed! | " |
| | ~ Boingo | |
Boingo's stand, Thoth, is a comic book that predicts the future. Although the predictions are always stupid and unbelievable, they will always happen if followed correctly. However, the predictions depend on the interpretation, and mistaking even a single bit of the prediction will make it backfire.
Gallery
Images
Videos
Trivia
Oingo's and Boingo's dub names in the anime, Zenyatta and Mondatta, are references to The Police album of the same name.