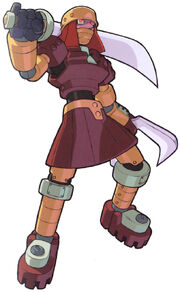 Bola is a minor antagonist from Megaman Legends 2. A retired sky pirate, he already made a fortune with his job. He comes out of retirement after Klaymoor hears about the keys to the Mother Lode, a legendary treasure. Although he is not very enthusiastic about this, he helps Klaymoor, as the two split up to look for the keys on different islands. He is fought on Manda Ruins twice, but he doesn't give his all on the fights. As Volnutt finds the Key Room, Bola appears and tells him that a large Reaverbot has eaten the key, but he doesn't want to bother retrieving it. He appears again on Nino Ruins to rescue Klaymoor as he is defeated by Volnutt. Later on, the duo finally give up on searching the keys.
Community content is available under
CC-BY-SA
unless otherwise noted.