Jurassic World: Dominion Dominates Fandom Wikis - The Loop
Play Sound
NOTE: This article is about the incarnation of Bolivar Trask from the X-Men film series. The mainstream version can be found here: Bolivar Trask.
"
I see mutants as our salvation.
William Stryker: A common enemy.
A common struggle against the ultimate enemy. Extinction. I believe our new friends are going to help us usher in a new era, Bill. A new era of genuine and long-lasting peace.
"
~ Dr. Bolivar Trask to William Stryker.
Bolivar Trask is the main antagonist of the 2014 superhero film X-Men: Days of Future Past, the seventh installment of the X-Men film series.
He is a ruthless scientist and successful businessman, industrialist and weapons maker whose the head and founder of Trask Industries and creates and army of Sentinels to destroy mutants in order to cleanse the world from them for the good of the humanity itself. Trask was assassinated by the mutant Mystique in 1973, but decades later, his Sentinels hunt mutants until near extinction, leading Wolverine to time travel back to 1973 from 2023 to prevent Trask's death, though undoing it will come with some consequences. He is partially responsible for turning his aide William Stryker into a mutant hater like himself.
He was portrayed by Peter Dinklage, who also played Simon Bar Sinister in the 2007 Underdog adaptation, Tyrion Lannister in Game of Thrones, Captain Gutt in Ice Age: Continental Drift and Eddie Plant in Pixels.
Biography
Background
Even from his early years as a research assistant, Bolivar Trask always maintained a particular interest in the origin and evolution of humanity. Following in the footsteps of Mendel, Watson and Crick, Trask made it his goal to unlock the mysteries of human DNA. What he did not anticipate was the discovery of the X-Gene, a genetic finding that would prove to be the most significant of the 20th century.
Trask soon hypothesized the impending extinction of the human race. His early theories were ridiculed by his contemporaries and with no one to fund his research, Trask cared enough about humanity to invest in the founding of Trask Industries in 1967. Since its founding, Trask Industries has been at the forefront of human progress, partnering with domestic and international governments since the Nixon administration. Trask's early ambition for genetic progress continues to fuel our technological innovations today.
The Wolverine
During the end credits sequence, an ad of Trask Industries is shown at an airport where Logan (Wolverine) is just about to leave Japan. There, Magneto tells Wolverine that a new threat is rising - humanity commenced to create robots called the Sentinels to destroy Mutants. As Wolverine makes a failed attempt to kill Magneto, Professor X arrives and confirms Magneto's suspicions. The proved to be true which led to the near extinction of both Mutants and humans alike.
X-Men: Days of Future Past
Trask experimented on mutants for their DNA to create robots called Sentinels whose sole purpose is to track and kill mutants (despite Trask having respect for them). Among those he experimented on and killed were Banshee, Emma Frost, Azazel, Angel Salvadore, and Riptide (though a viral marketing suggests Azazel and Angel were dead before Trask experimented on them while Riptide got experimented, even though he was not killed), although Mystique was able to save Havok, Toad, and Ink from this fate after they were apprehended by Trask's military henchman Major William Stryker in Vietnam. Mystique sought to assassinate Trask in revenge for what he did to her comrades. However, this led to an apocalyptic future; after killing Trask she was captured by Trask Industries and her DNA used to create a new generation of Sentinels who, like her, had the ability to adapt themselves to counter any mutant they fought, making them invincible. In this timeline, Mystique did not survive and suffered the same fate as Trask Industries's other research experiments. After capturing or eliminating most of the mutants, the Sentinels then proceeded to identify the genes in non-mutant humans that could lead to them having mutant children, and began targeting them as well. In the end, most of humanity was wiped out and only the most banal elements of mankind remained in charge of the planet, with the aid of the Sentinels. For this reason, Wolverine was sent back in time to prevent Trask's death.
Trask was denied funding for his Sentinel project, and attempted to sell his technology to communist nations at the Paris Peace Accords to end the Vietnam War. Mystique tried to kill Trask, but Wolverine, Charles, Hank, and Magneto stopped her. However, as a result of a battle from Magneto trying to kill Mystique, the people were horrified by the existence of mutants and Trask's sentinel program was approved; furthermore, Trask obtained Mystique's blood and summarized it was exactly what he needed to make his Sentinels adaptive and truly unstoppable by any mutants. However, the blood would not be enough, and he desired to capture Mystique so he could extract and study her entire DNA profile, including bone marrow and spinal fluid.
After saving President Nixon from being killed by Magneto, Mystique tried to kill Trask a second time, but Charles Xavier convinced her not to, averting the bad future. Because a mutant saved the president, the Sentinel Program was shut down, much to Trask's anger. Later on, according to a newspaper article, Trask was arrested for selling military secrets to foreign powers after his Sentinel program was shut down.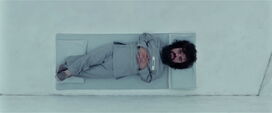 Imprisonment
After saving President Nixon from being killed by Magneto, Mystique tried to kill Trask, but Charles Xavier convinced her not to, averting the bad future. Because a mutant saved the president, the Sentinel program was shut down, and Trask was later arrested for selling military secrets. After the mid-credits, Trask was revealed to have been imprisoned in a cell under Pentagon where Magneto was imprisoned for killing JFK.
It's currently unknown if Trask is still alive by 2023, but assuming that he is, it's likely that he is still in prison or was eventually released but didn't bother to resume his anti-mutant agenda anymore.
Personality
As the owner of Trask Industries, Dr. Bolivar Trask presented himself as benevolent, noble, caring, and generous businessman and altruist who used his company as a means of helping the world and solving humanity's problems. He was a scientific genius, being able to create numerous high-tech inventions that were decades, if not centuries, ahead of his time. This included special detectors that could detect the X-Gene humans, as well as the Sentinel robots, which were constructed from a space-age polymer.
However, Trask's genius and public persona hides his true personality. In truth, Trask is a ruthless, arrogant, obsessed, amoral, and genocidal xenophobe. Trask sees the evolution of mutants as the greatest threat to human race, believing that as time passes and more mutants are born they will eventually eradicate all those who don't have powers like them. This shows Trask's darwinistic mindset, as he believes that mutants will, without question, wage war on the Earth's human population and eradicate it due to being the stronger and more evolved species. Because of this viewpoint, Trask views himself as a righteous soul who is doing what ever is necessary to save his species from extinction against a growing threat that most are oblivious to. This lead him to perform a number of amoral deeds in order to protect humanity, including unethical experiments in which innocent mutants were tortured and dissected. This also prompted him to create the Sentinel Program, in which his creations would target mutants and eradicate them, seeing it as the only means of ensuring humanity's survival. Despite this clear intention of genocide, Trask claims that he, in truth, doesn't hate mutants but rather admires them for their powers and the solution that they represent to humanity's struggles. To him, mutants represent a common struggle that all nations and people must confront, thus he sees his attempt to eradicate them as not only a way of preventing the annihilation of the human race, but also uniting it and brining about a new era of peace as well.
Despite whatever he may say to the contrary however, Trask is indeed a bigot who despises mutants. This is shown by how despite claiming to have respect for them, he kidnapped and tortured many innocent mutants in his laboratories, possibly even without anesthetics. Once more, he called Mystique such phrases as "creature" and "it", showing that he had no real respect for her as a person. He was also content with having mutants who were indeed peaceful and conexisting with humans to be killed off as well, including children. Trask was also willing to betray his country to get his Sentinel Program running, as he sold military secrets to enemy nations who were hostile to the US. This shows that Trask was willing to go to whatever lengths he felt were necessary, in order to to ensure his genocidal plans were carried out.
Trask also shows himself to be a fanatic in his xenophobic view of mutants. While he may not be a fighter, he is no coward. Both in the original and new timelines when Mystique held him at gunpoint, rather than panic or flee, Trask accepted his fate. In both of these instances, he did so with a look of defiance and hate in his eyes, showing that in his final moments he considered himself a martyr for a noble cause. This proved once again, his hatred of mutants regardless of his self-proclaimed respect and admiration for them
In his attempts to eradicate mutant kind, Trask makes not only monstrously amoral decisions, but also short sighted ones as well. He didn't deny that many non-mutants would die in the crossfire of his Sentinel Program and that a large portion of America's population would be wiped out as a result. This shows that Trask was willing to sacrifice thousands, if not millions, of humans if it meant ensuring the existence of the human race as a whole. He also was willing to sell the Sentinels and their designs to communist dictatorships, who could have used such technology for their own gains, which could have made Trask responsible for new wars that killed millions of humans instead of mutants,
Trask also seems to have a bit of an ego as well. He is shown to look down on other humans who don't share his viewpoint about mutants, viewing them as naive, foolish, and cowardly. Trask is also unwilling to admit whenever he is wrong or has made a mistake, despite everything that is presented to the contrary. When the Sentinels started attacking human civilians, during their presentation ceremony (which was actually Magneto's doing) he stubbornly and angrily kept saying that he "would fix it" rather than show any actual regret and horror over his creations performing the opposite of their purpose. This shows that Trask sees himself as always correct and in the right, revealing his self-righteousness and lack of regard for others beliefs and opinions. Even after his defeat and imprisonment, Trask shows no remorse for his amoral deeds. Rather than be grateful to Mystique for saving him and sparing his life, he still continues to hate mutants, retaining his belief that human and mutants can never coexist with each other.
Despite his amoral actions, prejudice against mutants, and intentions of genocide, Trask does have some more positive traits. He genuinely believed that his actions would save humanity from extinction and would ensure both an end to senseless wars and the foundation a new peaceful era for world. Like many Americans, Trask was also appalled by the Vietnam War, viewing it as an unjust and pointless conflict in which millions of Americans and Vietnamese were senselessly slaughtered for no good reason. It could be suggested that the gruesomeness of the Vietnam War is what increased Trask's ruthlessness, as such senseless carnage caused him to find a solution to such terrible conflicts, which he saw in the form of a world-United front against mutants.
Gallery
Trivia
While in the original comic book version of Trask was never a hero by any means, he did eventually come to realize that Mutants are not a threat to humanity and even heroically sacrificed his own life to stop the Sentinels. Neither of those happen in to the Days of Future Past incarnation.
In the film X-Men: Days of Future Past, Bolivar Trask said he named the Sentinels after the guardians of the citadel. It was thought that he meant The Citadel, the real-life military academy in SC, and that its guards were dubbed "Sentinels", but in truth, he meant the ancient site called the Arx ("citadel" in Latin) and the guards there were referred to as "sentries".
External links

Movie Villains
Movies
X-Men: Brotherhood of Mutants (Magneto, Mystique, Sabretooth & Toad) | Pyro
X2: William Stryker Jr. | Lady Deathstrike | Jason Stryker | Brotherhood of Mutants (Magneto, Mystique, & Pyro)
X-Men: The Last Stand: Brotherhood of Mutants (Magneto, Dark Phoenix, Pyro, Juggernaut, Multiple Man & Mystique) | Omega Gang (Callisto, Psylocke, Quill, Arclight, Avalanche, Spike, Glob Herman & Phat) | Archangel
X-Men Origins: Wolverine: William Stryker Jr. | Sabretooth | Deadpool | Agent Zero | Blob
X-Men: First Class: Hellfire Club (Sebastian Shaw, Emma Frost, Azazel, Angel Salvadore & Riptide) | William Stryker Sr. | Magneto | Mystique
The Wolverine: Silver Samurai | Madam Viper | Shingen Yashida | Noburo Mori | Magneto
X-Men: Days of Future Past: Trask Industries (Bolivar Trask, William Stryker Jr. & Sentinels) | Magneto | Mystique | Toad | Horsemen of Apocalypse (Apocalypse)
Deadpool: Deadpool | Dopinder | Ajax | Angel Dust | Agent Smith
X-Men: Apocalypse: Ashir En Sabah Nur/Horsemen of Apocalypse (Apocalypse, Magneto, Psylocke & Archangel) | Dark Phoenix | Mystique | William Stryker Jr. | Blob
Logan: Essex Corp (Zander Rice, Donald Pierce, X-24 & Reavers)
Deadpool 2: Deadpool | Cable | Firefist | Dopinder | Juggernaut | Essex Corp (Headmaster) | Black Tom Cassidy | Sergei Valishnikov | Omega Red
X-Men: Dark Phoenix: Dark Phoenix | D'Bari (Vuk & Jones) | Brotherhood of Mutants (Magneto & Selene Gallio) | Mystique
The New Mutants: Essex Corp (Cecilia Reyes) | Demon Bear | Reverend Craig | Smiley Men
See Also
20th Century Studios Villains | Deadpool Villains | New Mutants Villains | Wolverine Villains | X-Men Villains

Villains
Comics
0101 | Abomination | Absorbing Man | Absalom | Acolytes | Adversary | Ahab | A.I.M. | Akhenaten | Alan Lewis | Amanda Sefton | Ani-Mator | Annihilus | Apocalypse | Arcade | Archangel | Arclight | Arnim Zola | Avalanche | Awesome Android | Azazel | Badoon | Barbarus | Bastion | Baron Karza | Baron Wolfgang von Strucker | Batroc | Beef | Beetle | Black Tom Cassidy | Belasco | Beyonder | Black Box | Blastaar | Blockbuster | Blood Brothers | Bolivar Trask | Blob | Bogeyman | Boomerang | Brood | Brotherhood of Evil Mutants | Brainchild | Bulldozer | Bullseye | Burner | Cameron Hodge | Carnage | Cassandra Nova | Chameleon | Children of the Vault | Chimera | Clan Akkaba | Coach | Computo | Constrictor | Count Nefaria | Creeps | Crossbones | Dark Avengers | Dark Beast | Dark Phoenix | Dark X-Men | Deadpool | Demon Bear | Demogoblin | Doctor Doom | Doctor Octopus | Doctor Rice | Dracula | Egghead | Electro | Emma Frost | Erik Killmonger | Exodus | Fenris | Freedom Force | Friends of Humanity | Frightful Four | Frost Giants | Galactus | Gamesmaster | Graydon Creed | Green Goblin | Grizzly | Hammerhead | Hand | Hela | Hellfire Club | Henry Peter Gyrich | High Evolutionary | Hobgoblin | Holocaust | Horsemen of Apocalypse | HYDRA | Impossible Man | Jackal | Jack O' Lantern | J. Jonah Jameson | Juggernaut | Kang | Kid Omega | Kingpin | Killer Shrike | Klaw | Knull | Krakoa | Kraven | Lord Deathstrike | Lady Deathstrike | Legion | Leper Queen | Lilith | Living Monolith | Lizard | Loki | Mad Thinker | Madame Viper | Madelyne Pryor | Magneto | Magus | Malekith the Accursed | Mandarin | Marrow | Masters of Evil | Master Mold | Medusa | Maximus | Mesmero | Mikhail Rasputin | Mister Jip | Mister Negative | Mister Sinister | M.O.D.O.K. | Mojo | Mole Man | Moonstone | Morbius | Morlocks | Moses Magnum | Mutant Response Division | Mystique | Mysterio | N'Astirh | Namor | Nanny | Nekra | Neo | Nightmare | Nimrod | Nitro | Norman Osborn | Obnoxio the Clown | Omega Gang | Omega Red | Onslaught | Orphan-Maker | Ozymandias | Pandemonia | Phalanx | Piledriver | Pilgrimm | Predator X | Proteus | Psycho-Man | Puma | Punisher (Earth-95216) | Purifiers | Pyro | Quicksilver | Reavers | Red Ghost | Red Skull | Reverend Craig | Rhino | Right | Rogue | Ronan | Sabretooth | Sandman | Sat-Yr-9 | Sauron | Savage Land Mutates | Scarlet Witch | Scorpion | Sebastian Shaw | Selene Gallio | Sentinels | Serpent Society | Shadow King | Shadow Xavier | Shocker | Silver Sable | Silver Samurai | Simon Trask | Sinister Six | Skrulls | Spiral | Stranger | Stinger | Stryfe | Stephen Lang | Sublime | Sugarman | Super-Adaptoid | Super-Apes | Supreme Intelligence | Swarm | Thanos | Thunderball | Thunderbolt Ross | Tiger Shark | Tinkerer | Toad | Trevor Fitzroy | Typhoid Mary | Tyrannus | Unus | Vampires | Venom | Vulcan | Vulture | Wendigo | Whiplash | Whirlwind | White Rabbit | William Stryker | Wizard | Wrecker | X-Man | Xemnu | Xorn | Ymir | Zaladane
Movies
X-Men: Brotherhood of Mutants (Magneto, Mystique, Sabretooth & Toad) | Pyro
X2: William Stryker Jr. | Lady Deathstrike | Jason Stryker | Brotherhood of Mutants (Magneto, Mystique & Pyro)
X-Men: The Last Stand: Brotherhood of Mutants (Magneto, Dark Phoenix, Pyro, Juggernaut, Multiple Man & Mystique) | Omega Gang (Callisto, Psylocke, Quill, Arclight, Avalanche, Spike, Glob Herman & Phat) | Archangel
X-Men: First Class: Hellfire Club (Sebastian Shaw, Emma Frost, Azazel, Angel Salvadore & Riptide) | William Stryker Sr. | Magneto | Mystique
X-Men: Days of Future Past: Trask Industries (Bolivar Trask, William Stryker Jr. & Sentinels) | Magneto | Mystique | Toad | Horsemen of Apocalypse (Apocalypse)
X-Men: Apocalypse: Ashir En Sabah Nur/Horsemen of Apocalypse (Apocalypse, Magneto, Psylocke & Archangel) | Dark Phoenix | Mystique | William Stryker Jr. | Blob
X-Men: Dark Phoenix: Dark Phoenix | D'Bari (Vuk & Jones) | Brotherhood of Mutants (Magneto & Selene Gallio) | Mystique
The New Mutants: Essex Corp (Cecilia Reyes) | Demon Bear | Reverend Craig | Smiley Men
Television
X-Men (1992): Magneto | Sentinels | Sabretooth | Juggernaut | Apocalypse | Mesmero | Horsemen of Apocalypse | Mister Sinister | Omega Red | Brotherhood of Mutants (Mystique, Avalanche, Blob & Pyro) | Dark Phoenix | Master Mold | Bolivar Trask | Silver Samurai | Hellfire Club (Sebastian Shaw, Harry Leland, Jason Wyngarde, Donald Pierce & Emma Frost) | Reavers (Bonebreaker & Lady Deathstrike) | Supreme Intelligence | D'Ken | Deathbird | Graydon Creed | Red Skull | Toad | Sauron | High Evolutionary | Phalanx | Brood | Skrulls | Super-Adaptoid | Awesome Android | Mojo
X-Men: Evolution: Magneto | Brotherhood of Mutants (Mystique, Avalanche, Toad, Blob, Quicksilver & Scarlet Witch) | Pyro | Mastermind | HYDRA (Madame Viper & Omega Red) | David Haller | Juggernaut | Bolivar Trask | Sentinels | Apocalypse | Horsemen of Apocalypse | Mesmero | Sabretooth | Destiny | Arcade
Wolverine and the X-Men: Brotherhood of Mutants (Magneto, Mystique, Scarlet Witch, Juggernaut, Quicksilver, Avalanche, Blob, Pyro & Toad) | Dark Phoenix | Bolivar Trask | Sentinels | Sabretooth | Mutant Response Division (Colonel Moss) | Shadow King | Hellfire Club (Sebastian Shaw, Donald Pierce, Harry Leland, Selene Gallio, Emma Frost & Stepford Cuckoos) | Master Mold | Silver Samurai | Nitro | Mojo | Mister Sinister | Apocalypse
Marvel Anime: X-Men: Hellfire Club (Emma Frost, Martermind) | U-Men (Sublime)
Legion: Legion | Shadow King | Oliver Bird | Time Eaters
The Gifted: Sentinel Services (Jace Turner, Ed Weeks) | Trask Industries (Roderick Champell) | Ted Wilson | Hellfire Club (Fenris, Reeva Paype, Frost Sisters) | Benedict Ryan

Video Games
The Uncanny X-Men: Magneto | White Queen | Juggernaut | Sabretooth | Boomerang
X-Men: Madness in Murderworld: Arcade | Magneto | Juggernaut | Blob | White Queen | Mystique | Pyro | Wendigo | Silver Samurai
X-Men II: The Fall of the Mutants: Mystique | Avalanche | Blob | Pyro | Spiral
Spider-Man & X-men: Arcade's Revenge: Arcade | Carnage | Rhino | Apocalypse | Juggernaut | Selene Gallio | Sentinels | Master Mold
X-Men (1992): Brotherhood of Mutant Terrorists (Magneto, Mystique, White Queen, Juggernaut, Blob, Pyro, Wendigo & Living Monolith) | Sentinels
X-Men (1993): Magneto | Apocalypse | Sabretooth | Juggernaut | Sentinels | Ahab | Mojo
X-Men 2: Clone Wars: Apocalypse | Phalanx | The Brood | Magneto
X-Men: Children of the Atom: Magneto | Juggernaut | Omega Red | Silver Samurai | Sentinel | Spiral | Mojo
X-Men (1994): Magneto | Sebastian Shaw | Callisto | Sauron | Brood Queen | Omega Red
X-Men 2: Game Master's Legacy: Gamesmaster | Apocalypse | Mister Sinster | Exodus
X-Men: Mutant Apocalypse: Apocalypse | Juggernaut | Omega Red | Brood Queen | Sentinels | Acolytes | Exodus | Magneto
X-Men vs. Street Fighter: Apocalypse | Acolytes | Magneto | Juggernaut | Sabretooth | Rogue | Angel
X-Men 3: Mojo World: Mojo | Magneto | Master Mold | Trevor Fitzroy | Spiral
X-Men: The Ravages of Apocalypse: Apocalypse | Mister Sinister | Magneto
X-Men: Mutant Academy: Magneto | Mystique | Sabretooth | Toad
X-Men: Mutant Wars: Magneto | Mystique | Sabretooth | Apocalypse
X-Men: Wolverine's Rage: Lady Deathstrike | Sabretooth | Deadpool
X-Men: Mutant Academy 2: Magneto | Mystique | Sabretooth | Juggernaut | Toad
X-Men: Reign of Apocalypse: Apocalypse | Archangel | Magneto | Dark Phoenix | Juggernaut | Sabretooth | Silver Samurai | Sauron | Blob | Pyro
X-Men: Next Dimension: Brotherhood of Evil Mutants (Magneto, Sabretooth, Toad, Mystique, Juggernaut, Blob, Lady Deathstrike & Pyro) | Bastion | Sentinels
X2: Wolverine's Revenge: Magneto | Sabretooth | Wendigo | Lady Deathstrike | Juggernaut | Omega Red | Apocalypse | Mr. Sinister
X-Men Legends: Brotherhood of Evil Mutants/Acolytes (Magneto, Mystique, Blob, Pyro, Avalanche, Sabretooth & Toad) | Marrow | Juggernaut | Shadow King | Apocalypse | Master Mold
X-Men Legends II: Rise of Apocalypse: Apocalypse | The Brood | Lady Deathstrike | Sauron | Omega Red | Stepford Cuckoos | Deadpool | Mister Sinister | Dark Beast | Living Monolith | Mystique | Destiny | Blob | Emma Frost | Sebastian Shaw | Archangel | Selene Gallio | Quicksilver
X-Men The Official Game: Brotherhood of Mutants (Magneto, Sabretooth & Pyro) HYDRA (Silver Samurai & Deathstike) | Multiple Man | Jason Stryker | Master Mold | Mystique | Toad
See Also
Alpha Flight Villains | Deadpool Villains | Excalibur Villains | New Mutants Villains | Wolverine Villains | X-Factor Villains | X-Force Villains | X-Men Movie Villains