Wiki Targeted (Entertainment)
Play Sound
Jafar says: Read my lips and come to grips with the reality!


This article is a stub and is in need of expansion. You can help Villains Wiki by expanding it.                       



Click To Help DIO!

DIO has declared that this article has stopped in time, and any and all information on it may be outdated.
Help improve this article by checking and updating it's info wherever necessary
And now time resumes!

✓
The Bonne Family is a group of sky pirates from the Megaman Legends series. They are a family who live on stealing and pillaging, while exploring ruins after treasure. They have a vast arsenal of war machines under their disposal, while also having an army of Servbots who are their loyal servants. They travel around the world on the Geeselschaft, a huge blimp which is heavily armored.
Members
Teisel Bonne: The head of the family and the eldest brother, Teisel is the commander and strategist, making their plans and also piloting some of their robots;
Tron Bonne: The engineer of the family, she is a genius who develops all robots and weapons used on their missions, also being a skilled robot pilot. She created alone all of the 41 Servbots;
Bon Bonne: The youngest brother, he's still a baby but possesses a giant mechanic body, so he also goes to the missions, being a skilled fighter. He only speaks "babbu" all the time, but his brother seems to understand well what he says.
Servbots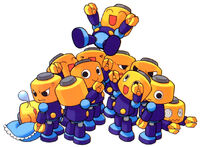 The Servbots are an army of small, Lego-like robots who serve the Bonne Family in Megaman Legends. They were all created by Tron Bonne, whom they worship and always address as 'Miss Tron'. There are 41 Servbots, each one with a unique personality and skills. They do almost everything for the Bonnes, serving as support on their missions while also piloting their own robots, as well as doing housework on the Gesellschaft, such as cleaning and cooking. Though they work for a group of pirates, they are generally well-intentioned and are not inherently evil as they do not give any further thought to their actions beyond pleasing Tron.
Gallery
Videos