Jurassic World: Dominion Dominates Fandom Wikis - The Loop
Play Sound
The Bonne Family are a family of pirates and recurring characters in the Mega Man Legends game series.
Overview
The Bonnes are air pirates that make their living stealing valuables to get rich quickly, but their misadventures mostly end up adding to their debt. They use an arsenal of weapons and pilot ships and mechs for battle and many tasks in their schemes, all built by Tron Bonne.
Members
Teisel Bonne

: The eldest brother. Despite his rough personality and tough appearance, Teisel is their commander and strategist, making all sorts of plans and schemes that further the family's goals, while keeping them out of serious danger. He is extremely emotional and holds a grudge against Mega Man Volnutt, whom he calls "the blue boy", for constantly losing to him, yet also respects him as a worthy opponent. His hobbies include reading books, anime, and toys, which help him cope with his parents' death.

Tron Bonne

: The family's sister. A mechanical genius able to build anything from Servbots to large, aerial battleships and is a skilled pilot. She is extremely prideful and a sore loser, however; she can be charmingly awkward in front of someone she has a crush on, and values her family above all else. Even though Mega Man is her enemy, Tron has feelings for him and goes to great lengths to make him her servant.

Bon Bonne

: The youngest brother who is still a baby, but possesses a giant mechanical body. He only speaks "babbu" all the time, but somehow Teisel and Tron seem to understand him. Although just a baby, he is dependable and actively participates in battles, also leading Servbots on missions. Bon's entire body is made of mech parts that can be swapped to adapt to the circumstances.
Servbots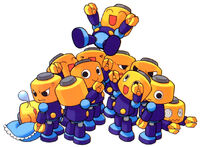 Small robots that serve the Bonne family, all created by Tron Bonne, whom they worship and address as "Miss Tron." Servbots have childlike personalities and are somewhat cowardly, timid, and unreliable. Despite being very harsh with them, even punishing them painfully sometimes, Tron is usually tender and affectionate towards them, like a mother.
Servbots scout areas, pilot ships and mechs, and act as mission support. Other duties include flying the Gesellschaft, helping Tron build and fix her robots, housework, cooking, running errands, etc. Though they work for pirates, they are not inherently evil as they give no further thought beyond pleasing Tron. Their cute appearance is useful in avoiding suspicion, leading most to assume they are harmless.
Equipment
Airships
The Bonnes travel the world on the Gesellschaft battleship, manned by Servbots and armed with many cannons and energy blasters. It was used as their home and central hub, until Mega Man destroyed the battleship. They also use smaller Drache ships piloted by Servbots that have machine guns, which serve as air fighters and supporting assault craft, and as a means of traveling between the Gesellschaft. They have been modified into Drache Kais in Mega Man Legends 2.
Bonne Mechs
The family usually employ the Gustaff in action missions, a versatile and powerful fighting mech. Variations of this mech include the Gustaff Tank used to load heavy containers and the Hover Gustaff that Tron pilots in Mega Man Legends 2. Tron also uses the Finkel, a small, pig-like, camera drone controlled from the Gesellschaft to monitor and guide Servbots at cave explorations. The Bonnes also have Servbot Borers, small, drilling machines piloted by Servbots made to dig deeper into ruins and can be used against opponents.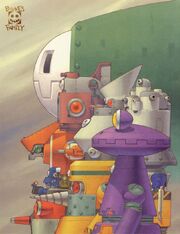 Machines in Mega Man Legends include Tron's Ferdinand mech, the hi-spec Blumebear robots, and mass-produced Hornisse flying carrier robots, and armored Möbelwagens used to invade city hall, Leopold tanks and gun batteries to occupy forest areas and Teisel's Marlwolf digging mech, the large Balkon Gerät water mech and Such Gerät submarines modified from stolen boats, the dragon-like Focke-Wulf sky mech, the massive Theodore Bruno, and the boat that Tron had to build from their destroyed mechs to leave the island. In Mega Man Legends 2, Tron pilots the Jagd Krabbe to fight Mega Man. The Bonnes built tanks, gun batteries, mines, and the giant Matrix Battery cannon to take over Kimatoma city, while stealing supplies to load onto Teisel's Blitzkrieg mech. They also hid Kalmare robots in the Saul Kada desert that use paralyzing gas and explode after a moment. Finally, the Bonnes cobbled together the heavily armed Gemeinschaft train to attack Yosynoke city.
Biography
The Misadventures of Tron Bonne
Tron Bonne and the rest of her family appear as the main characters in this game. They have just finished building their airship, the Gesellschaft. Afterward, Teisel goes with Bon to the Nakkai ruins to steal a legendary treasure named Diana's Tear. However, an air pirate in the service of Lex Loath, Glyde, captures Teisel and Bon. Tron discovers that Loath loaned Teisel the money to build their ship (one million zenny), which he defaulted on. Having no idea where they were taken, Tron has no choice but to pay off the loan to free her brothers, then she will take revenge on Loath.
Tron, with her army of Servbots, work to pay the ransom any way they can, mostly by stealing. They search digouts for the three Aurora stones, get Diana's Tear from the Nakkai ruins, steal farm livestock and harbor crates to sell, and attack Gold City to pillage valuables and rob banks. The latter missions have them fighting the police. This includes officer Denise, who fails to stop Tron every time and gets scolded by her captain, toward which Tron shows sympathy. Later, if the player chooses a favorite Servbot, he can visit a casino to play games to win money while Tron rests. After getting the money, they go to Loath to pay the debt, but says she still has to pay the interest, another two million zenny. They continue stealing until the new amount is obtained, but Loath says she has interest on her interest. Realizing he has no intention of letting her brothers go, Tron is captured too and put in Teisel's cell.
Inside Loath's dungeon, Tron finds her brothers. Teisel tells her Loath's plan to trap people in debt and make them unearth the legendary sleeping Colossus, so he can use it to rule the world. Tron contacts Servbots to pilot the Gustaff to their location to rescue them. After they are freed, Tron says they will steal everything Loath uncovered as revenge for the misery he put them through. They find the Colossus, then fight and defeat Glyde. However, Loath activates the Colossus, but the Bonnes escape to their battleship. Their weapons do not work and Loath's counterattack gets Teisel thrown overboard and injures Tron, passing out and leaving the Servbots to fight using the Gustaff. They manage to defeat the Colossus and remove its power source, the Golden Refractor, causing the giant to collapse in the sea.
Tron reluctantly rescues Loath and Glyde from the water, but secretly sends them to Denise to help keep her job, Tron saying she only wants to make sure Loath will not cause trouble again. When the Bonnes celebrate in the Gesellschaft, Tron discovers the favorite Servbot had thrown away the Golden Refractor by accident, which makes her angry and prepares a special punishment for him in the torture room. Afterward, the Bonnes set off for Kattelox Island.
Mega Man Legends
The Bonnes arrive on Kattelox Island to steal the legendary treasure rumored to be buried in its ruins, with Teisel leaving Tron and Bon in charge of the operation. Mega Man spots Tron talking with Servbots and walking around the city. Later, Mega Man wards off a dog that was chasing her and Tron, embarrassed, tells him to mind his own business and runs away. Later, the Bonnes begin their invasion of Kattelox using giant mechanical weapons, demanding the keys to the caves and tunnels on the island from the mayor. Mega Man defeats the armored robots patrolling Downtown, led by Tron Bonne, and the ones laying siege to City Hall, led by Bon Bonne.
Teisel Bonne watches the outcome on the news and decides to dig straight to the ruins themselves in Clozer Woods. The Inspector goes off to arrest the pirates, but his men are easily defeated by their machines. Mega Man fights the pirates and destroys Teisel's Marlworf mech, causing Teisel to fall into disbelief that he had lost and Servbots take him back to the Gesellschaft.
In their airship, the Bonnes focus on taking out Mega Man, their main obstacle to the treasure, by outnumbering him and using a new mech that Tron will build. Servbots attack in the forest to buy time for Tron to finish her robot. The Bonnes later ambush Mega Man and Roll at Lake Jyun with stolen boats they modified into weapons, Drache ships, and their new Balkon Gerät mech, but they lost again. They escape to the Gesellschaft and decide to let Mega Man keep the small treasures he finds in the island's ruins and wait for him to open the Main Gate, because the main treasure is the true prize.
Once the Main Gate is opened, the Bonnes confront Mega Man and Roll with their main battleship, the Gesellschaft. The pirates attack their airship, the Flutter, but Mega Man destroys the Gesellschaft. They escape in the Focke-Wulf dragon mech, which he also destroys and the Bonnes fall from the sky to their apparent death, with Teisel comforting Tron saying that they tried their best and lost fair and square. While Mega Man was exploring Sub-Cities, he discovers the Bonnes survived and hid in an Old City warehouse. Mega Man catches them as they were having pizza and Teisel immediately calls everyone to fight in Tron's latest robot, Theodore Bruno, but Mega Man destroys it. Teisel gracefully admits defeat, and the Bonnes leave him, but is secretly planning to steal the legendary treasure once Mega Man retrieves it.
Servbots are also seen at the library and the Apple Market. In side quests, they cause mischief and rob banks. Though the latter was found out to be a misunderstanding, as they loaned the money to start a business called Stripe Burger.
Teisel and Tron follow Mega Man inside the Main Gate as Juno awakes and traps him. They overhear Juno's plan to kill everyone on Kattelox Island and decide she must be stopped. With no ideas on how, they reluctantly free Mega Man to do the task. While the two were fighting each other, the Bonnes successfully take the hidden treasure they were after, and sail off the island in a small boat made from their destroyed robots, carrying a colossal Refractor in tow. Teisel is happy because he is confident that selling the treasure they found will make them rich enough to "live like kings."
Mega Man Legends 2
One year after Kattelox Island, the Bonnes tried to go straight and opened a department store, but Teisel spent most of their money on merchandise he liked, causing financial problems that forces them to return to piracy. They are reduced to scavenging for parts to build their robots and allying with other pirates: Glyde, Bola, and Klaymoor, to take the legendary Mother Lode for themselves. They disguise themselves as reporters to infiltrate Verner von Bluecher's airship, the Sulphur-Bottom, which is said can penetrate the storm covering Forbidden Island where the Mother Lode would be found. The ship gets stuck inside the storm until Mega Man frees Sera. Inside, the Bonnes learn about the four keys needed to unlock the Mother Lode through a listening bug. The rest of the pirates hear as well and Teisel gets annoyed by their mocking, but Tron urges to keep them on, assuring him they can dump them anytime. They split up to take over towns with large ruins and explore them to find the keys.
Mega Man faces Tron piloting the Jagd Krabbe, who tries to turn Mega Man against Roll using a voice synthesizer. It doesn't work and he defeats Tron again. She escapes in a Drache Kai, jealous of the bond those two have in each other. Later, the Bonnes take over Saul Kada Island, imprisoning the citizens and stealing food and supplies to use for store merchandise to load onto Teisel's Blitzkrieg robot, including an important golden statue. Mega Man frees the people, then faces Teisel. He uses the gold statue as a shield, thinking Mega Man wouldn't destroy the town's cherished possession, but he destroys the robot anyway. This causes a dejected Teisel to lament the likelihood of having to sell his store as he escapes in a Drache Kai, vowing he will be back. In the Saul Kada ruins, Tron, piloting the Hover Gustaff, and Bon work with Mega Man to stop the lava flow, and leave him to fight the ancient mech while looking for the third key. They meet as enemies again, where Mega Man defeats Tron again, who loses her clothes in the robot's explosion and Mega Man sees her naked off-screen, embarassing Tron, who retreats. Afterward, Mega Man gets away with the key.
With most of their forces gone, the pirates team up in their last chance to get the keys, but Bola and Klaymoor leave, tired of Teisel and Glyde's bickering. They threaten to destroy Yosynoke city with their heavily armed Gemeinschaft train, unless the heroes hand over the keys. Mega Man and Roll fight them in their own train before they reach the city and damages Glyde's section beyond use. Fed up with Glyde's insults, Teisel disconnects his car, leaving Glyde to swear revenge as his car explodes. Mega Man ultimately destroys their train, humiliating the Bonnes yet again.
After the four Mother Lode keys are taken to the Sulphur-Bottom, Sera steals the keys and Geetz attacks the ship. The Bonnes watch the situation in a Drache Kai and decide to help Mega Man fight Geetz so they can take the keys, but are quickly taken down. The Bonnes are last seen in the ending with Teisel talking leisurely with Barrell Caskett and Von Bluecher, while Roll and Tron build rockets to attempt to rescue Mega Man from Elysium who is now trapped there, arguing with each other while doing it.
Mega Man Legends 3 (cancelled)
The Bonnes were going to appear in the now-cancelled Mega Man Legends 3. It is only known that the Bonnes had a takoyaki stand in Klickelan Island and they piloted the Donner Wels.
Gallery
Videos
Trivia
Most of the Bonnes' war machines follow a German naming theme.
The Bonne's mark is based on the Jolly Roger, the pirate flag with skull and crossbones.
According to Teisel in The Misadventures of Tron Bonne, their Mother has passed away. Their father has to date never been mentioned. Both parents have only been seen in a painting along with a younger Teisel.
In the Mega Man Battle Network series, there are TV shows titled "The Bonne Bunch" in the Mega Man Battle Network, "Go Bonne, Go!" in Mega Man Battle Network 2, and "Family Bonne" (misspelled as "Family Boone") in Mega Man Battle Network 3 White Version (replaced by "The Kasket Kids" in the Blue Version). Presumably this is the origin of the Servbot dolls seen in the series, as well as the Data doll, which is referred to as the Servbots' rival, and others objects like toys, carpets and posters.
Tron and the Servbots are considered the Mega Man Legends' series break-out characters, leading to the release of their very own spin-off title as well as both appearing in Capcom's Marvel vs Capcom series of fighting games.
Coincidentally, there are two outlaws known as Bonnie and Clyde, which is similar to the names Bonne and Glyde.