She-Hulk Trailer Dropped - The Loop
Play Sound
| | | |
| --- | --- | --- |
| " | Bombs!? Please, I prefer the term "fireworks". My work brings joy, AND huge explosions, to everybody. Oh, and not just explosions! Fireworks can do a lot before they blow up, y'know. Imagine the possibilities of rockets in public transit! Get a load of this! I call it the Boomzooka! You just load up the passengers here, light the fuse, and then they zoom outta there at high velocity! THEN they explode. Still workin' on that part. I mean, sure, it's got pizzazz but nobody'll use the Boomzooka if they don't survive the trip. | " |
| | ~ Flark's interview. | |
| | | |
| --- | --- | --- |
| " | Why steal the city, when you can just BLOW IT UP INSTEAD? | " |
| | ~ Flark after his betrayal | |
Boommaster Flark is a goblin scientist and associate with Dr. Boom who serves as a minor antagonist in Hearthstone: Heroes of Warcraft. He first appeared in the expansion The Boomsday Project, where he was one of the scientists working in Boom Labs. In the Rise of Shadows expansion, Flark returns with a villainous role where he betrays the League of E.V.I.L. and decides to blow up the city of Dalaran.
Personality
Like many goblins, Boommaster Flark loves explosives and inventions. He believes that explosions are fundamental to his goals as he intends for travel via his Boomzooka to be explosive in order to succeed, but then notices that people won't use it if they are killed in the process. His interview in the promotional blog for the expansion shows that he has subtle disdain for Dr. Boom, insulting him behind his back.
In The Dalaran Heist, Flark's obsession towards explosives causes him to fall out with Dr. Boom, hating his plan to conquer the city. He decides to blow up the city himself for his own egotistical goals, not caring about the consequences. Unlike the other bosses, who are stopping the League of E.V.I.L. to defend Dalaran from their evil plans, Flark doesn't care about Dalaran one bit (even calling it an "old rock") and instead tries to stop them for his own pragmatic reasons, to stop them from interfering with him blowing up Dalaran. When defeated, he yells "BOOM BABY!" indicating that he is a sadomasochist, made more obvious by the implications of how destroying Dalaran will cause himself to be blown up as well.
In short, Flark is an insane, pragmatic egotist who only cares about his own destructive goals, opposing other villains just so he can cause destruction in his own way.
Synopsis
The Boomsday Project
Boommaster Flark is one of the scientists of Boom Labs, working for Dr. Boom. He has always been interested in creating explosive inventions, which he claims to bring joy and explosions to everybody. Flark invented the Goblin Bomb, a bomb in the shape of a goblin's head. His main project is a device called the Boomzooka, a cannon used as a public transport to transport passengers by firing them out of the cannon. He also wants to add explosions, but needs more testing as he intends the Boomzooka to be a public venue, and it will fail if the passengers end up getting killed.
Like all of the other "antagonists" in the expansion, Flark is not explicitly portrayed as being evil, but an amoral experimenter who conducts dangerous and unethical experiments (though he is considerably the most villainous out of all of them due to intending his Boomzooka to blow up its passengers and using animals as test subjects).
In-game, Boommaster Flark is the set's legendary minion representing the Hunter class, where he summons four Goblin Bombs. Goblin Bomb appears as its own collectible card alongside other cards that summon Goblin Bombs. Flark's Boom-Zooka is the legendary Hunter spell for the expansion, which fires three random minions in the player's deck which randomly attack an enemy minion, before each fired minion is killed.
Rise of Shadows/The Dalaran Heist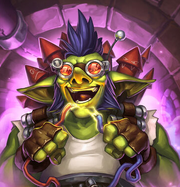 At some point after The Boomsday Project, Boom Labs was destroyed and all of the scientists and experiments (including Flark) abandoned Dr. Boom, leaving him alone and saddened with his failure until Madame Lazul invited him to join League of E.V.I.L., who plotted to steal the city of Dalaran. Dr. Boom's part of the plan was sneaking into the Underbelly sewers and attaching rockets to the city so E.V.I.L. can control it as an aircraft.
In the expansion's adventure The Dalaran Heist, Boommaster Flark appears as one of the two possible final bosses for the fourth wing set in the Underbelly (the other being Madam Goya). While the other bosses are trying to stop the League of E.V.I.L. to protect Dalaran, Flark wants to blow up Dalaran himself. He was more obsessed with explosives and blowing up the city, but hated Dr. Boom's plan to conquer it, so he left Dr. Boom and decided to blow up the city before E.V.I.L. could succeed in their plan.
During Boommaster Flark's boss fight, two wire permanents appear on the player's side. The wires will deal damage to the player at the start of their turn unless they have a minion between the wires. Flark's Hero Power is Blast Powder, which coats a minion with gunpowder and causes any amount of damage it takes to instantly kill it. If he is defeated, he yells "BOOM BABY!", but if the player loses, Flark will say that they will "miss the fireworks". While never shown, it is implied that Flark will succeed in destroying Dalaran and killing everyone inside.