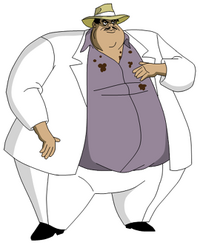 Boss Biggis is a one-shot antagonist in Batman: The Animated Series, seen in the episode "The Forgotten". He is an obese crime lord who enslaves homeless people from Gotham City and forced them to work at his slave camp/gold mine. 
He was voiced by the late George Murdock.
History
Boss Biggis is the owner of a slave camp outside of Gotham. He sends his henchmen to kidnap homeless people and forced them into slavery harvesting gold ore from nearby mines. In one instance, his henchman brought in Gaff Morgan (Batman in disguise, but he had amnesia due to a blow to the head when he was captured).
Biggie locks up disobedient slaves in metal boxes to bake in the desert sun. After Bruce remembered he was Batman, he freed himself and went after Biggie shortly after defeating Biggis men. Biggie was later taken into custody. He is usually seen eating something. Batman mocks this fact at the end of the episode upon defeating Biggie; A sudden flood leaves Biggie begging Batman not to let him drown, and Batman pulls the repulsive man to safety, saying, "When you taste prison food, you'll wish I HAD.".
Gallery

Villains
Community content is available under
CC-BY-SA
unless otherwise noted.