Jurassic World: Dominion Dominates Fandom Wikis - The Loop
Play Sound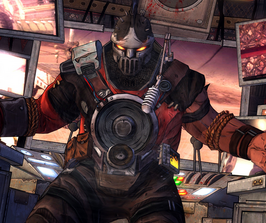 | | | |
| --- | --- | --- |
| " | I really, really, really, really, really really, really, really, really, really, really, really... HATE YOU!!! | " |
| | ~ Bossanova to Zer0 before his death. | |
Bossanova is a minor yet pivotal antagonist in Tales from the Borderlands. He is the bandit king that enjoys dub step and death racing.
History
Bossanova crashes through Shade's World of Curiosities in a bandit technical accompanied by his clan and chased by Zer0 who has been tasked with retrieving the Gortys project from the warlord. Bossanova steals the hyperion briefcase containing $10,000,000 and then retreats.
He later hosts a death race in his arena, where the last bandit standing would win the briefcase. When Zer0 reappears; he then offers a bounty for the death of the vault hunter.
While Rhys, Fiona and company try to survive the horde of bandits and psychos, Zer0 manages to reach in his elevated announcer box and throws him out and down to the arena floor. The assassin then jumps down and stabs the bandit king in the chest.
Bossanova tries to stall Zer0 as he attempts to drop the announcer box onto of them both. It crushes him but Zer0 had been using a Decepti0n hologram for a while.
Gallery
Images
Videos
Trivia
Bossanova always has Dubstep music playing when he is around.
Bossanova is a parody of the bosses from Borderlands one and two.
Bossanova has is own theme music called X-rated.

Villains
Video Games
Toy Mafia (Hugh Bliss) | Brady Culture | Soda Poppers | Jurgen | Strong Bad | The King of Town | Sultry Buttons | Uzi Bazooka | Craig | Trogdor | Queen Bee | Bumblebees | Pudgie-Woo and Tinkie-Wee | Monty Muzzle | The Narrator | General Skun-ka'pe | Anton Papierwaite | Sammun-Mak | "Junior" Max | Charlie Ho-Tep | Billy Yoder | Dr. Laura Sorkin | Miles Chadwick | Lewis Dodgson | Walkers | Stranger | Save-Lots Bandits | St. John Family (Andrew, Dan & Brenda) | Jake | Linda | Jolene | Vernon | Crawford Oberson | Logan | Larry | Lilly | Kenny | Marcus Crabtree | Nate | Russell | Roman | Bigby Wolf | Crooked Man | Bloody Mary | Jersey Devil | Georgie Porgie | Vivian | Bluebeard | Ichabod Crane | Grendel | Jack Horner | Woodsman | The Tweedles | Geppetto | Carver's Group (William Carver, Troy & Johnny) | Arvo | Buricko | Vitali | Natasha | Winston | Victor | Ralph | Michelle | Kenny | Jane | Mike | Rhys | Fiona | Handsome Jack AI | August | Hugo P. Vasquez | Vallory | Bossanova | Rudiger | Asher Forrester | Andros | Britt Warrick | Damien | Dezhor zo Raza | Gared Tuttle | Gryff Whitehill | Harys | Ludd Whitehill | Rickard Morgryn | Tazal | Hostile Mobs (Wither Storm) | The Ocelots | Ivor | Soren the Architect | Aiden | Maya | Gill | White Pumpkin | PAMA | Hadrian | Mevia | Em | Norma | Randall | Monroe Colonists (Gabby & Jonas) | Children of Arkham (Vicki Vale, Oswald Cobblepot & Blockbuster) | Catwoman | Two-Face | Falcone Crime Family | Joe Chill | Victor Zsasz | Mr. & Mrs. Vale | Gotham Criminal Triumvirate (Carmine Falcone, Thomas Wayne & Hamilton Hill) | The New Frontier (Joan, Badger & Max) | Scavenger | Romeo | Stella | Prismarine Foes | Warden | The Pact (Riddler, Harley Quinn, Bane, Mr. Freeze, John Doe & Eli Knable) | The Agency (Amanda Waller & Roger Harrison) | Rumi Mori | Willy Deever | S.A.N.C.T.U.S. | The Delta (Lilly, Minerva, Abel, Dorian, Sullene, Gad, Michael, Gina & Armando) | Marlon | Violet
See Also
Game of Thrones Villains | Homestar Runner Villains | Jurassic Park Villains | Minecraft Villains | Telltale Batman Villains | Telltale's The Walking Dead Villains | Wallace and Gromit Villains